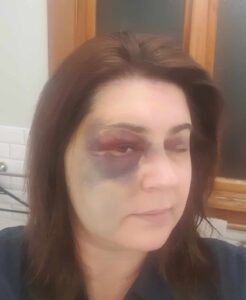 Nearly two weeks ago, my partner's exciting foray into cycle commuting to work came to a crashing halt thanks to a run-in with a tram track in the central city. It wasn't even on her normal commute, but a side trip to post something away. Heading down Cashel Mall there was some construction machine on one side, a ute parked on the other side, distraction trying to look for the Post Shop – hang on, those tracks are quite damp…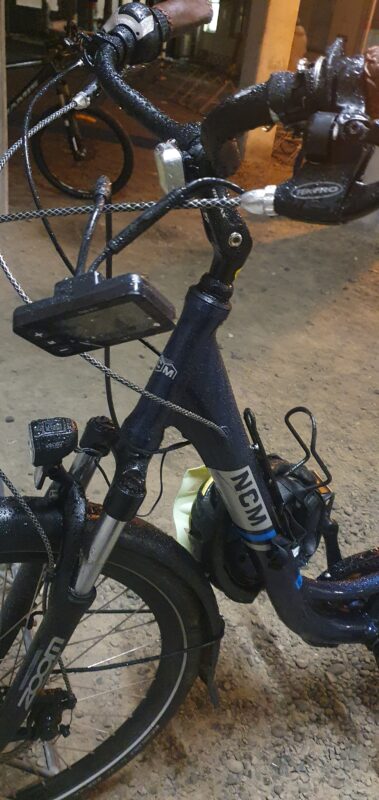 The end result was ending up underneath the aforementioned ute, and now sporting a lovely bruise spreading across much of her face and a matching one across much of her tummy; probably a bit of concussion too, even with a helmet. The e-bike was also looking a bit sorry with the control display panel broken off the handlebar, the throttle lever destroyed, and the handlebars themselves a bit wonky – thankfully some repairs have the handlebars aligned again and the electric motor is still functional (albeit pedal-assist only now, sans throttle).
It seems that crashing on a tram track in Christchurch is a bit of a rite of passage for many cyclists here; already my partner has heard from a few colleagues at the hospital who have also suffered a similar fate. Indeed, five years ago my colleagues and I investigated the nature of cycle vs tram track crashes in central Christchurch. We couldn't find a lot of useful data out of ACC other than potential numbers, so we undertook a survey seeking those who'd suffered a cycling incident on the tracks. This resulted in over 50 accidents and numerous other "near-accidents" reported by people over three years.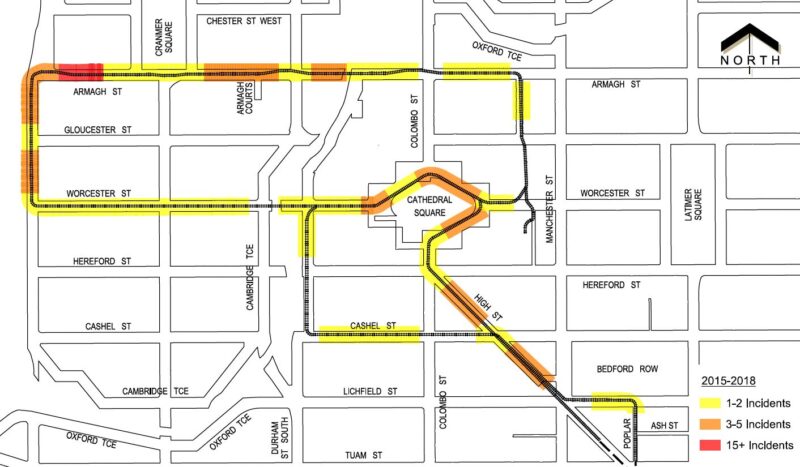 As you can see, there was one location near the Armagh St gates that had contributed to a lot of the accidents (not helped by a since-removed carpark space), but other incidents were spread fairly evenly around the rest of the tram circuit.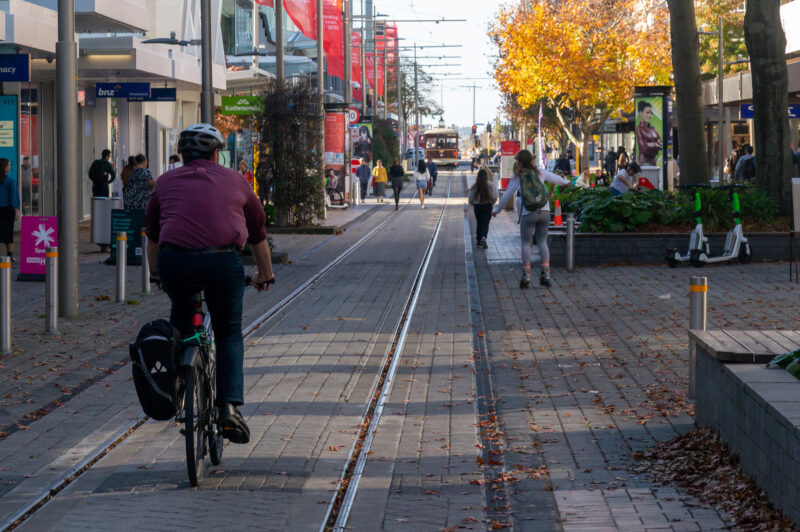 Cycle incidents on tram tracks are usually either from getting your wheels caught in the track groove or from slipping on the smooth rail surface. In my 20-odd years back in Christchurch, I've been lucky enough so far to avoid a similar spill, but how else can you try to minimise the chances of coming to grief on our tram tracks?
The most obvious way to avoid most slips is to avoid crossing the tracks in the first place (or to at least minimise the number of times you have to cross them). This takes a bit of advance planning though to think ahead about where you are going so that you don't find yourself having to cross the tracks regularly. Sometimes riding  for a long time between the tracks is the simplest and safest option.
If you do have cross the tracks, then aim to do so at as perpendicular an angle as you can (i.e. right angles to the tracks). Obviously this is not as easy as it sounds if the tracks in question are running in the same direction that you are going; you might have to accentuate the zigzag turn you make with your front wheel to cross them (typically the front wheel is going to cause you more grief than the rear one).
Be extra careful if it's a wet or icy day (or has been recently raining); those tracks suddenly become a bit more slippery, as my partner unfortunately found out. This is also the time when you don't want to be doing any sudden turns or braking manoeuvres while crossing the tracks.
Also be careful anywhere near motor vehicles (moving or parked), pedestrians, or other wheeled users – sudden movements by these users could force you to have to take evasive action across nearby tracks. Roadworks and other construction areas may also have unpredictable hazards around them. Try to anticipate ahead of time or steer clear of potential conflict points.
Your choice of tyre can make a bit of difference to getting caught in the tracks or not. Those with skinny "road bike" tyres are going to be most susceptible to getting stuck; mid-thickness "urban bike" tyres are a bit better, and fat "mountain bike" tyres are probably less likely to face problems.
We talk about the benefits of traffic speed management for cycling safety, but we don't always appreciate that some speed management on our bikes can often be a bit prudent when near a hazard too – particularly if you have an e-bike that can go rather fast. It might not necessarily prevent the incident from happening, but the injuries might be a lot less.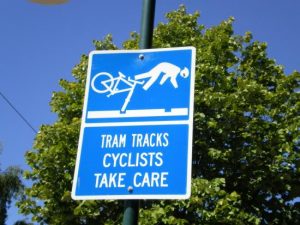 All of this advice is all very well, but even then you might just be unlucky and come to grief. As my partner said: "I know how to go over them; I just got distracted…" Fortunately this little experience hasn't put her off biking; in fact she's rather missing her daily exercise to work (ACC-paid Ubers aren't quite the same…) and looking forward to getting back on the saddle again very soon…
Have you experienced a crash on the tram tracks? What other advice would you give to avoid this?