Cycling in Christchurch was launched in May 2012 to promote, encourage and support cycling as a means of getting from A to B within the greater Christchurch area.
The aim of Cycling in Christchurch is twofold:
to grow the number of people using a bicycle to get from A to B by sharing 'on the street' knowledge about cycling, encouraging 'almost cyclists' to take that next step, and providing invaluable guidance to those who are new to cycling for transport,
to encourage government to realise the potential for cycling as a key means of transport for Christchurch.
Cycling in Christchurch is written by a diverse group of people with different perspectives on cycling based on their own experiences of riding a bicycle. We also welcome genuine (i.e. not commercial/spam) guest posts from our fellow riding colleagues – drop us a line.
Join the discussion! We strongly welcome constructive comments on all of our posts; it's great to hear what people think of the various happenings in Christchurch and the cycling world. Note that if you're a first-time commenter your first comment will be checked by us first before posting, to minimise spam. Please also see our Rules for Contributors and Privacy Policy.

Please note that Cycling in Christchurch is NOT a formal organisation (like advocacy groups) and does not undertake commercial activities (like bike hire) either. We are simply a group of like-minded individuals in Christchurch helping to promote cycling and letting you know about useful relevant information!
Contributors
If you'd like to join our blogging team, let us know!
Lennyboy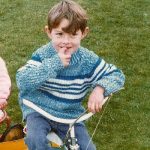 LennyBoy is the current web-administrator of Cycling in Christchurch.
I guess I've biked in most places I've lived since I was at least ten (with the exception of a few Wellington hills…); it's just been a handy way to get around. Mind you, I also have a car, four bus cards, various pairs of shoes, and an internet connection for telecommuting, so it's just one of a number of travel options I think about when I need to. The way I see it, I'm not a "cyclist", but I do cycle…
I'm fortunate to have cycling involved in many aspects of my life. By day, I undertake traffic and transport consulting work for ViaStrada, including a fair bit of cycling-related work. Previously I taught and did research at Canterbury University on a range of transportation topics, especially road safety and sustainable transport. I've also been involved in cycling advocacy nationally and locally since the turn of the millennium. I get around on my trusty Kona Lana'i steed, but I'm really lusting after one of those stylish city bikes the next time I can rub two coins together…
Steven M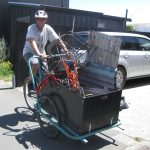 I've been keen on the freedoms of biking ever since I biked off to kindy by myself at the age of four. I am particularly keen to see lots more everyday journeys being made by bike, especially those that involve carrying loads (which is often used as an excuse to leave the bike at home). I coordinate the ICECycles free bike maintenance workshops which run three times a year in Linwood, giving away and fixing up hundreds of bikes (donations & volunteers always welcome). I run a small business making cycle trailers of various sizes and descriptions that are specially designed for shopping and around-town type of loads. I loan these trailers out for a month for free so you can get an idea of how easy they are to use. I have also written a book called PROSACC – Profound Revelations Of Sunday Afternoon Cycling Church, which is a humorous look at the spiritual benefits of cycling.
Robert F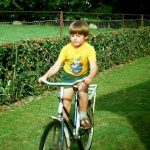 I have spent much of my working life in Christchurch practicing as a Pharmacist. Cycling as much as possible is a bit of a passion for me, beginning in the 1960's riding to school in North Canterbury. I appreciated the convenience and economics of work commuting whilst living and working in London and dabbled in some simple cycle tourism whilst overseas. Since the Christchurch earthquakes it has become obvious to me how important it is to have a cycle friendly city to live in , whether it be for a resilient city, a clean and friendlier city, or for the convenience ofsimply getting from A to B in style. Fitness is an added bonus. I am loving the Great New Zealand Rides and enjoy riding a mountain bike on gentle hills in beautiful places.
Angela C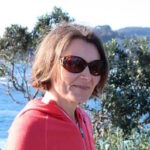 I have always been a cyclist. I started by cycling to school, university and then work. I bike now to get from A to B, to keep fit and for the sheer enjoyment of it. I am very much a recreational cyclist – I ride on the road but I'm not a road cyclist; I ride a mountain bike and enjoy singletrack (if it's not too technical) but I'm not really a mountain biker. What I love most is getting out of the city and riding New Zealand's stunning cycle trails. But most of the time I'm on my bike in and around Christchurch.
I publish a regular blog on recreational cycling in New Zealand, Angela loves cycling, on Substack.
Simon Barnard (sadly passed away Sep 2021)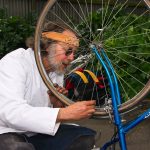 Like many I cycled as a child and young adult only to fall victim to bicycle unfriendly roads. After too many years of driving I made the choice to locate where life on the bike was possible. I fell back in love with my bikes and have been advocating for more acceptance, and infrastructure, ever since. My first cycle advocacy was in the early 70's when I was appointed to a city cycling advisory group. I quickly learned that it is important for politicians and bureaucrats to look like they are doing something while doing nothing. If we are to return cycling to its rightful place, as an everyday activity for anyone, we will need to be strong political advocates. My goal is to keep on with that task through my blogs.
Unity Finesmith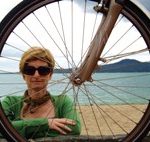 Unity is the Founder of Cycling in Christchurch and an 'Ambassador for Style on a Bicycle'.
I have ridden a bicycle for most of my life in the UK, France, Australia and New Zealand. I am 'car-free', as I have never really taken to the car ownership thing, so my bicycle is my main form of transport. I currently write a website called Cyclopolitan.com about my preparations and experiences of traveling through Europe on a bicycle in the pursuit of an adult 'gap year'.
You can follow me on Twitter, Google+, Facebook, and of course Cyclopolitan.com
CMH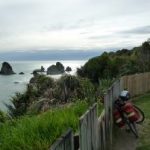 I've been an avid commuter cyclist pretty much all my life from about the age of 6 when I discovered cycling. My bike is a vehicle I can fix myself and travel thousands of km on for very little cost. It's my main form of transport and riding it gives me an enormous feeling of freedom, whether I'm on holiday, touring or just commuting around the City. Wouldn't it be great if cycling around Christchurch was a pleasant, fun and safe experience for everyone from the very old to the very young?
Meg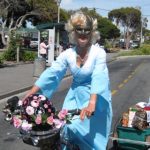 Riding my bike is very much part of who I am and what defines me as a person. I'm a habitual cycle commuter, I do my shopping on my bike (usually with my bike trailer for those bulky items!), I do Frocks on bikes and Tweed rides, I play in the mud on my mountain bike, I go on holiday with and on my bike, we commute to the family bach by bike (who cares if it takes all day), I go on training rides on the hills on my lovely Trek and do bike racing on my even lovelier Cevelo ( shhh! don't let Trekky hear me say that!) . I'm happy to blog about anything bike-worthy, so y'all be hearing from me.
Flatwhite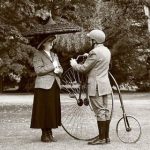 After growing up on bicycles for school transport, paper round etc, I left them behind though my twenties. Rediscovering them after marrying a cycle-nutter with a small collection of vintage bikes. I added my grandfather's and great grandfather's bikes to the collection, they multiplied and now we have a ridiculously large collection of the old, weird, wacky and wild. Unicycles, trailers to a tandem with 3 seats (a triplet?). We are or have been members of various groups including HPV (recumbents), Antique Cycle Group and the lovely Frocks on bikes.