In a relatively short period of time, it seems that a number of people and groups in Christchurch have sprung up to help encourage everyday cycling in some way. This was brought home to me a month or so back when I was trying to explain to someone from out of Christchurch all of the different cycling initiatives that are happening here. Evidently it also confuses a lot of locals too (e.g. I still get lots of email enquiries about bike hires or dropping off old bikes for repair – that's not what Cycling in Chch does!). In the end it seemed that it might be easier to present them all in a diagram or matrix to help illustrate who covers what. So that's what I did…
Below is a matrix illustrating the "cycling eco-system" in Christchurch (click to enlarge). It lists the main groups and initiatives that cover everyday biking in some form and indicates what the main cycling-related activities of each one are (acknowledging that some of these entities deal with much more than just cycling). If you want to know more about any of them, just Google them – or you can probably find them on our Useful Web-links page. My apologies in advance if I have misrepresented the objectives and focus areas of any of these groups.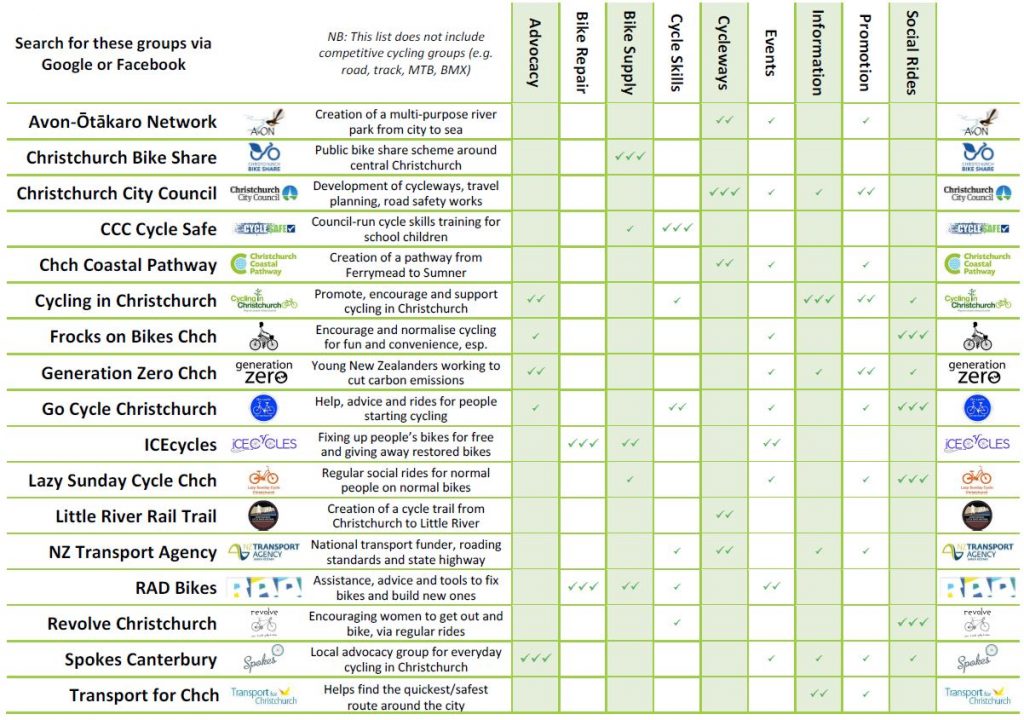 There might be a way to represent this instead as a Venn diagram, "word cloud" or similar; I'll leave that for another day. Even this comprehensive list doesn't cover a lot of important players in the Christchurch cycling scene (many of which can be found on our Useful Web-links page):
There are other individuals who run cycling activities, such as the annual Winter Solstice Ride led by Ian Wells, and the efforts of various people at our tertiary institutions to encourage more biking there.
Other local agencies also contribute to the biking picture. For example, Environment Canterbury provide bike racks on buses, and the Canterbury District Health Board encourage healthy living and active transport.
There are a number of national organisations that also have some involvement in local affairs, including the Cycling Action Network (CAN) (national cycling advocacy), Cycling NZ (sports cycling and cycle skills), and BikeOn (encouraging bikes in schools)
There are of course plenty of bike retailers around the city who supply and repair bikes. And there are also a number of businesses that provide cycle hires as well.
There are also plenty of people and groups managing and supporting other forms of cycling around Christchurch, including mountain-biking, road cycling, and BMX riding.
Have I missed anyone else out?
So what's not well represented in Christchurch? Personally I'd say that we're still missing out on more organised adult cycle skills; if we're going to grow cycling numbers in Chch then plenty of people will want/need to brush up on their biking ability. And while there's already some pretty good communication between many of the groups (e.g. sharing use of our Events/Activities Calendar), a bit more coordination and promotion at the bigger picture level with CCC and NZTA wouldn't go amiss to help let more people know about all the great stuff that's already happening.
Have we covered everything/everyone involved in Chch everyday cycling? What's missing?