It is a truism the world over that there never is enough bike parking (motorists might argue that there is never enough car parking either, but that's another discussion…). Whether you're in Amsterdam or Auckland, Copenhagen or Christchurch any available bike parking in a city seems to be instantly filled up, especially around any popular destination. So it probably wasn't that surprising when the new Riverside Market opened that the supply of bike parking around the area was immediately insufficient.
Thankfully, City Council quickly recognised this problem and have addressed it somewhat with the appearance this week of some new portable bike parking stands. These are part of central city cycling improvement projects mentioned previously. I visited the area on Friday and tried them out…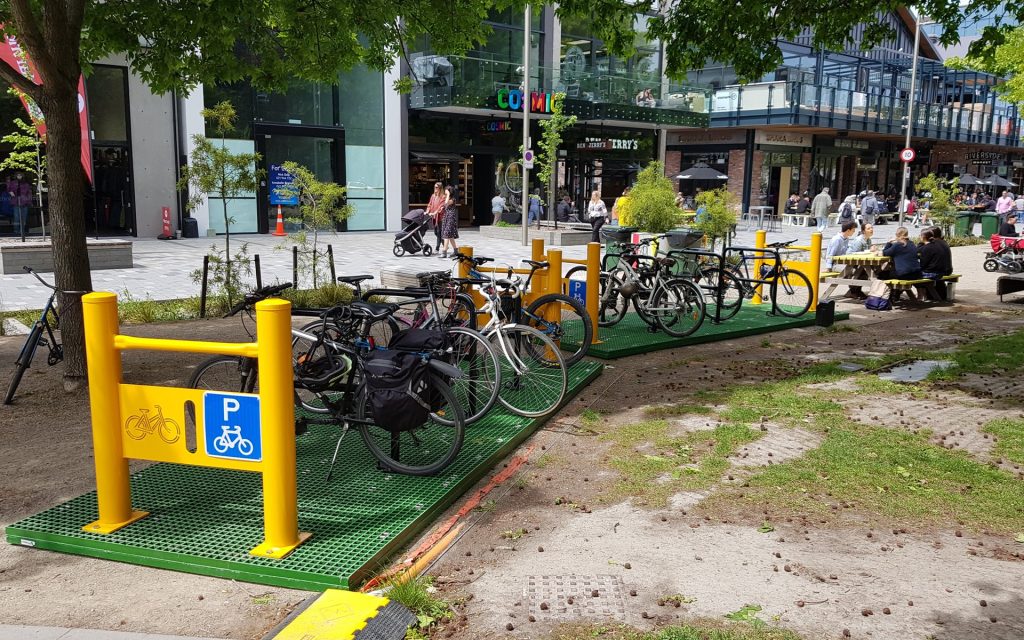 Riverside Market isn't the only place to get some bike parking love; similar bike parking "pallets" are also being placed at popular areas by the Pegasus Arms along the Promenade and near the Botanic Gardens. As you can see by the shape of these structures, they conveniently fit into a carpark space, meaning that further ones could be easily tested out at various locations to see where the greatest demand is.
(P.S: if the Riverside bike parking is still chocka, it's handy to know that there are also a heap of extra bike parks under the Lichfield carpark building only 100m away…)
What do you think of the new portable bike parking?