It's been a crazy-busy couple of weeks for me lately, hence the trickle of blog posts (lots of half-written draft ones coming one day…). In absence of a full-length post or two, here's a quick look at one of the latest cycleway developments in town, I just noticed last night.
Lots of people are looking forward to the slow demise of road works around the central city (at least for now). One bit of work that has just about wrapped up is the completion of the Hospital Corner second stage, which has seen the western ends of St Asaph and Tuam Sts recreated along with the top of Antigua St, including new separated cycleways. Only the Oxford Tce "gap" by the hospital remains to be finished before Xmas. Meanwhile, at the corner of St Asaph and Antigua Sts, you will now find these new baubles…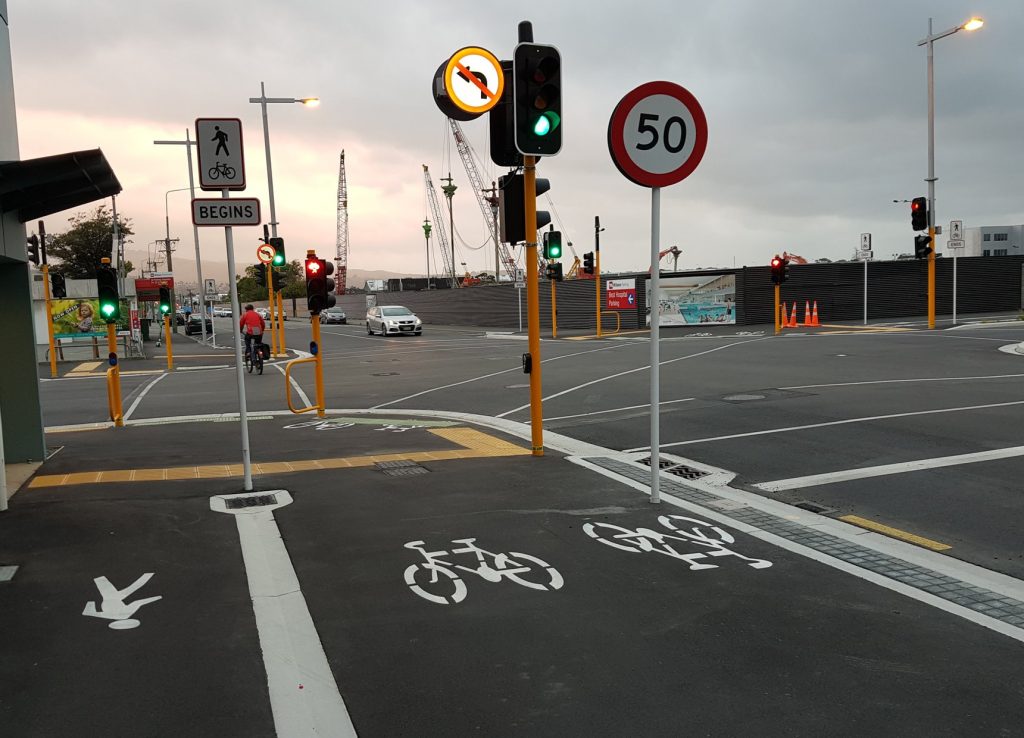 This intersection is the junction of major cycle routes along the one-ways to/from the east, south to the Quarrymans Trail, and connecting west to South Hagley Park and the Little River Link. A two-way separated cycleway runs along Antigua St, connecting north to Tuam St, the newly opened Oxford Promenade, and the Boatshed Bridge. At this end shown here, you either continue south along Antigua on one-way cycle lanes (ultimately to be separated) or west along a two-way path on St Asaph. Hence the diagonal crossing that you can see in the photo.
Some of you will recall the directional cycle signals being trialled further east at the St Asaph / Madras / High intersection. Here we see another set of directional signals being used to help separate out the two movements. It may be a little hard to discern in the photo above, but what appear to be two contradictory cycle signals in fact display different arrows in them to direct riders in the appropriate direction.
So far this new intersection seems to be operating OK (it will be interesting to see in the future what it's like with peak-hour pedestrians and bikes). It's nice to have some more new cycling infrastructure to play with around the city; starting to feel a bit more connected all up.
Have you tried out the new directional signals? What do you think?