Last week I spent a couple of days in Wellington attending a meeting of the Active Modes Infrastructure Group (AMIG). While much of AMIG is about discussions of the minutiae of walking and cycling design layouts and standards, there is also often an opportunity to have a look at what is happening around the host city. Cycleways in Wellington still seem to be tarnished by the controversy surrounding the Island Bay cycleway but meanwhile a lot of other projects are on the go, including around the Hutt Valley, Oriental Bay and the eastern suburbs of Kilbirnie/Miramar.
One of the high profile cycleway projects has been Hutt Road, connecting the northern suburbs with central Wellington. The previous shared path alongside many commercial premises was widely problematic, not just for interactions between path users but particularly due to conflicts with parked vehicles in the same space and crossing side-access vehicles. The new layout provides a clear distinction between  the walking and cycling areas, but has also thought carefully about the interactions with motor vehicles. This section near an early childhood centre is an interesting case in point: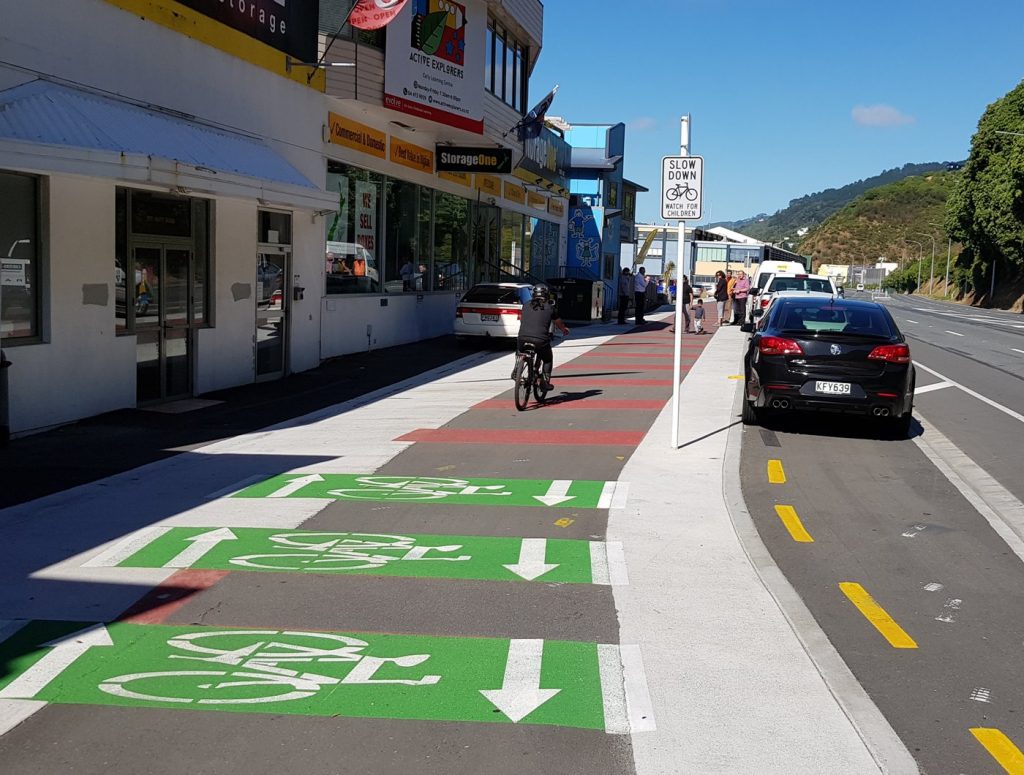 While green striped markings are used where vehicle accesses cross the cycleway (the dark asphalt bit), in this case red striping has also been used across the conflict zone between the car parking and the footpath (by the way, if you're wondering about the car on the left, that is also a legitimate business carpark…). There's also the warning sign shown, and even a yellow sign-style warning marking beforehand. Is it enough? We certainly weren't there during the (likely) peak morning clash of riders and customers, but the design seems like it tackles most of the problem spots.
As we've seen in Christchurch, designing some cycleways can be difficult when there are conflicts with adjacent pedestrians, parked vehicles, residents and businesses. That will require some creative solutions and, while there is a lot of innovation around Christchurch, we can probably also pick up a few good ideas from elsewhere.
What do you think of this cycleway design for conflict spots?