We're not immune to a little controversy about cycleways in Christchurch, whether it's their cost, their impact on parking, or the eternal cry of "what about St Asaph St?" But I'd say that we have got nothing on the Island Bay cycleway in Wellington.
Since its planning in 2014 and subsequent construction, there has been a huge stoush about what has been delivered and whether it works. Community groups have formed both for and against keeping the cycleway, there have been Government reviews, and many an article has been written about it all. But this may all seem a bit abstract if you haven't actually seen the cycleway in person, which I hadn't until about a month ago: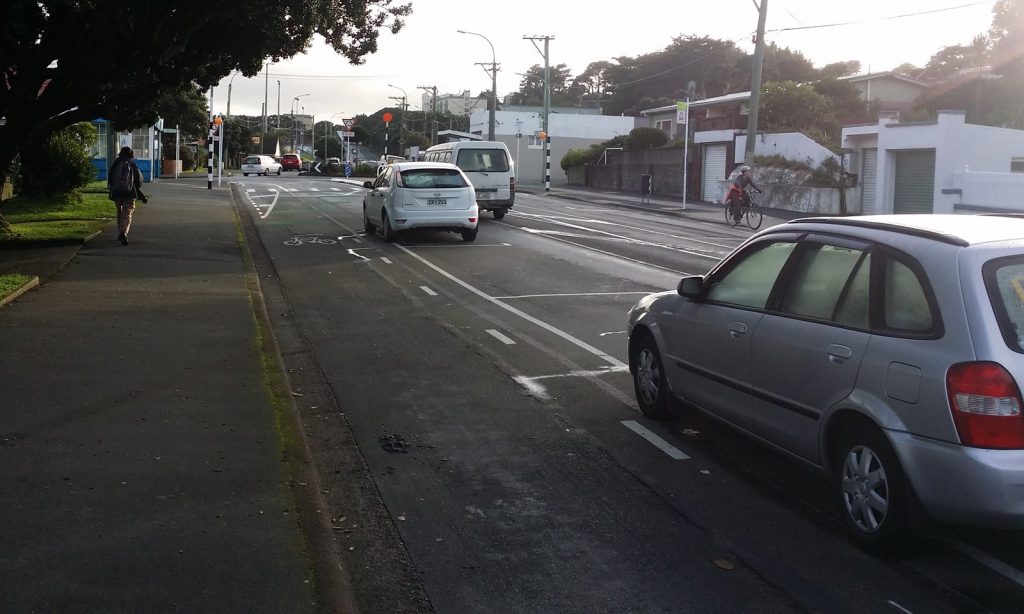 As you can see, the general premise is a cycleway protected from traffic by parked cars, similar to many Christchurch ones. A key difference is in only using a painted "door zone" to provide the separation. This has often led to cars parking in the door zone (like the car on the right) or even right in the cycleway; whether this has been accidental or a deliberate action has often been debated… There are some nice touches like the bypasses behind the bus stops, but some of the side road and driveway crossings still have problems with sight lines.
The saga hasn't finished; a revised cycleway design has now been decided upon that provides a more physically separated solution; yet even this is still being hotly contested in some quarters. So there are still lessons to be learned in terms of design and public engagement when it comes to cycleways. Maybe we might hear a bit more about some of these lessons next week at this year's national 2WALKandCYCLE Conference…
Have you seen Island Bay cycleway? What do you think?