It's been a busy few week for me work-wise (hence the slow rate of blog posts), and that work has also taken me around the country a lot. A couple of weeks ago, I found myself in Auckland for a couple of days (teaching a cycle/intersection design course no less…) and I took the opportunity to have a look at a couple of recent additions to their cycle network, which we have featured previously.
One of the projects recently completed in Auckland is the second stage of the Nelson St cycleway, nearly connecting the waterfront with the 'Lightpath' pink path. This section is largely one-way separated cycleways on each side, although there is a short bit shared on the footpath. It was interesting to see how they did this: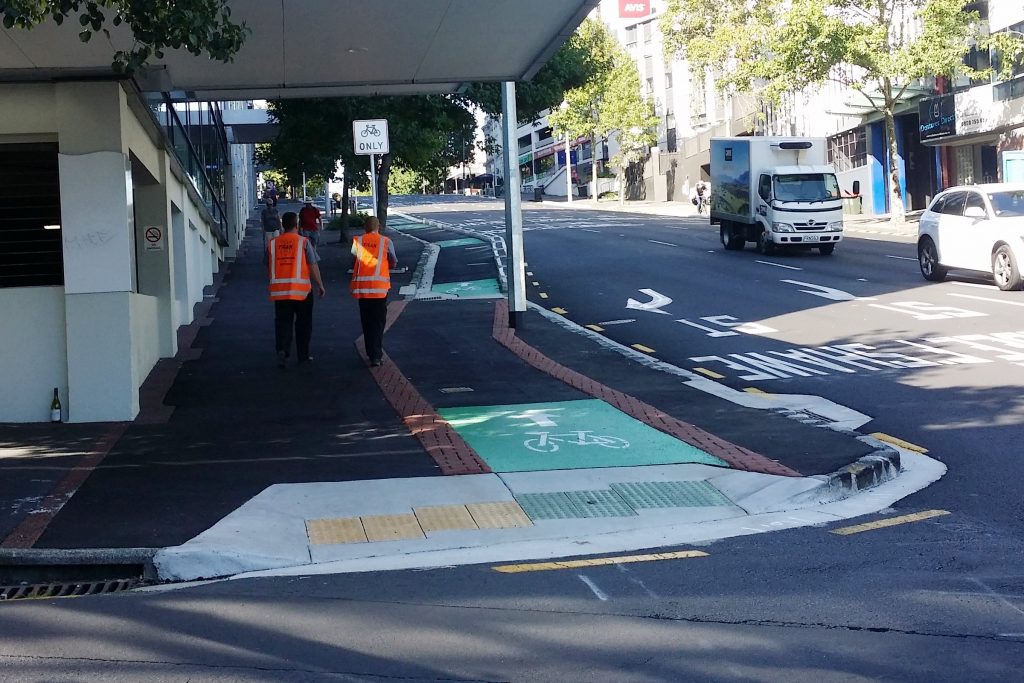 Auckland has been trialling these slightly raised brown textured edges, to help provide delineation for vision-impaired footpath users. Not totally sold on the aesthetics of them (let alone the functionality; almost a trip hazard), and Auckland is looking to trial some other treatments for these. As you can see, the pedestrians aren't paying huge notice of the separation (and were walking on the cycleway a little further along).
There's lots of other interesting cycling projects underway around Auckland although, like Christchurch, "bike-lash" is also kicking in. While I was there, they started to install the new interim layout for Federal St, a one-way street that will feature a contra-flow cycleway and pedestrian friendly spaces. Literally within three days of me leaving, the job was completed using a simple combination of paint and street furniture. As a way of quickly trying out layouts before confirming them, there's something to be said for this process – perhaps Christchurch could learn a lesson or two…
Have you seen any of the new cycleways in Auckland?