We have done a few Fossil Fuel Free Multisport outings since 2011, ranging from 20km to 500km. This year we did a smaller version from 16-18 February, biking about 45km with our kayaks in tow from Christchurch, over Dyers pass to Purau, kayaking to Port Levy, and returning over a Friday afternoon to Sunday afternoon. There were three kayaks in tow and 8 people biking, two were not kayaking and helped share some of the luggage. The grunt up Dyers Pass in 28 degree heat on the afternoon of 16th Feb was slow as expected, but manageable with mountain bike gears. The two people on the tandem were certainly faster than the single cyclists. We restrained our speed on the way down to less than 40km/hr and enjoyed the North West tail wind around the harbour to Diamond Harbour where we stayed with friends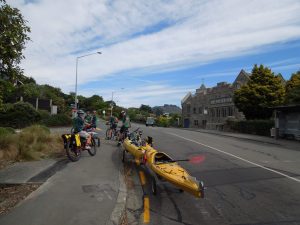 Saturday 17th
We left some of the bikes at Purau and the kayakers walked down to the boat ramp while the bikers towed the kayaks down the hill. The kayakers set off with the Nor-West still blowing vigorously and enjoyed an outgoing tide. They didn't linger too long exploring bays on the way out in case the wind got stronger and made the heads dangerous, but as it turned out the wind dropped as the day went on and they arrived at Port Levy in less than 4 hours. The cyclists slowly ground their way up Port Levy saddle with the empty trailers and a little gear on board and enjoyed a walk up the Monument. After an enjoyable blast down the hill into Port Levy they were surprised to meet the kayakers walking up the road. The expectation was around 6-7 hours paddling, not 4 hours.  A quick shuttle of the kayaks was made 2km up the gravel road to another friend's house where we had a much-appreciated Devonshire tea and a tour of their garden. To add a forth sport into our multisport schedule we biked around to the Port Levy Jetty for a dive off the wharf and a swim.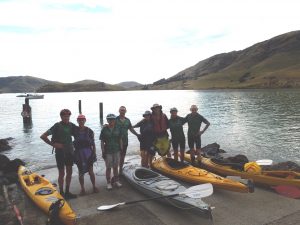 Sunday 18th
The paddlers & riders swapped over and enjoyed a relatively still and sunny start to the day. The kayakers stopped in at Little Port Cooper for a look at the old school house and again made good time with a rising easterly tail wind helping them into the harbour. The riders in the other direction also made a detour up the Monument.The spare bikes were retrieved from Purau and everyone cycled over Gebbes Pass and home with a stop at the Blue Duck for ice creams.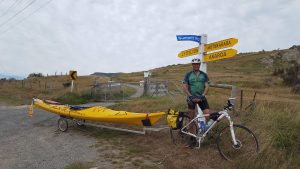 It was a very enjoyable weekend outing and it is likely we will choose another bay on Bank's Peninsula to explore by bike and kayak next summer so let Steve know if you want to join in steve@cycletrailers.co.nz.