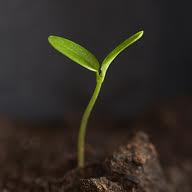 On this day, 10 years ago back in 2012, a social media developer from Auckland called Jenny Marshall (aka "Unity Finesmith") first launched a little blogsite called in Cycling in Christchurch, as well as sister sites Cycling in Auckland and Cycling in Wellington. It was a low-key beginning, pooling a few other locals to throw in a few posts with their observations about cycling life in our post-quake city.
As someone who had spent the previous couple of years following the amazing community of conversation engendered by a similar Bike Portland blogsite, to say nothing of the fantastic local conversations being had by the Auckland Transport Blog (which has now morphed into Greater Auckland), I was very keen to join in. And so it was that, soon after, I posted my first CiC blogpost, and then another, and then another…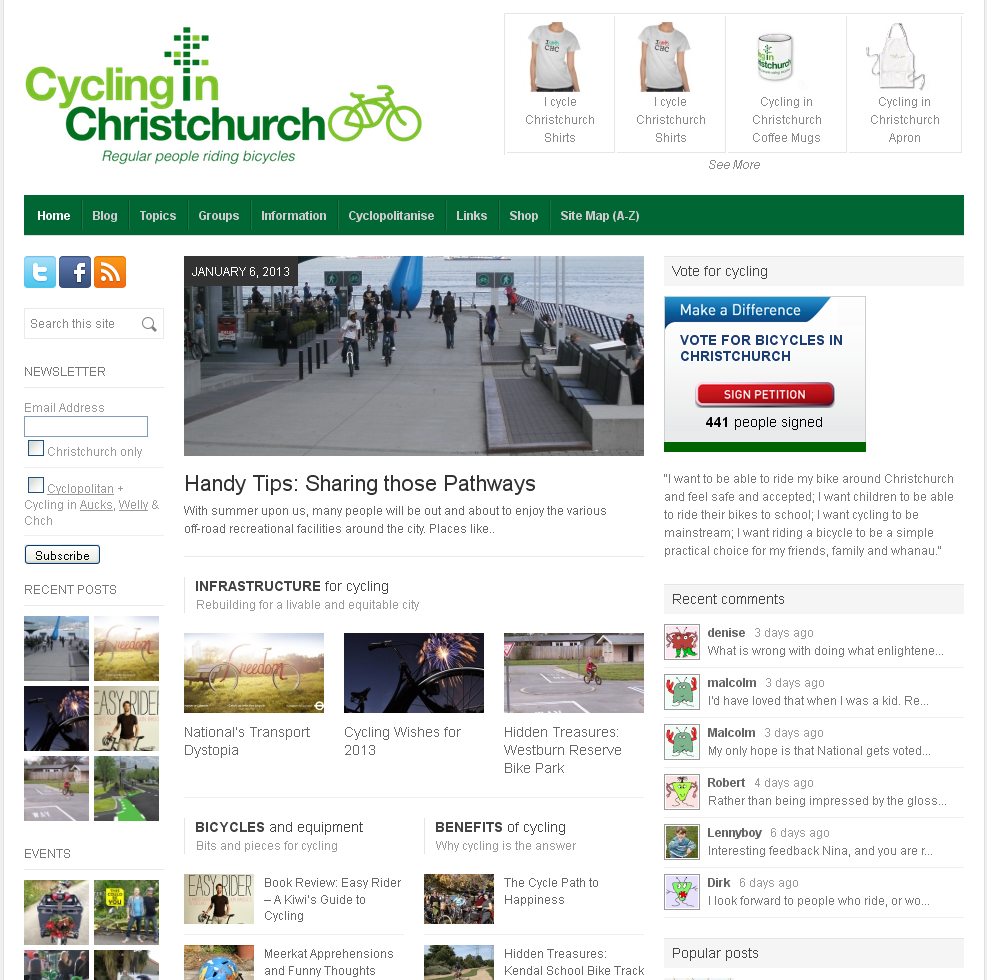 In those early years, there was a lot of enthusiasm and a growing team of bloggers contributing various posts on the latest happenings and observations – typically a new post every 2-3 days on average. We were also developing a useful collection of accompanying static pages providing additional advice on how to ride your bike, where to buy one, local bike groups/weblinks and so on.
As the most enthusiastic blogger (~750 posts to date), for my sins I took over the administration of Cycling in Chch a year or two after it started. The aim has always been to build up a core team of regular bloggers supported by occasional guest contributors – I'm not sure that we've fully achieved that, with Steven Muir (~100 posts) and Robert Fleming (~70 posts) being my most reliable main contributors, but I'm grateful for everyone who has contributed to the blog over the years, be that a series of posts or a one-off burst of inspiration – keep them coming!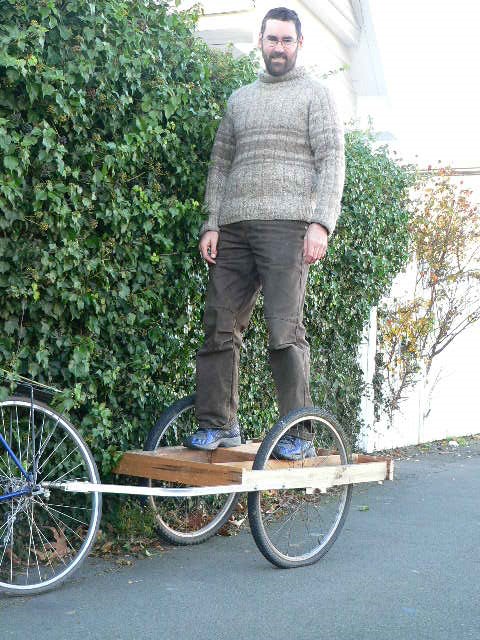 There have been a few technical challenges along the way, not least in 2017 when our hosting platform started to have some instability issues and we had about 4 months offline until we were able to get onto a new site. Unfortunately that shift also broke many of our image links and tags, so it's been a slow job relinking all our posts agains (still plenty to go…).

The website has also gone through a few design layout changes over that time and, to be honest, could probably do with another layout revamp. Throughout all this, the wonderful original CiC logos created by Jenny have continued to be the constant point of reference. My knowledge of WordPress design layouts is passable but I certainly haven't had the time to do justice to an even more attractive and functional site. Still, there is the saying "content is king" and I certainly believe that greatest value from the site comes from what it says, not what it looks like.
We've tried to cover a range of different issues; some topical at the time, others providing more timeless discussion (for example, I never tire of referring people who say that "cyclists don't pay for the roads" to this article…). It's certainly been interesting to reflect on how the city has changed in 10 years from "I wish we could have some nice cycleways" to "look at all these nice  new cycleways!" and the effect that has had on growing our cycling numbers. For those who are a bit new to this cycling game, I've also tried to help with some practical advice about how to get around safely on your bike and in comfort in terms of weather, distance, carrying stuff, etc. Christchurch is also fortunate to feature many different cycling events, including the now well-established Winter Solstice Ride and Biketober festival, so we try to let you know about these too (or at least add them to our calendar).
Slowly the audience has been building up, with typically about 6-7,000 page views a month in the past few years (with the occasional burst when a particular blog goes 'viral'). We've also cultivated an ongoing following via Facebook (nearly 2000 followers) and Twitter (>550 followers). And it's also been great to see the ~3000 comments posted on our blogsite over the years, adding lots of other interesting perspectives to the topics at hand.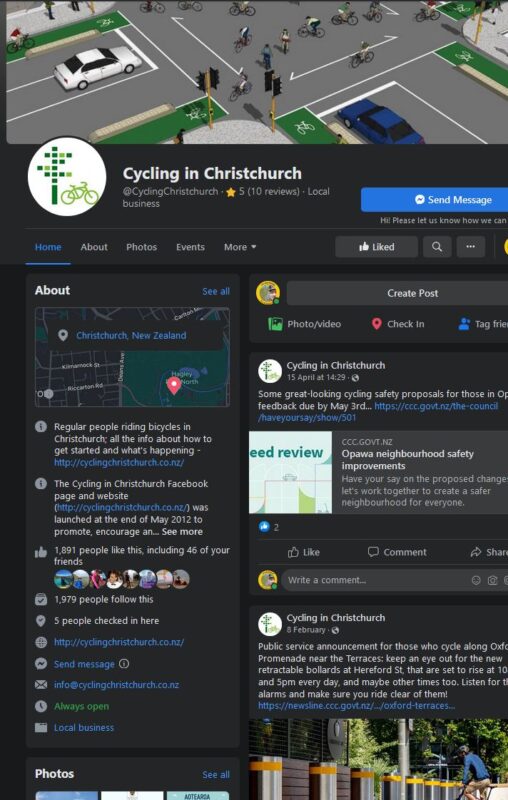 Maintaining a blog site like this on top of the day job, family commitments, and other extra-curricular activities is not an easy task and over time I resorted to a couple of tricks to limit the work needed on new posts. The first back in Dec 2015 was to introduce a new short "Photo of the Day" blogpost, typically about once a month highlighting a single photo with a couple of accompanying paragraphs – quick and easy to write. The second (started in Jul 2019) was to start recycling older posts with an updated preamble every week in the form of "Flashback Fridays" – again, relatively easy to prepare.
The website is certainly getting attention from elsewhere, and appears to have been incorporated into the local ecosystem now. So much so that, quite regularly I get enquiries from media or Council asking if "a representative from Cycling in Chch" could answer some journalist queries or attend some project consultation, as if we were a fully functioning group with elected officers and everything. Sorry folks, by and large it's just me steering the tiller… Likewise I don't know why so many people think we sell stuff; I get so many offers to supply stuff for us (including far too many spam emails from various suppliers of lots of things, both cycling and non-cycling). The price of being popular I guess…
It feels like lately we have limped to 10 years of this blog, mostly thanks to a few Flashback Fridays; I'll be the first to admit that various distractions and commitments of the past few months have kept me from writing many new original posts (or completing half-written ones – right now I have about 30 draft posts in some state of partial completion). But at the same time I am amazed at how we have managed to make this wee little blog last the distance of 10 years so far. And I hope that we can continue to provide a useful service to many people out there. Here's to another ten years…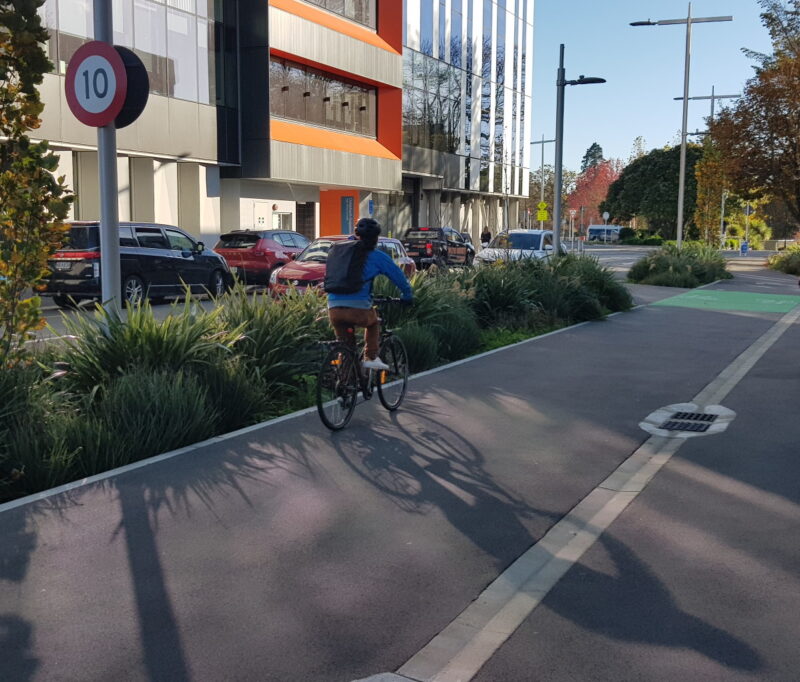 What do you think of our wee little blogsite? How long have you been a follower?