Many people in NZ still perceive "bicycles" as only either a mountain-bike of some sort or a sleek road bike. When that is your worldview of bikes, it's not surprising that you might struggle to comprehend that they could also be used to carry stuff (and other people) or that they could be useful in less-than-fine weather.
A couple of weeks ago, I was visiting the City Council and parked my bike at the Hereford St entrance. As has been mentioned before, there never seems to be quite enough bike parking at Council but what really struck me (and why I took a photo) was the variety of bikes on display: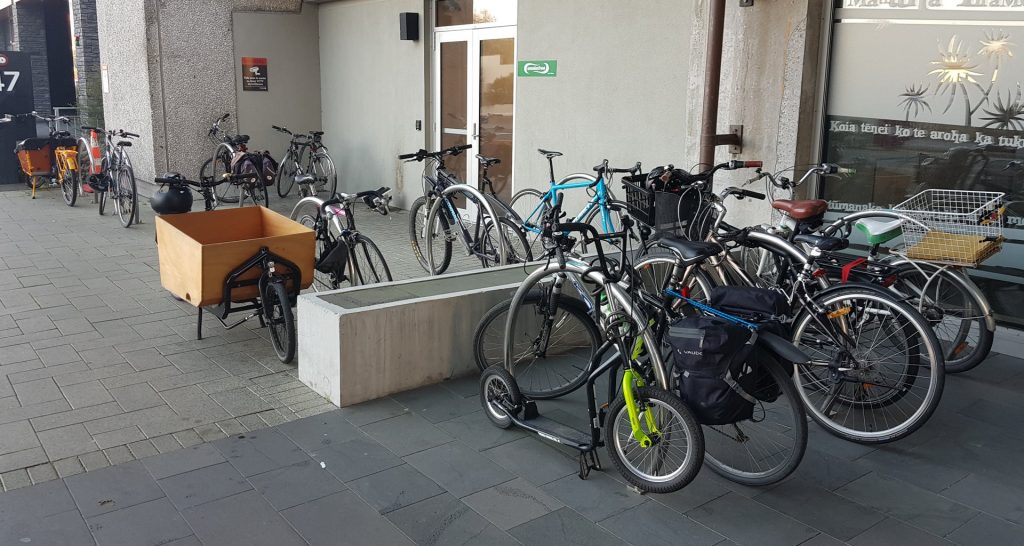 In amongst the more usual assortment of MTB and road bikes, let's see what we can see:
Two cargo bikes
Three bikes with baskets
Two  bikes with panniers (disclosure: one was mine) and a couple more with racks that could take panniers

Eight bikes with mudguards
Some interesting semi-bike/scooter device…
(a good number of bike bells too…)
It's encouraging to see people choosing a wide variety of bikes and accessories to suit their respective needs. More and more local bike retailers are catering to these needs and if they don't do the trick then the internet is a pretty impressive marketplace too.
Have you noticed a wider variety of bikes around Christchurch lately?