It's a bit of a stretch to consider the Hurunui Heartland Trail cycling in Christchurch. However, because it's so accessible to the city, cycling part of it makes for a good day out.
The trail runs from Kaikōura to Christchurch via the inland road to Mount Lyford and on through Waiau, Culverden, the Pyramid Valley, Amberley and Rangiora. The full trail is 260km and requires several days' cycling. But you can easily cycle some of it as a day trip. I sometimes ask someone to drop me off at Waikari so I can bike home from there.
Waikari is not actually on the Hurunui Heartland Trail, but it's only a short ride along a quiet rural road to connect up to the trail at the Pyramid Valley turn-off. There's a small car park in Waikari by the public toilets, which makes a convenient starting point (and it's right next to a café if you need a pick-me-up before you get going). When you're ready to ride, just turn left into Princes Street and follow the road.
The turn-off to Pyramid Valley is several kilometres along the road to Hawarden and is well sign-posted. (You can turn off earlier and cut through Limeworks Road, but Pyramid Valley Road offers a smoother ride.) You'll be on sealed roads initially, and then on gravel once you turn left into Buxton Road (soon after the Pyramid Valley winery).
There are several distinct sections to the ride:
a gravel hill section through the Pyramid Valley and Waipara Gorge (it's gravel for about 20 kilometres)
a gradual descent through sealed back roads to Amberley
a short jaunt through private farmland to a (dry weather) river crossing, which takes you to Leithfield
a mix of (quiet) sealed and unsealed rural roads to Rangiora
sealed cycle path on to Kaiapoi (via the Passchendaele Memorial Path) and then Christchurch (via the Northern Corridor).
For me, the best bit is the first section – it's the most picturesque with its rolling hills, limestone outcrops, and views back to the mountains and into the secluded Waipara Gorge. This section also provides the greatest challenge with some steep climbs followed by some fast descents – which can be a bit nerve-wracking on gravel roads. Thankfully, the road is very quiet and I have only ever been passed by a few vehicles, leaving me free to ride in the middle of (my side of) the road and enjoy the views.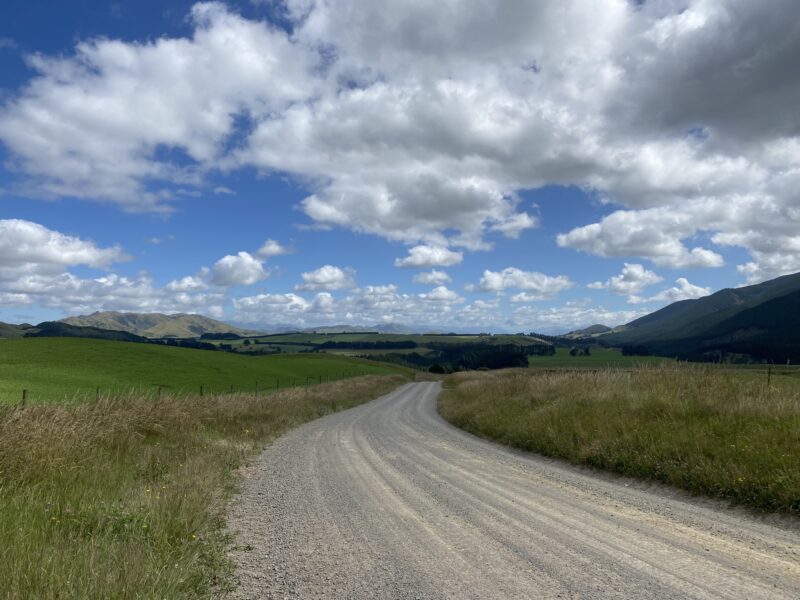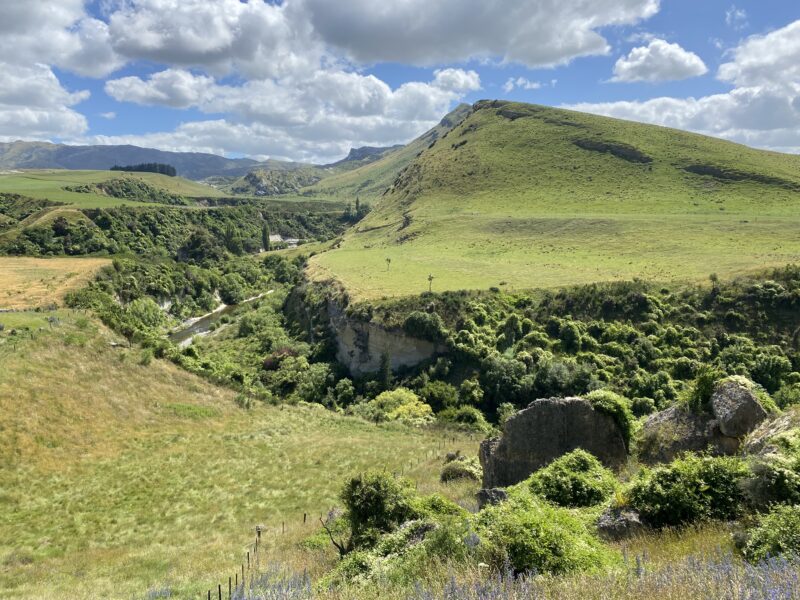 Things can get a bit busier when you reach the sealed roads, but there's usually just a low level of local traffic around Amberley. (Check for any scheduled events though. One time, I discovered that a local winery was hosting a music festival and experienced a constant stream of cars full of young partygoers all the way to Amberley. It was not a very relaxing ride that day.)
You'll be on Ram Paddock Road as you come off the hills – veer right when you get to Mount Brown Road. This will take you through Broomfield and on to Douglas Road and the back streets of Amberley.
Amberley is roughly the half-way point back to Christchurch, and a good spot for coffee and a break. I like to stop at the Nor-Wester Café (which means crossing the busy main road). But there are options on the trail side of the road, including the Brew Moon Brewing Company, a pie shop, a bakery café, a dairy and a pub. And if you do want to cross the road, there are plenty of pedestrian islands to make it easier. Public toilets are on the trail side of State Highway One (turn left when you arrive).
As you leave Amberley, you can avoid riding in heavy traffic along the main road by taking Church Street (turn right off Douglas Road before you get to State Highway One) and connecting to a shared path that runs along the highway all the way to your next turn-off point at Grays Road. (Note that it may or may not be officially shared pathway the whole way, and there is a small section on a quiet side road.)
From there, it is a short ride down Grays Road to Stockdills Road and through farmland to the Kowhai River crossing. Be aware that there's a few hundred metres of riding over river stones before popping out the other side and on to Leithfield. The water has only been ankle-deep (or non-existent) at the times I've done it, but I haven't cycled there after heavy rain. (The wet weather route involves carrying on down Grays Road and turning left to follow the Inland Scenic Route until you can rejoin the trail at Western Terrace Road.)
If you haven't stopped at Amberley, you can turn left at Leithfield Road and you'll find a small reserve with a playground and public toilets, which makes a good picnic spot. Otherwise, turn right to continue along the trail.
After the hills, the rural section from Leithfield to Rangiora is my second favourite part of the ride. It takes you through gently rolling countryside along quiet back roads that you wouldn't normally experience. It's a mix of gravel and sealed roads and, because most people take the Inland Scenic Route, there's very little traffic. The route heads west along Leithfield Road, crossing the Inland Scenic Road into Western Terrace Road (which is where you'll reconnect to the trail if you've done a wet weather detour) and then left into Marshmans Road and on to Ashley.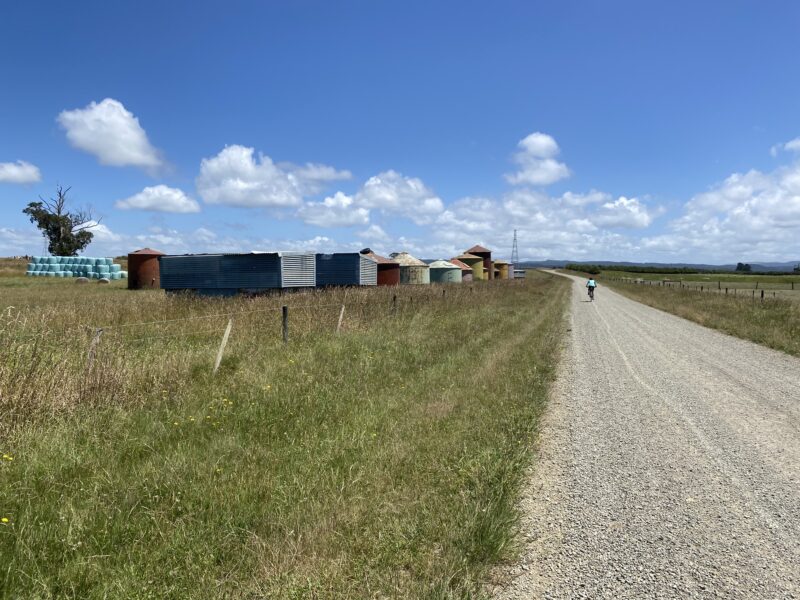 The traffic can be bit more frenetic coming past Ashley and into Rangiora, but there is a separate cycle track for the last few kilometres and over the Ashley River, and then on-road cycle lanes through Rangiora to the cycle path to Kaiapoi (described in a previous post). From there, it's a smooth ride all the way back to Christchurch along the Christchurch Northern Corridor.
All up, the ride from Waikari to the centre of Christchurch is just under 110 kilometres. It's a big day, but easily achievable for those with good fitness and a mountain or gravel bike.
Getting there
Drive north to Waikari via State Highway One, turning left at Waipara onto State Highway Seven. The car park is on your left as you come down the hill into Waikari (just past the shops).
If you want to do the full trail, you can take the Coastal Pacific train to Kaikōura. Kiwirail will take bikes as luggage (for an extra $20) if you book them in, and remove (or turn in) your handlebars and pedals. (Bikes also need to be clean, and free of any bags and other accessories.)
Some options
If you want a shorter (or longer) ride, pick a different starting point. Or, finish your ride at Rangiora or Kaiapoi and bus back to Christchurch from there.
Drive yourself to your desired starting point and do a 'there and back' ride instead of a one-way trip. When I was building up my hill (and gravel) fitness, I did this from both the Waipara Gorge end (parking near the Bone Lime winery) and the Waikari end of the hill section.
I suspect you could also create a bit of a loop ride by connecting with other rural back roads around Hawarden (but I haven't tested that yet).