I recently had occasion to take an early flight from Christchurch – too early for my usual "bike and bus" combo. So I decided to bike the whole way for once; a reasonable trek from the south side of town but certainly do-able.
So what is your bike parking option once you get there? Pretty good actually – right under the main parking building at the end nearest to the terminal. Approach the terminal as if you were using the drop-off/pick-up parking area ("The Loop") and you will find a good selection of bike racks to use underneath the vehicle ramp. Actually you might have to be quick some days – the parks were already pretty full by the time I got there at 6am…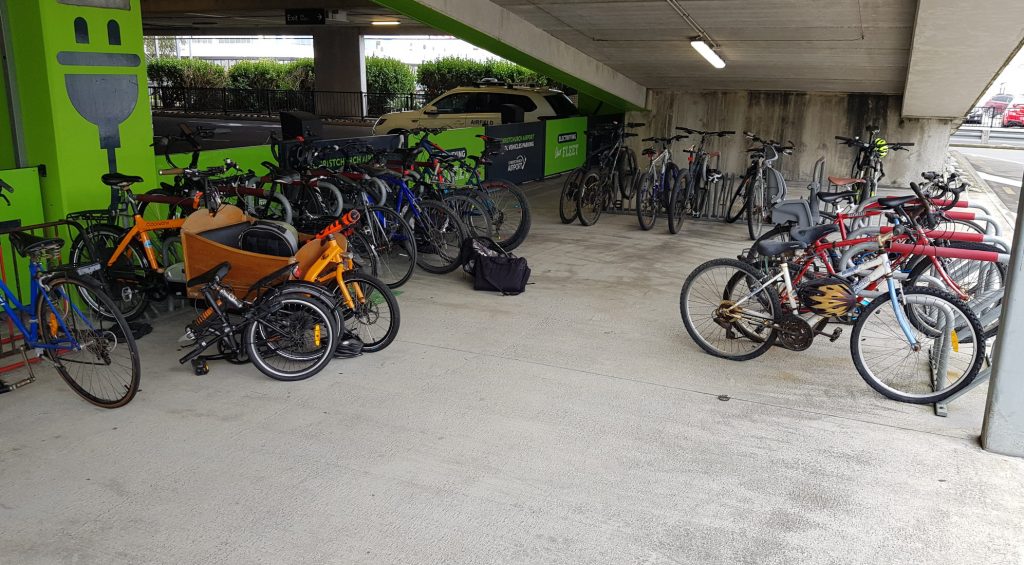 As well as conventional bike parking, there are also 2-3 spots next to some charging points for e-bikes – very handy if you're going to have a few kms to get back home. Interestingly the day I was there, the e-bike racks (with a green surface) were actually filled up with non e-bikes…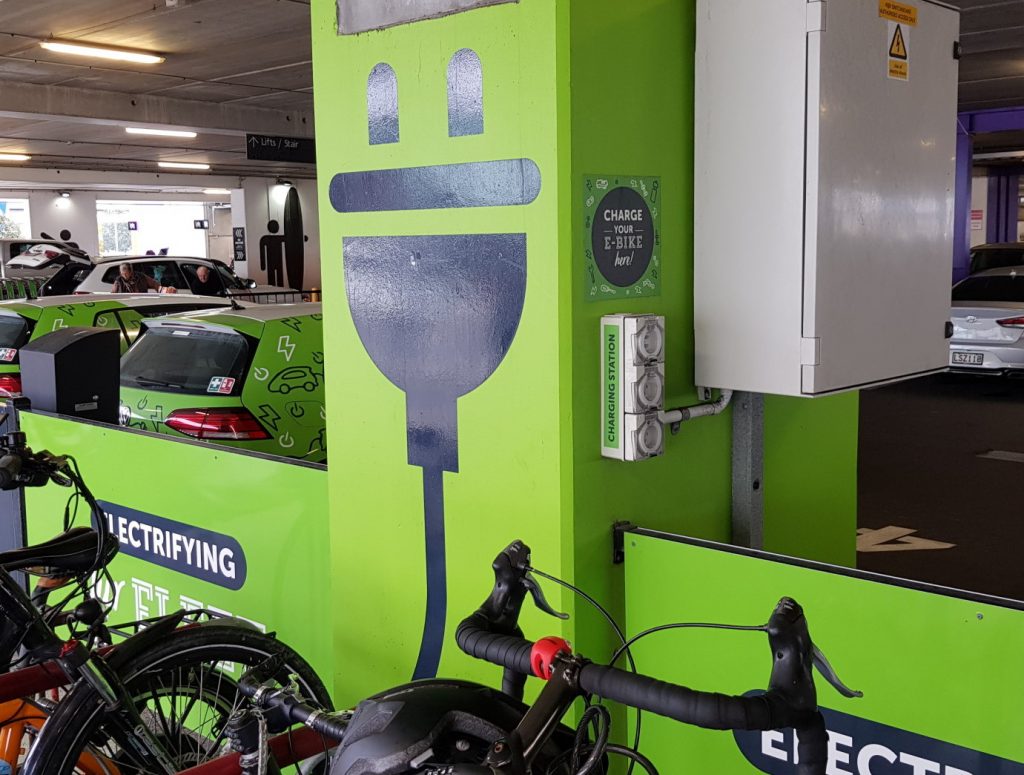 Anyway, kudos to Christchurch Airport for providing these bike parks in a handy location – and also providing some useful info on their website about them (and other advice about taking your bike on a flight). A couple of minor suggestions: a drop-down kerb ramp on/off the adjacent roadway would be a nice touch too, and also some signage approaching the airport pointing the way to the bike parking…
Speaking of approaching the airport, possibly the biggest challenge of getting to/from this parking is the road access, depending on which way you are arriving. From the north, the Harewood Rd underpass helps cross the state highway over to Orchard Rd (and hopefully soon will link with the Wheels to Wings cycleway). From the south, the ramps and underpassess around George Bellow Rd and Syd Bradley Rd would help make the connection between Russley Rd and Ron Guthrey Rd. The trickiest one is probably along Memorial Ave – fine as you go past the traffic signals either side of the highway overbridge, but not much shoulder to play with after that as you head towards town (not so much a problem when I was riding there in the calm of 5.30am, but at other times…). As soon as possible you may wish to use a parallel route like Avonhead Rd or the Burnside Cycleway.
Have you used the bike parking at the airport before?