I never get surprised at what Steven Muir manages to carry on his bikes; over the years we have seen all manner of things attempted thanks to his collection of cargo-bikes and trailers. Cast your mind back to July 2012 and it was numerous boxes requiring transport (with a follow-up a few weeks later)…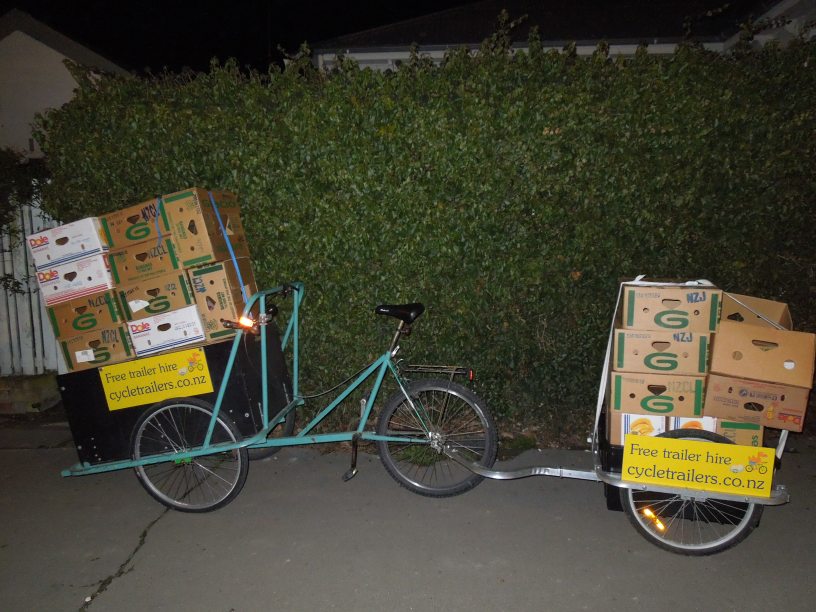 I'm sure this could become an internationally acclaimed event whose popularity rivals the Tour De France. How many banana boxes can you fit on one pedal powered vehicle and keep them there while cycling for three kilometres over potholed road surfaces? Anyone want to be part of an inaugural event later this year (preferably not on a big Nor-Wester day). Maybe for extra entertainment there could be some stealing of other contestants boxes while cycling along like 'capture the flag'.
Actually we are having to do the old earthquake move and repair thing so I just needed to collect some excess boxes from friends up the road in Shirley who had just completed their move. I couldn't find the hitch to my large trailer so was limited to the 'tadpole' and a medium size trailer, but still managed to fit 24.5 banana & pineapple boxes on board which should do us nicely for a lot of the packing. Carrying them all loaded with books & clothes might be more of a challenge though.
What's the most challenging thing you've ever carried by bike?