It's the end of the working year for many; time to put your feet up and perhaps enjoy a favourite drink. It so happens that my work is located directly above a pub (handy for those "downstairs meeting room" appointments…), so I get to see many people celebrating the end of a day with a brew or two. Wandering downstairs after work, there's usually a reasonable handful of bikes parked where they can. But on my last working day of the year this week, I was intrigued to see a whole armada lined up along the fence: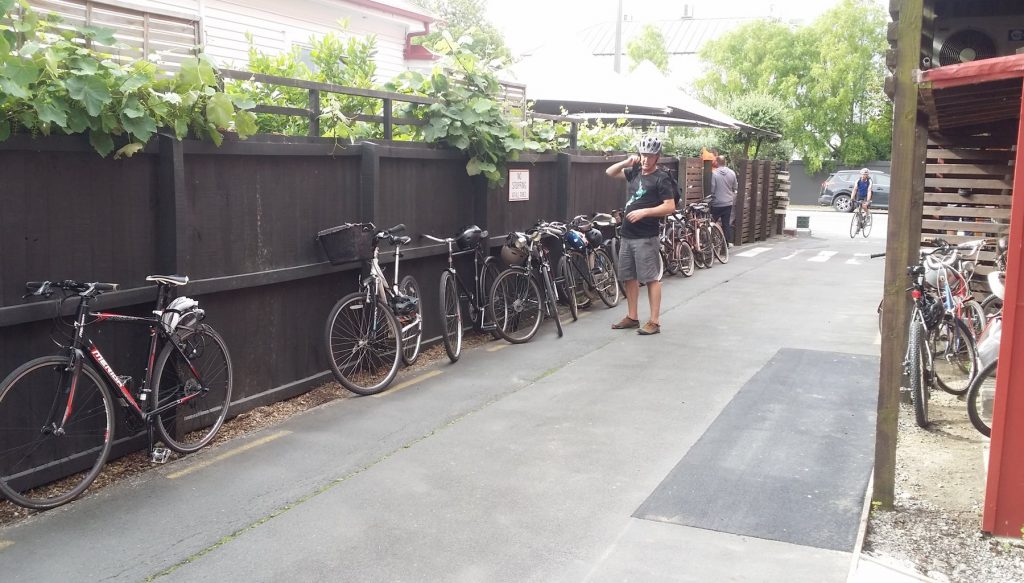 Given the unusually high prevalence of classic steel bikes amongst this lot, I presume that this was a particular group out for a pub run (any ideas, readers?). But it highlights again how the biking culture is already alive and well in Christchurch, even before we get most of our Major Cycleways on the ground. I count at least 15 bikes in the picture (and more behind me) – imagine if you had to find car parking for them all… It highlights the folly of being worried about swapping car parks for bikeways – although it also highlights that our pub could do with some more bike parking (perhaps swap a couple of car parks on the street for a bike corral?). And, while I would hardly condone reckless drunken behaviour on a bike, it is handy to remind yourself that the drink-driving laws only apply to motor vehicles…
Have a Merry Christmas everyone and I hope that Santa brings you the bike-related gift you've been lusting after. We'll be continuing to post some articles throughout the break to keep you entertained too.
Are you seeing more bikes at destinations you go to?