Like many keen souls, I was up fairly early last Monday morning to go and attend the Anzac Day Dawn Service at Cranmer Square. Knowing that car parking would be a nightmare (I saw people walking in from over a kilometre away), I hopped on my trusty two-wheeled steed and biked in; fortunately the weather wasn't particularly cool that morning. As I headed towards the public area, I could see that plenty of others had the same idea, with bikes attached to whatever they could find all around the periphery of the square: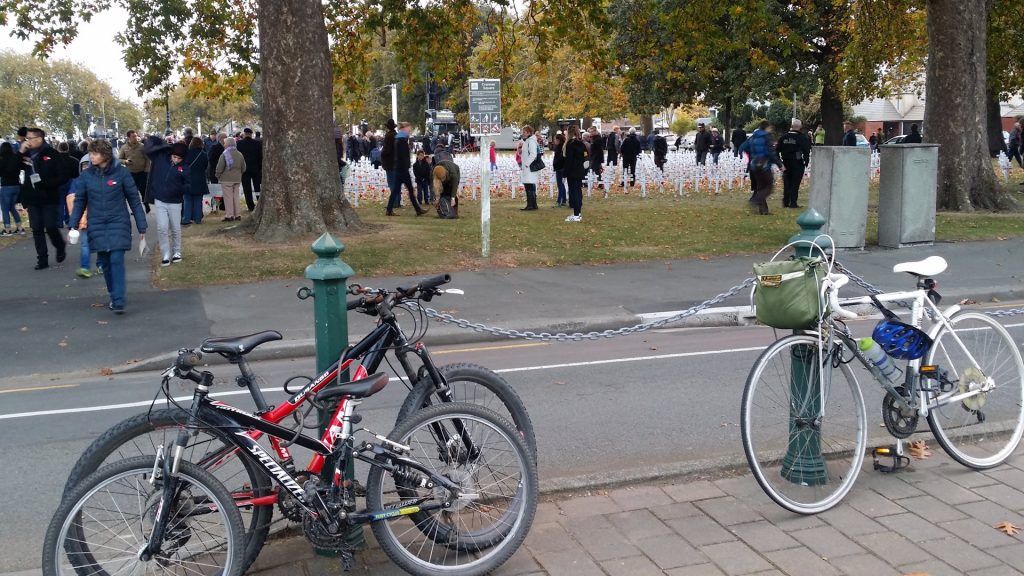 It's becoming increasingly common to see quite a lot of people choosing to bike to big public events in Christchurch, for example I saw heaps biking in to the Night Noodle Markets back in February. Unfortunately it's not very common yet for the organisers of these events to line up some proper bike parking to support this activity. We know that traffic and parking is always a hassle at these things, so why not make it easier to choose an alternative? Perhaps some of the new CCC $40k Transport Innovation Fund could go towards some portable bike stands that can be wheeled out as required?
Have you biked to major events? Was there any "proper" parking for you?