And now for a word from our sponsors… well not quite, but I did receive a request from international online retailer GearBest to have a look at some of their cycling accessories (they also stock a wide range of other goods, including electronics, household gadgets and outdoor gear). And so, after a bit of back and forth, a package arrived at my door with a couple of interesting things to play with that I thought might also be of interest to some readers.
Disclaimer: GearBest has freely provided these products to me for review; no other commercial arrangement has been entered.
First up is a Roswheel mobile phone holder with side pouches: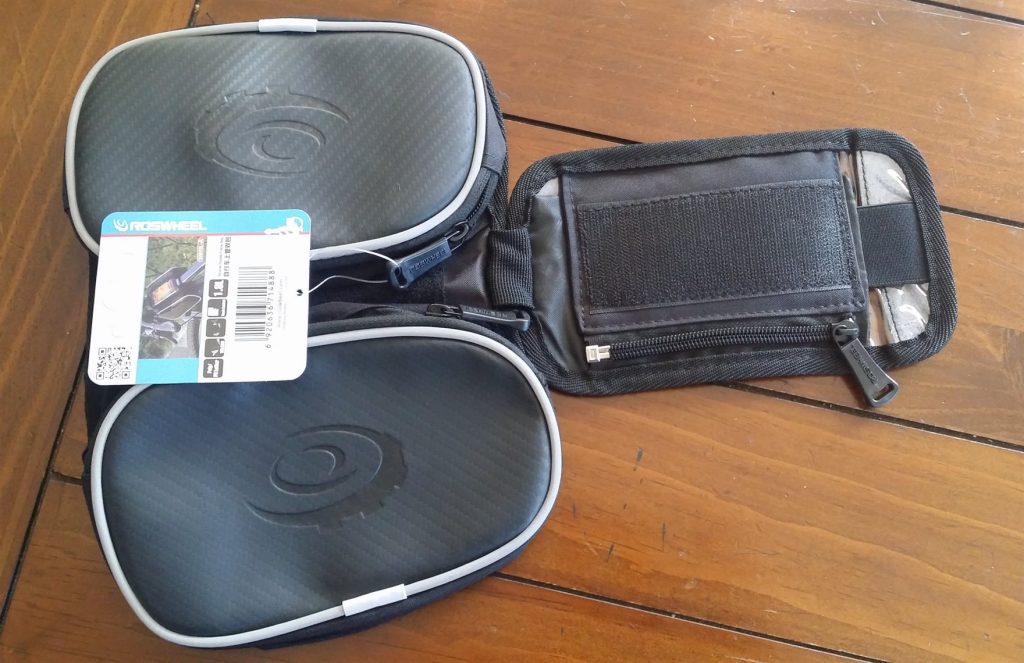 Anyone heading out for a decent ride invariably wants to take a few bits and pieces with them; maybe your phone, wallet, nibbles, puncture kit, etc. Small bike-specific carry-bags are a big market for those who don't want to bother with a backpack or panniers; for example I have one that can fit under my seat, and another that mounts in front of my handlebars. The Roswheel bag is designed to fit at the front of your top tube, near the handlebars and head tube. That provides a handy location for you to access stuff and to see your phone, which is housed in a clear pocket on top.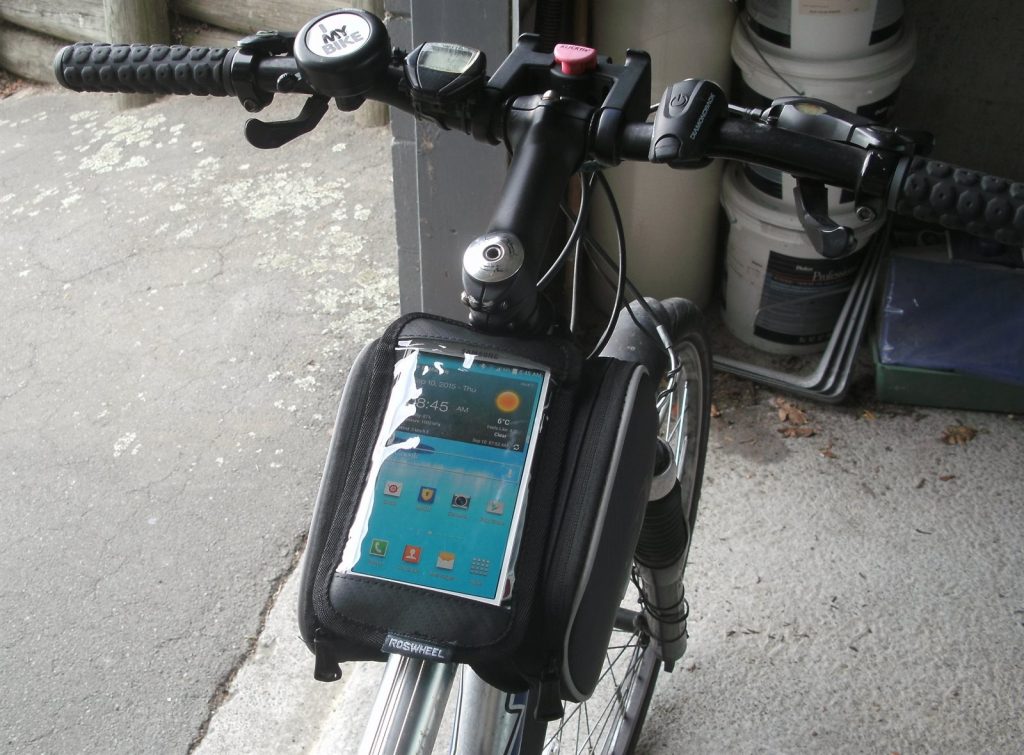 I got a 5.5 inch pocket to fit my Galaxy Note 3 phone. It attaches to the pouches via velcro and has a zip mechanism to allow you to securely insert your phone. Once inside the pocket, touch commands through the clear cover still worked just fine. My son tried with his phone however and struggled a bit to get consistent touches, so it may depend on how good your phone's touch sensitivity is.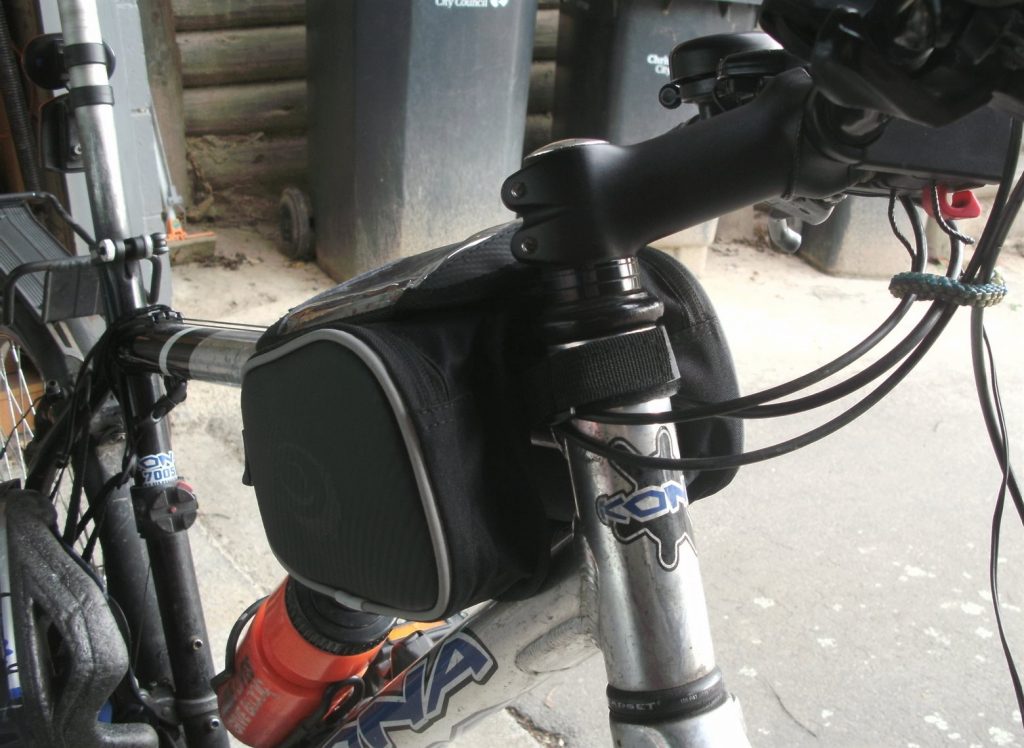 Attachment to the bike is by means of a couple of velcro straps underneath. Although it certainly wasn't going anywhere once secured, it did have a tendency to wobble when riding over bumps. But the overall product appears to be made of good quality materials and the pouches are a big enough size to squeeze in quite a bit of stuff (1.8 litre total capacity). It is also small enough and suitably located to keep clear of your legs while riding.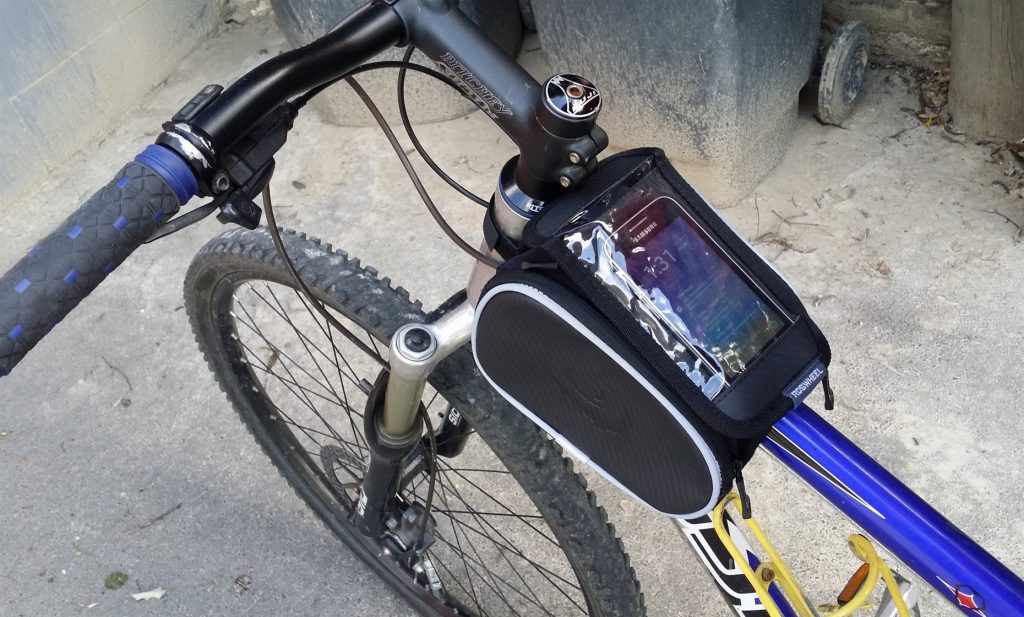 Currently this retails online for just over NZ$13. There are similar bags available from GearBest with various size pockets for different phones, and there are also plenty of other types of bike bags to choose from too.
---
Next item to play with was a blue LED tyre valve bike-light: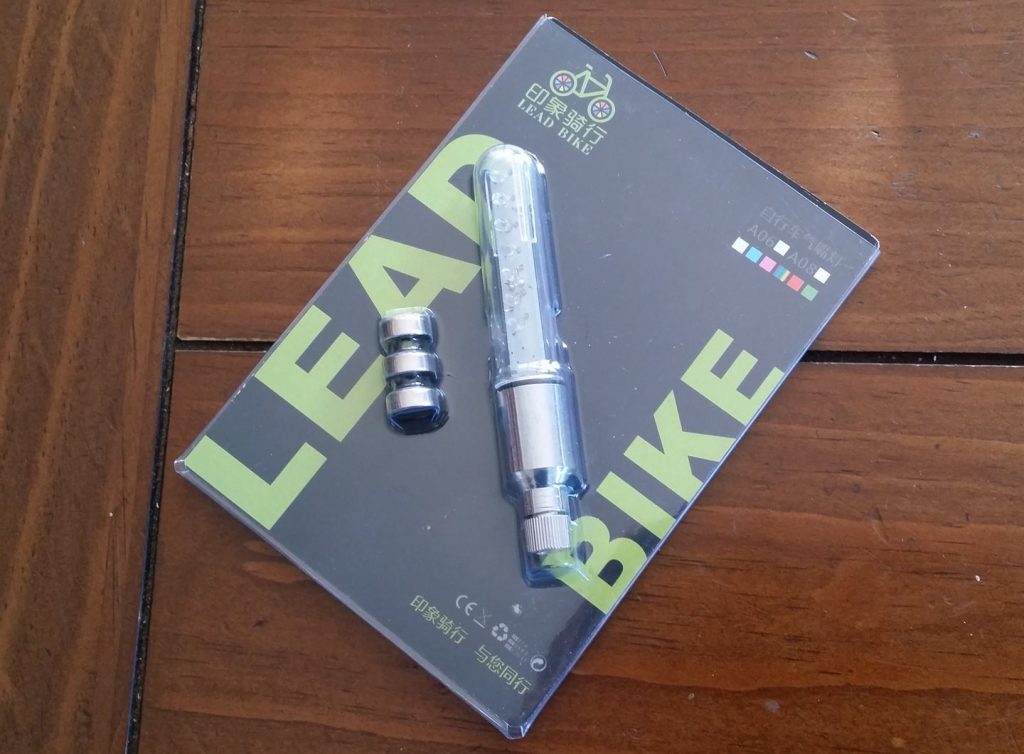 If you've ever wanted to bling your bike up a bit more for the Winter Solstice Ride (or just for biking around at night), then these fun little devices will certainly do the trick. Just remove your tyre valve cap and screw this on instead (fittings provided for both common types of valve). The device only lights up when it detects darkness and movement (with a suitable delay before stopping glowing).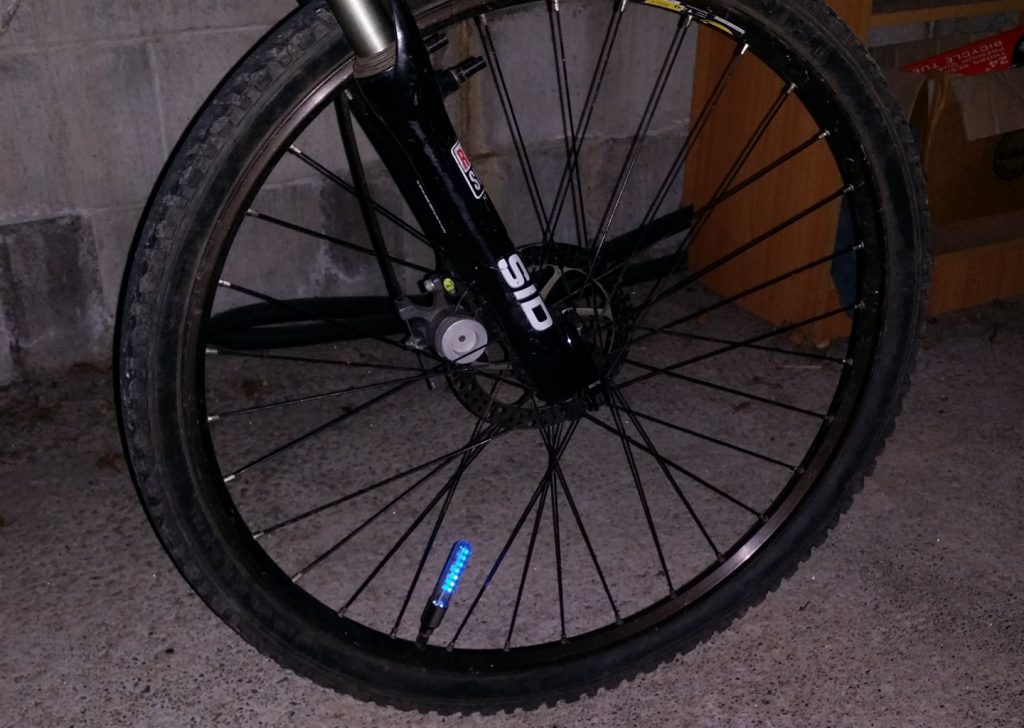 Powered by three button batteries (included), the light generates various different patterns using seven blue LEDs (white and pink light options are also available). Every few seconds, the pattern changes automatically, although it can be hard to discern the different patterns (15 provided) as they whiz past you. The light is certainly very noticeable from a distance and the device coped fine with a heavy rain downpour too.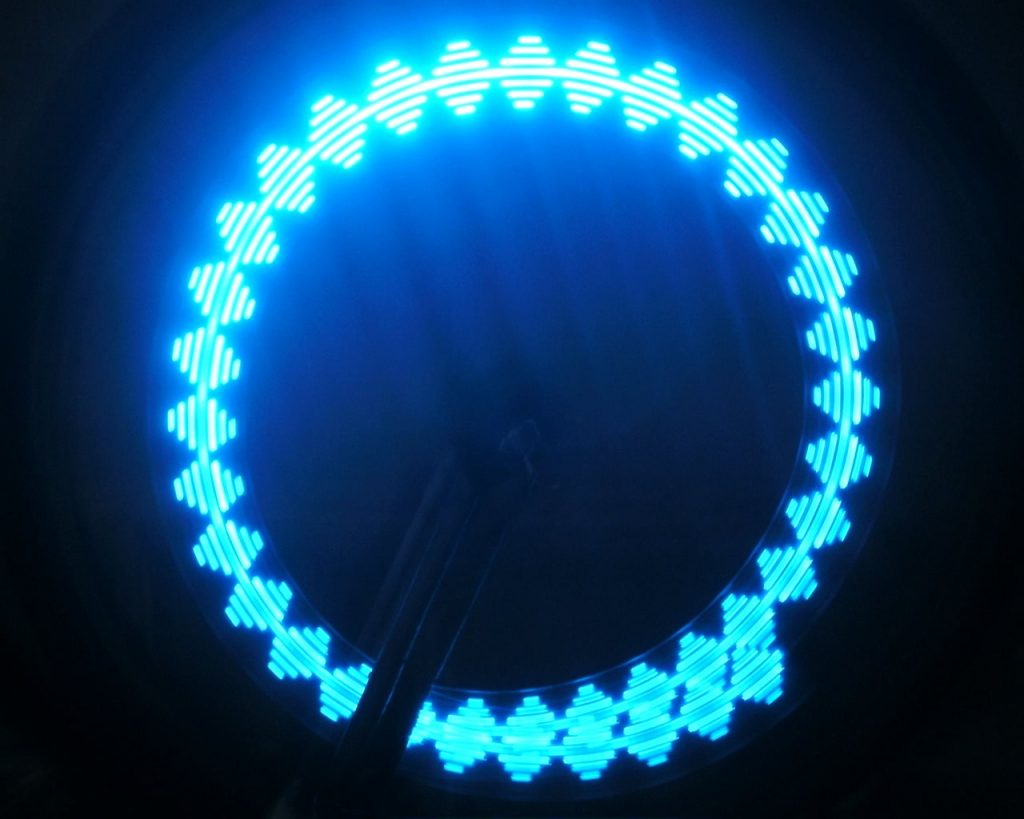 Currently this retails online for just over NZ$9. If your budget is bigger or smaller, there are also simple single light fittings and even more complicated light arrays too (some you can even program the patterns), as well as more conventional front and rear bike lights.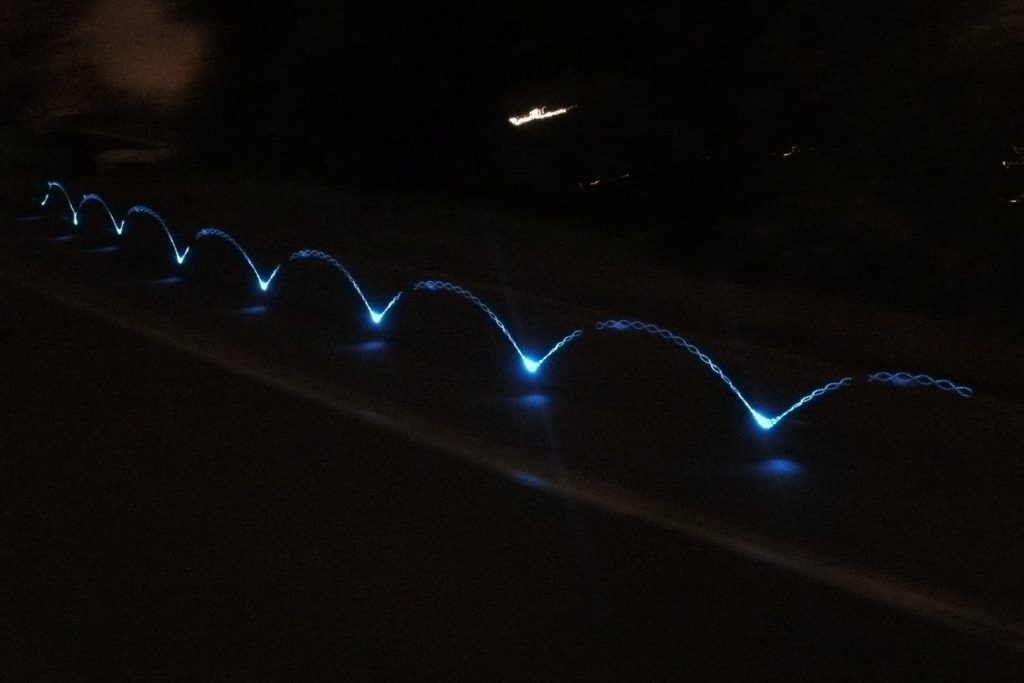 Thanks to GearBest for supplying these products to have a look at. They certainly have a very extensive range of cycling-related items, whether for fun or more practical reasons, e.g. bells, clothing, holders. The cost of most of them is also exceptionally good value; if you're willing to wait a bit you can also generally get free shipping on orders too.
If you would like to have us test/review a product, contact us and we'll consider it.
What do you think of these accessories? Are there other GearBest items you prefer better?