Tennyson St is the grand-daddy of separated cycleways in Christchurch; it's been around for well over a decade. So it pre-dates the introduction of the kerbside wheelie-bin rubbish and recycling scheme a few years back. I love this scheme; it's a great way for us to get our recycling and organics easily dealt with separately. However, come rubbish collection day, sometimes I'm not so enamoured with it…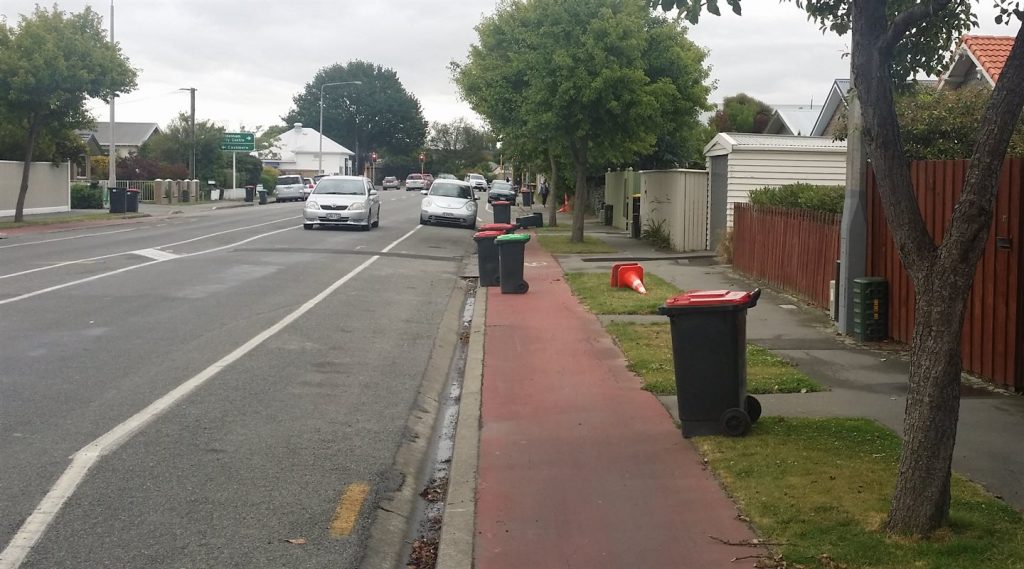 It seems to be hit & miss; some weeks they're in the way and some weeks they're neatly set back behind the cycleway. If I'm feeling particularly community-minded, some days I'll stop and shift them all back to save others any grief. Hopefully the Council are regularly reminding residents that their collection trucks can easily pick them up from further back (interestingly there's nothing specific about this on their website yet…).
It looks like most of the coming new cycleways either have a suitably sized berm or even special wheelie bin pads next to the car parking. So hopefully our future cycleways won't have wheelie bins clogging them up once a week…
Have you encountered rubbish or wheelie bins on your cycleway route?