Well, construction is moving along rapidly on street works around the central city, and just as quickly more "Accessible City" transport projects are out for consultation. The third set of Accessible City projects are open for submissions until this Tuesday and I have to say I'm generally rather underwhelmed…
In this latest batch, there are three street sections being proposed: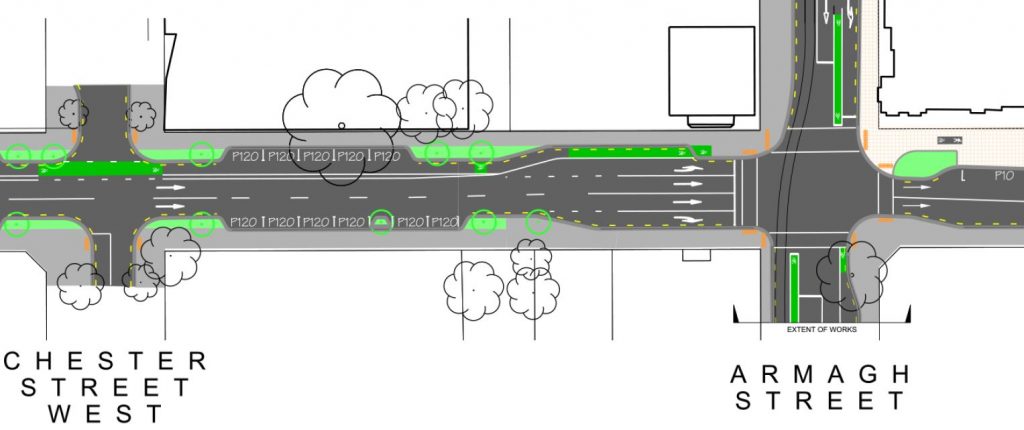 Firstly the one-way section of Durham St & Cambridge Tce, from Kilmore St to Tuam St is being worked on (actually, it's a pity that the plans don't include the Kilmore intersection itself, as there's a horrible pinch-point right there by the slip-lane as you enter Durham St). The general gist for cycling is a 4m-wide shared path on the river side (well, between Armagh and Cashel; then it continues to link with the Avon River pathway route); potentially useful in theory, although it will depend of course on how well the path user interaction works (also not that helpful if you're trying to access a destination on the right-hand side of the street)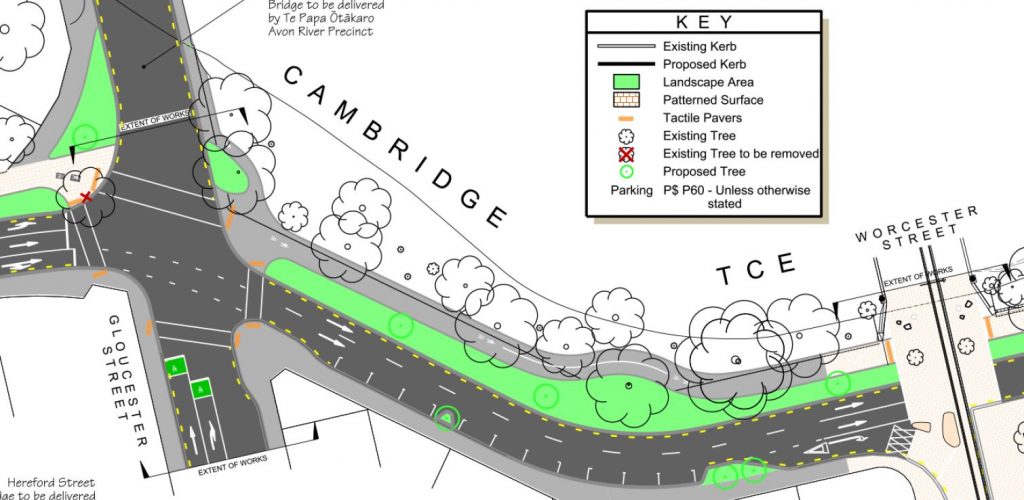 It's also not clear exactly how the path crossings at each side road will work too. Will the signal phasing provide a separate or advance green light for path users before turning traffic? Will it be useable for a person cycling in the opposite (northbound) direction? The consultation material isn't really specific on these rather crucial little details.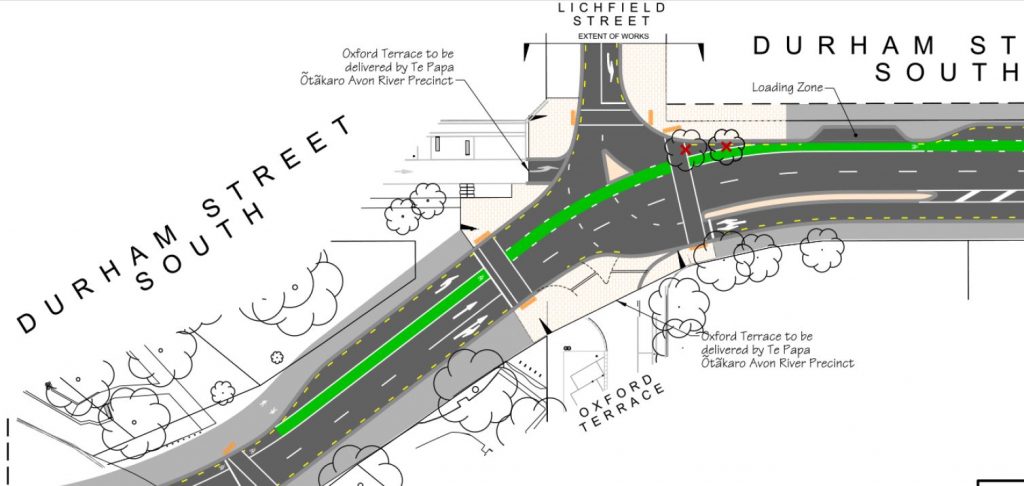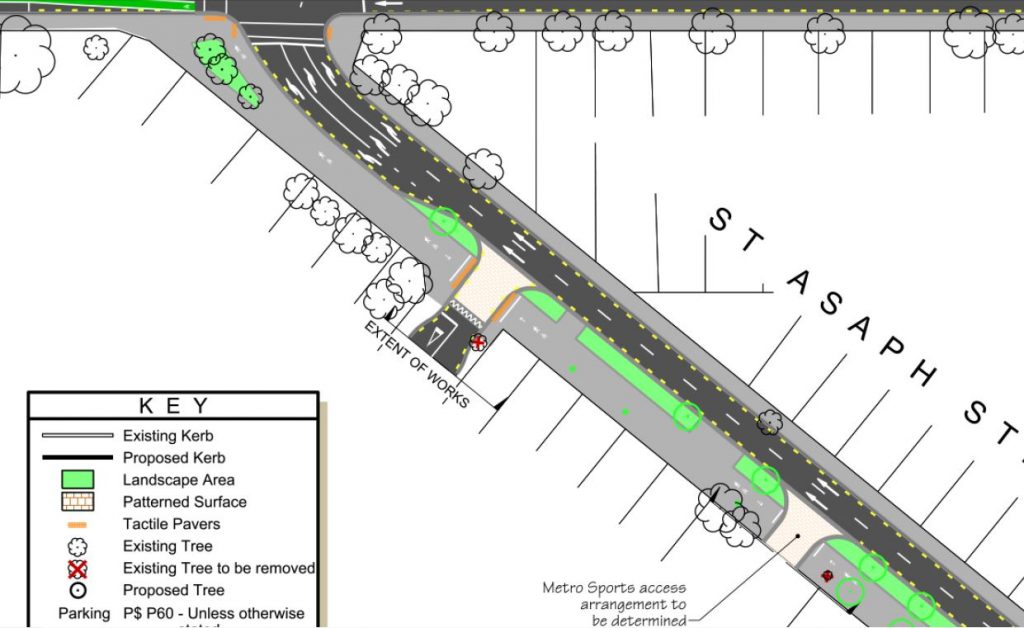 I was expecting to see more use of separated cycleways, and yes, Tuam St's separated bike facility now continues back to Antigua St (whether Montreal St's lane is physically separated is a bit vague; seems like space there for separators). What I wasn't expecting to see was so much use of two-way shared paths again (especially where there often appears to be at least 5-6m of space for separate facilities). Didn't we learn the lesson from the original Ilam Rd proposals?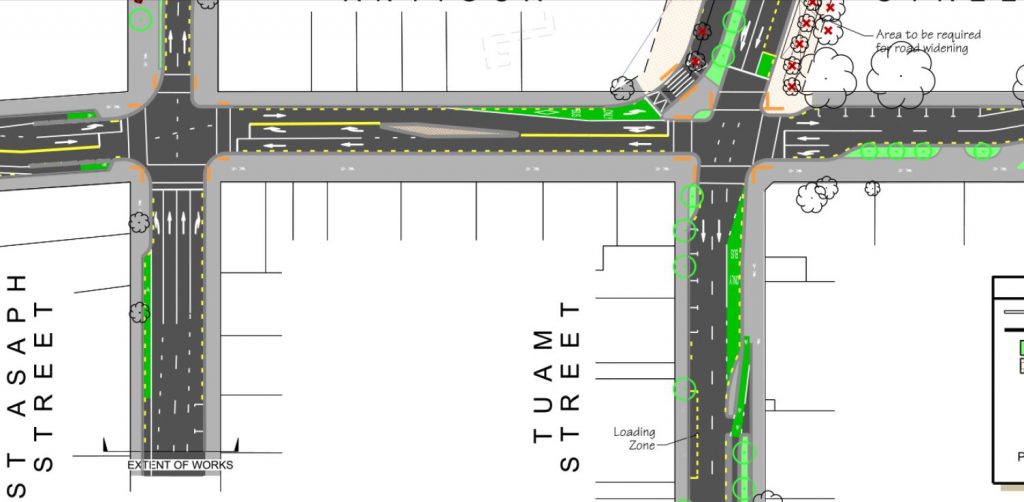 The biggest problem with two-way paths (aside from mixing with pedestrians) are what happens at the intersections, especially when in many cases you are expected to swap from one side of the road to the other under the proposed plans (e.g. Antigua St northbound). I can see a lot of riders getting very frustrated with the process (especially if the signal phasing is not very efficient) and just choosing to stay in a traffic lane instead, to save themselves time (instantly earning the ire of many a motorist because they're using "their road" instead of the cycleway…). One small advantage I can see is that on a couple of corners you will be able to do a left-turn off-road and avoid the signals completely, but there are other ways to do that with a dedicated cycle facility.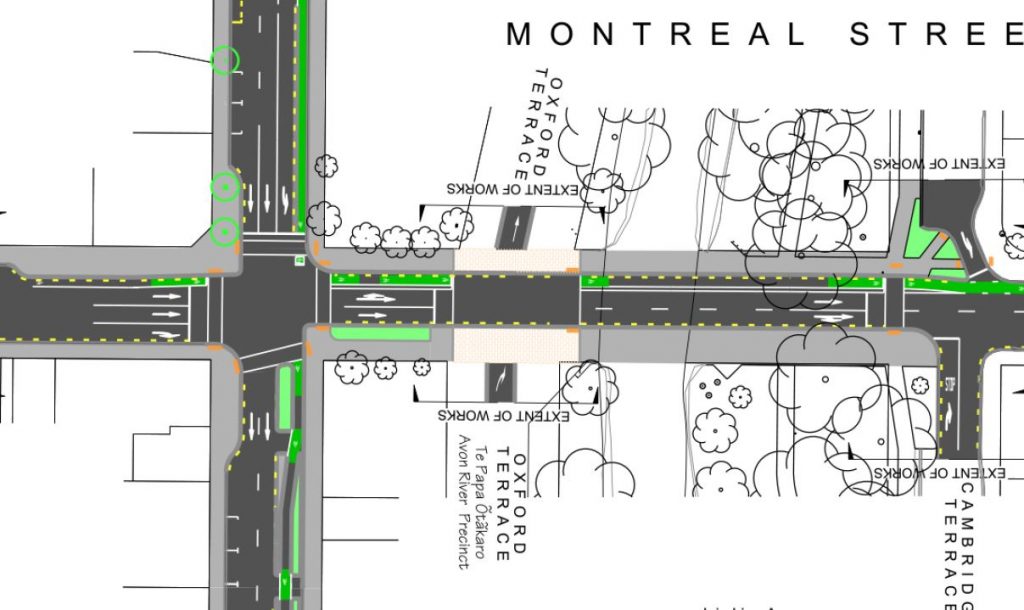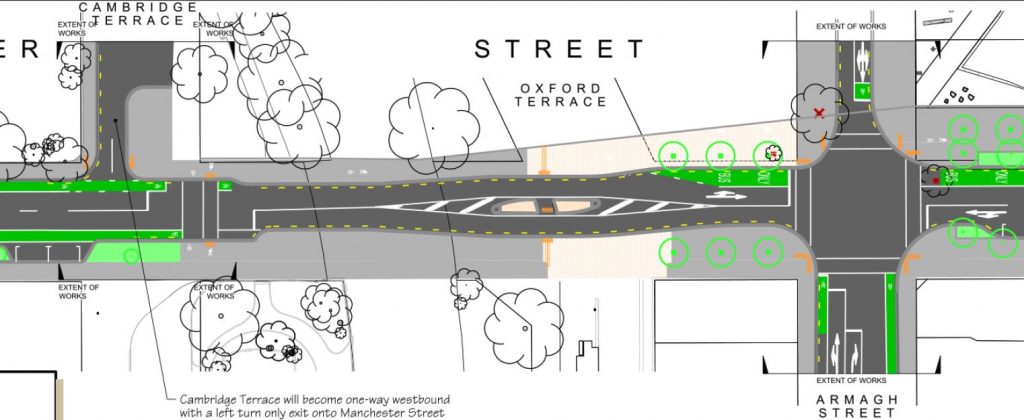 The original Accessible City plan implies a boulevard-style layout, with a separated busway down the middle and service lanes on each side. This would make a lot of sense in terms of pedestrian accessibility, speed management, future proofing for rapid transit, etc. So it was a bit surprising to see the proposed plan looking quite different.

Again, shared pathways seems to be the tool of choice for this corridor. This just seems crazy in a busy urban environment with pedestrians wandering all over the place (especially around the super stops). And it's only on one side of the road; not much use if you're trying to get to the other side. While the Eastern Frame pathway will be only half a block away (another shared path I'm guessing?) and the main Colombo St route a block the other way, for those who actually need to access Manchester St by bike I can't see this being useful. Again, no details on exactly how the intersection crossings will work safely/efficiently either.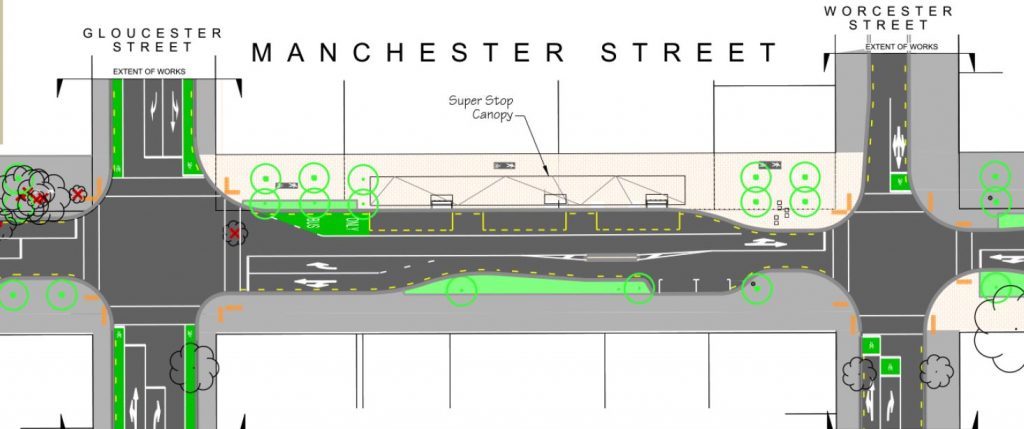 So that's the three proposals. The consultation documents also remind readers that most of these streets will be in the new 30km/h central city zone (except St Asaph/Hagley). I'm not sure when exactly that is meant to kick in (the Minister actually gazetted the bylaw last December), but I'm seeing precious little in the street designs here that would help to encourage these lower speeds (save for a few islands on Manchester St). The surfaces are all smooth asphalt and there's little in the way of narrow lane widths, horizontal deflections or broken sightlines to slow people down. Perhaps enhancing some of those pedestrian/cycle crossing points with a bit of colour/texture might break up the continuous flows? One can only hope that on the one-way streets the synchronised green wave is now set at a lower speed…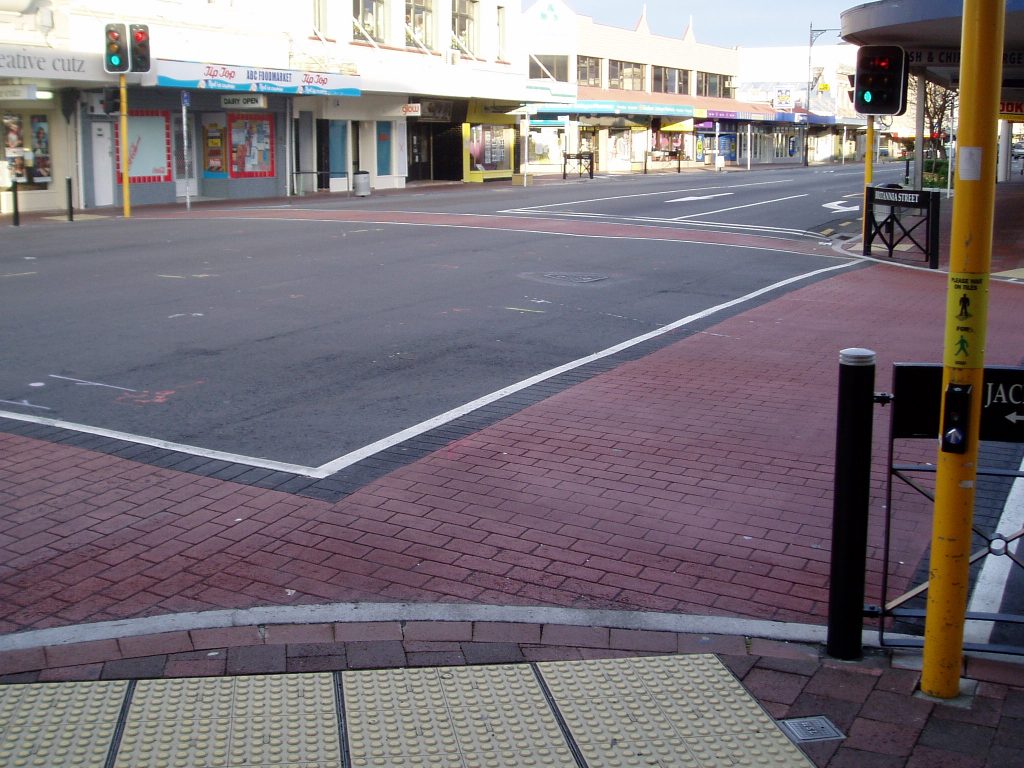 The other frustrating thing about all of these consultations is that it is difficult to see how they fit in with the bigger picture. For example, we've seen plans for Lichfield St, we've now seen plans for Manchester St, but we have no idea what the Lichfield/Manchester intersection looks like because it's not included in either. And everywhere there are statements like "final layout to be determined later as part of Te Papa Ōtākaro / Avon River Precinct", which tells us very little about whether the final product will be usable from a network perspective.
Overall, these proposals are disappointing given the relatively blank slate presented post-quake for these streets. Sure, there are many bits that are a dramatic improvement on what was provided previously here (in many cases, nothing before) but it's the lost opportunities that may come back to haunt us. I suspect my frustration is accentuated by what I'm currently seeing in various places around The Netherlands (who we're supposed to be emulating in much of this); generally they wouldn't be applying these kinds of solutions on the same streets there. Many of them may not be the major designated central city cycling routes but they still deserve better than this. Can we have another go at this?
Submissions on all three of these projects close at 5pm on Tue 26th May. So, if you want to get your thoughts in, you'll have to move quickly to have your say. Personally I think these ones need a bit more work…
What do you think of these project proposals?