Quite a while ago we heard about the development of the Central City transport plan, An Accessible City. It seems like it's been a long gestation period for things to start happening within the Four Aves on the transport front. Now at last, there are some interesting developments happening on the south-western side of the CBD and they're now out for consultation. We'll talk about what is proposed for the Hagley Ave / Moorhouse Ave quadrant in a later post, but for now let's look at what is planned for the area around Hospital Corner and east into town.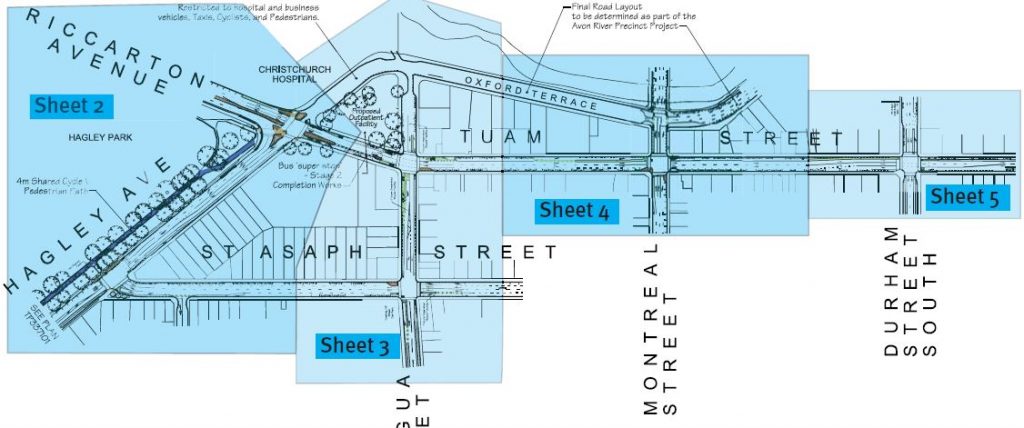 The main change in this area is the shifting of the eastbound one-way route from Oxford Tce over to Tuam St (separate works will carry this one-way route further east). Oxford Tce will become a quiet river esplanade route, with good walking and cycling provision and minimal traffic. There are also plans to develop a "super stop" at the Hospital for the bus services through this area; effectively a mini bus exchange. It's important to also appreciate that this is an interim "Stage 1"; further "Stage 2" works will take some of the developments further.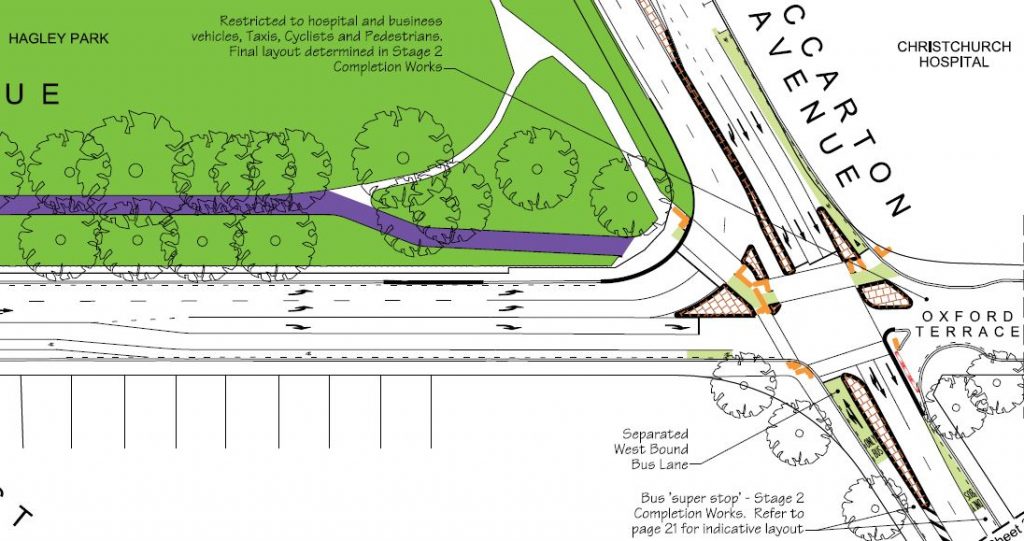 So what's in it for cycling? Well, not much yet, actually. While there are plans to develop separated cycleways along Tuam, St Asaph and Antigua (and I've seen some of these) they're not slated for this first tranche of works. Hence you see some fairly conventional cycle lanes (including a couple of hook turn boxes and even a contraflow link south along Montreal St). It's nice to see the path in the Park along Hagley Ave being widened to 4m though (and hopefully better designed for drainage…).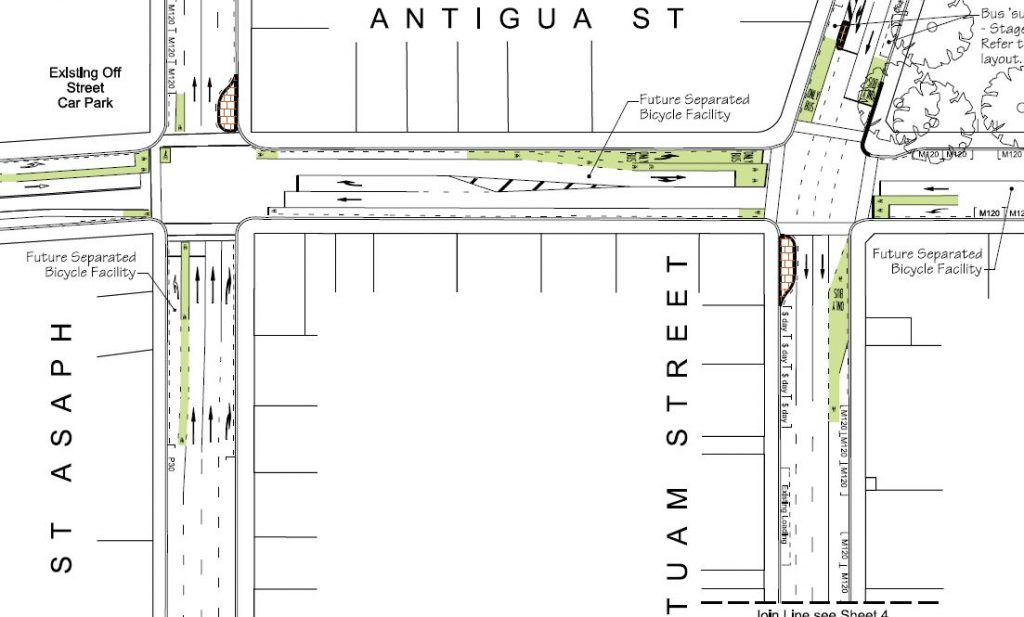 At the very least, it would be nice if some of these cycle lanes could include some cycle lane separators as well; it seems quite feasible in a number of locations (i.e. when not alongside parking).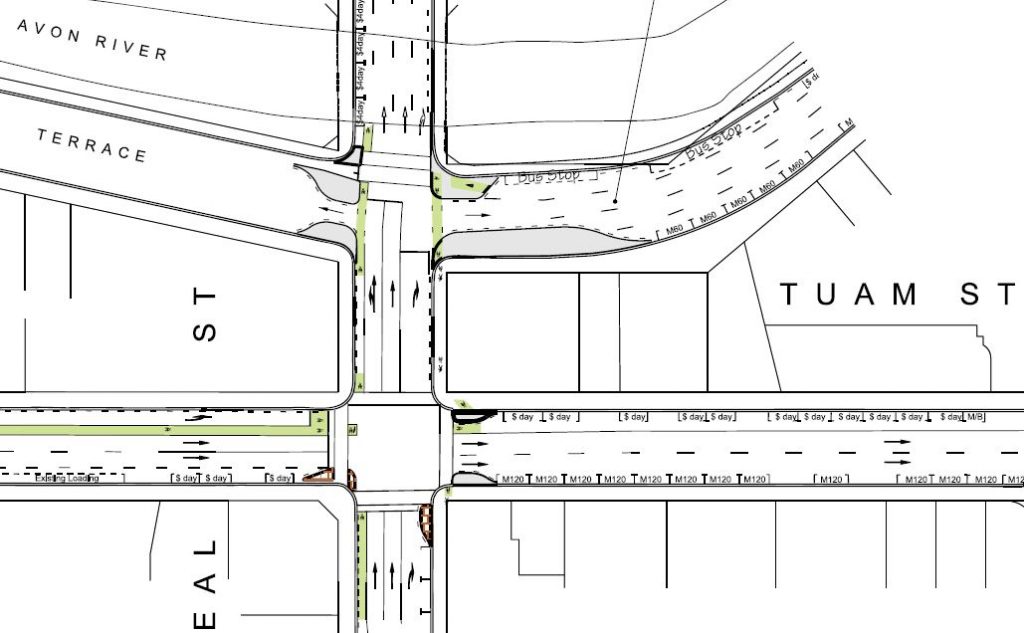 I have to say that I'm not entirely sure why the separated cycleways aren't part of the works from day one. According to the programme, next month we'll see consultation out for the rest of the Tuam St one-way route through town and that will include a separated bike facility. But Stage 2 for Hospital Corner won't be consulted on until next year. The only key difference I can see is that these Stage 1 works don't appear to require many major kerb and channel reconstructions; rather it's mostly just about re-marking the existing roadway. Quicker to implement I guess, especially with the new Transport Interchange scheduled to open in the middle of next year. But it does send a certain message about the relative priority of different transport modes…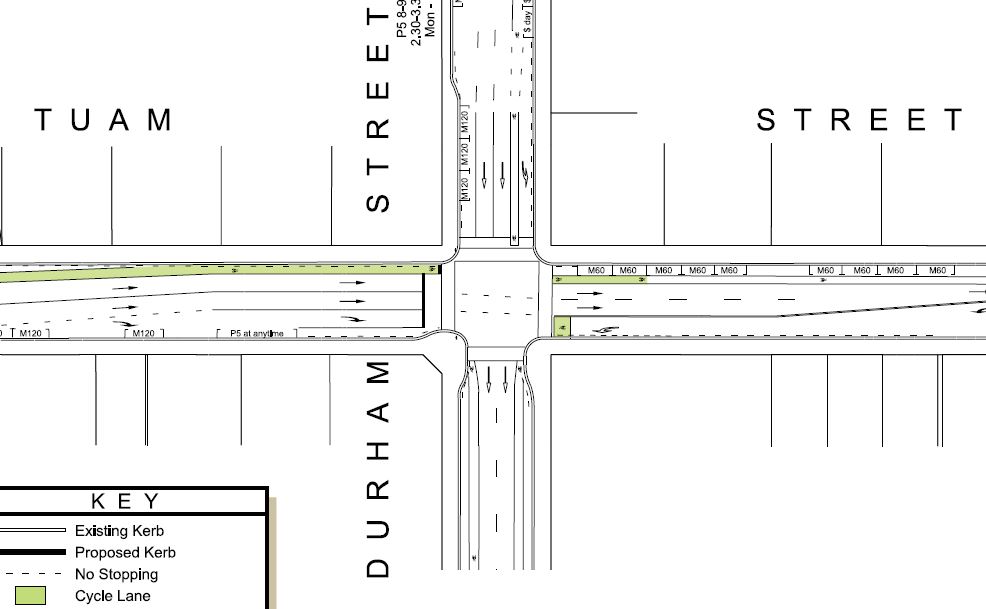 Submissions are now due on these proposals; you have until 5pm Mon 8th September to get your submission in. If you want more information, there are also some "drop-in" sessions planned:
Mon 18 Aug, 10am–4pm
Rolleston Foyer, University of Otago Chch School of Medicine, corner Oxford Tce and Riccarton Ave
Tue 19 Aug, 2–6pm
Hagley College cafeteria annex room, corner Hagley Ave and St Asaph St
Wed 20 Aug, 4.30–6pm
Addington Coffee Co-op, 297 Lincoln Road
Sat 23 Aug, 11am–3pm
Future Christchurch Showcase, Re:Start Mall near the Bridge of Remembrance
Wed 27 Aug, 2–6pm
Hagley College cafeteria annex room, corner Hagley Ave and St Asaph St
Wed 3 Sep, 11am–3pm
BNZ Lounge, EPIC, 96 Manchester Street
What do you think of the proposed works?