Tackling bike theft is a perennial problem globally; it's a particular issue in places where biking is increasingly popular – like Christchurch. We've talked about other attempts to address the problem before, but often the challenge is getting sufficient buy-in by both bike owners and the relevant authorities to make them work.
There's a new tool available locally to help combat bike theft, called 529 Garage – a modern bicycle registration, reporting and recovery platform. In Christchurch, over 4 bikes a day are reported stolen to the Police, so it's timely that we tool up to start to address this major issue.
529 Garage recently launched in Christchurch, Auckland and Wellington, and since its launch locally last month, over 2000 bikes have already been registered in Christchurch.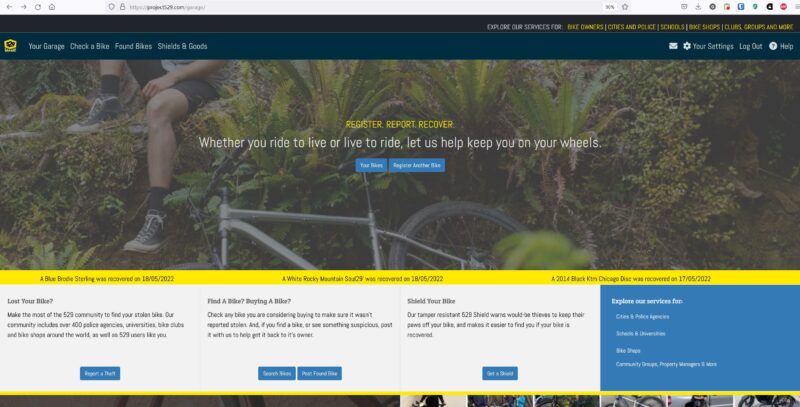 529 Garage started in North America, after a co-founder of Xbox, J Allard, had his Santa Cruz mountain bike stolen, and eventually recovered after a gruelling process. The personal experience with bike theft made J realise just how rampant bike theft is, and that there was a huge need for better tools for Police and the cycling community to attack this epidemic, prompting him to develop the 529 Garage platform.
In case you're wondering about the name – 529 – it's the antithesis of the '9-to-5' working day – the fun stuff we do outside of work, like cruising around on bikes of all kinds.
529 Garage is now the biggest bike registry in the world, with over 2 million bikes registered. Its use by Police in Vancouver achieved a 40% decrease in reported thefts in 4 years, as well as a huge increase in bikes returned to their rightful owners. Various countries are now embracing it, though as it stands anyone anywhere in the world can register their bike for free and have access to all the details and photos to report to Police if it gets stolen.
How does it work?
In Vancouver, data shows that around a third of bike recoveries are achieved with the help of the 'community bike watch' element where others send the owner of a stolen bike a tip if they see it online or in the streets somewhere. So many of us have been victims of bike theft that we know what a horrible experience it is, and are therefore pretty motivated to try to help others be reunited with their bike.
Registration is pretty straightforward; I did one of my bikes last night. Just enter the basic details about make/model/colour/etc, hunt down the serial number (usually underneath the frame) and even add in an identifying photo or two as well. Once done you can then collect a shield from some participating local bike stores – or for any of you attending the Big Bike Film Nights in Chch this week you can get one there as well…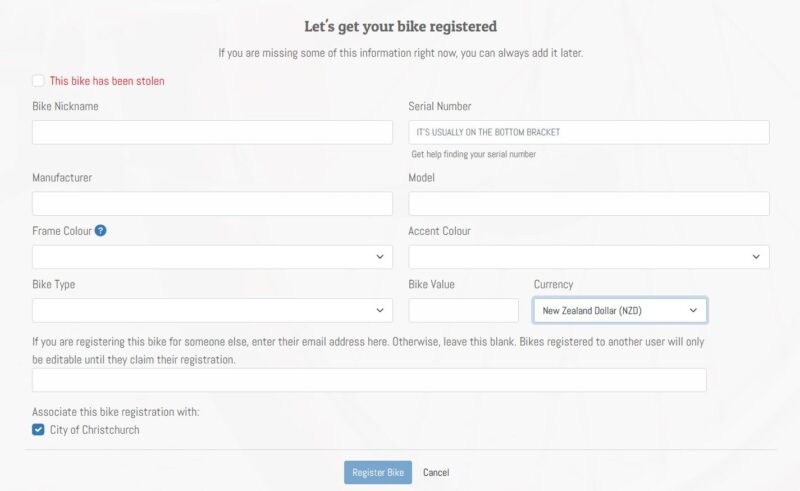 Here in Canterbury, Police recover hundreds of bikes a year, but don't know who they belong to – an issue which 529 Garage helps to address. The other side of the coin is that Police see many bikes they suspect are stolen, but without evidence it can be hard to obtain a search warrant or seize a bike.
Christchurch City Council are also getting in behind the initiative, with their webpage www.ccc.govt.nz/nice-bike containing more info, including how to register your bikes, download the app and get a shield for your bike – all for free…
It's worth bearing in mind that even once your bikes are registered with 529, prevention is still the most important thing – invest in a good chain lock or a D-lock, and always lock through the bike frame and at least one wheel to a solid object. Or use one of the local Locky Docks around town…
Have you registered with 529 Garage yet?