Last week we looked back on some advice from Chrys Horn about the importance of submissions when consultations come out. This week, Chrys continues the theme (first published in Sep 2014) and gives some more examples why submitting can pay unexpected dividends. By the way, this is an opportune time to remind you that submissions on the northern stage of the Nor'West Arc Cycleway from Ilam to Papanui close next Tue 12th Oct – more details to come in a separate blog. And if you want further advice on writing or presenting submissions, this handy submissions guide from Cycle Action Network might help…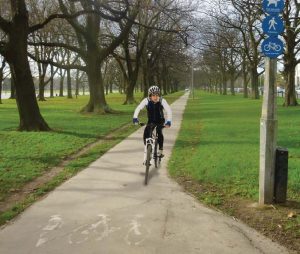 Ok, so I've talked about the submission context and about why presenting a submission is a good thing to do.  I thought I"d mention the reasons why, despite feeling that my submissions have been ignored completely at times, I still make a significant effort to keep writing and presenting these things.
Some years ago (before the earthquakes), I turned up at the CCC to present my submission on the Council's Draft Open Space Strategy.  As it turned out, two other friends of mine were submitting round about the same time, so I stayed to listen to what they had to say.  After they had finished the Committee broke for lunch and came out of the room with us.  Us three presenters got together to have a bit of a conversation and Chrissie Williams, a councillor at the time, came up to us and thanked us for coming.  She mentioned that the committee had been hearing 10 min submissions continuously since 9.00 that morning and that we were the first three people during that time who have presented submissions in the public interest.  Every other submission that morning had been landowners, and businesspeople wanting to ensure that their own private interests were considered in the decisions.  In comparison, our submissions were about things like  public cycle paths and foot paths, considering open space in the context of transition and sustainability and making sure that our public spaces are not privatised.  At the time, I was gobsmacked by this observation. Chrissie went on to say that by turning up that day, we had effectively given her license to talk about the public good when the committee went to make decisions about the Strategy.  Without our presentations it would have been much more difficult for her and the rest of the committee to discuss the public good.
A few months later, I talked with a friend of mine serving on the Otago Conservation Board.  He related that the Board were reviewing the Mt Aspiring National Park Management Plan and that ALL of the presentations of submissions during that process were from businesspeople wanting ensure the use of the Park for their own private interests.  Nearly all of them came with a lawyer and a planner.  In comparison no everyday NZ tramper or picnicker or climber or botanist (or whatever!) came along to talk about the interests of the general public.  This meant that the Conservation Board were much less able to defend the need to look out for the public interest despite their own interest in doing so.
These two stories not only kept me writing submissions.  They also helped me understand how important it is to help others write (and present) submissions to ensure that our decision makers really are aware of the public interest – something that we may take for granted, but which turns out to need defending.