Commentary surrounding both proposed and existing cycleways in Christchurch typically turns its attention to just how many people either currently use or will use a certain cycleway. In amongst those conversations, there are often arguments along these lines:
Who is going to ride the whole length of cycleway XYZ?

Even if you point to the data showing current cycleway counts (CCC SmartView); someone will do the maths and show what a low daily (or hourly) rate that is of people cycling using the cycleway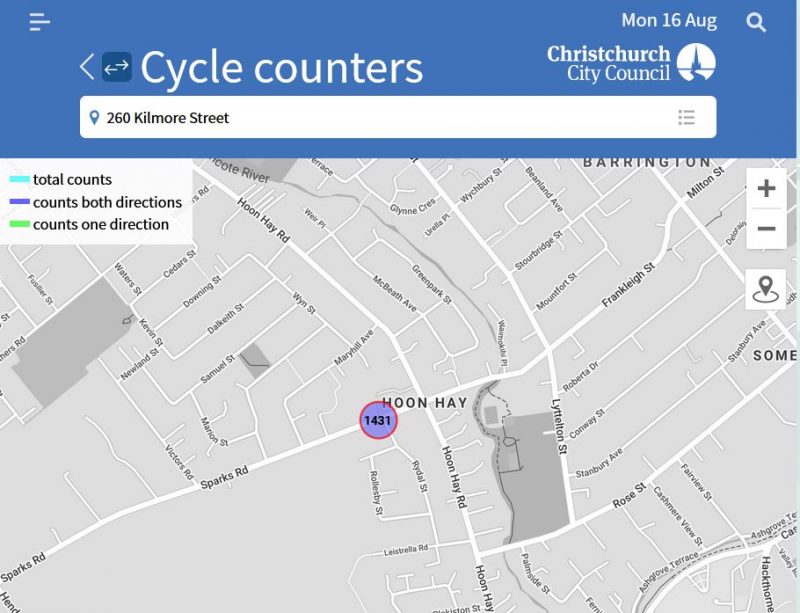 Let's address the mistaken thinking to these concerns by using a semi-hypothetical example to illustrate the typical reality of most cycleways in Christchurch.

Let's assume that a new long cycleway route is being built (e.g. like the 15km South Express route). Because of its length, it might be that only a few keen people will travel the entire length of it from one end to the other. For simplicity of the maths, let's assume that number is 100 trips a day, as shown below…

100 trips/day – doesn't seem like a very good argument for building a major cycle route, does it? However, it is likely that there are also people who are taking advantage of the new route to connect to other destinations along the way. So, perhaps the total number of people cycling from the start of the route to somewhere is actually 400 trips a day…

Of course, for similar reasons, there might be other people using other parts of the cycleway to make cycle trips elsewhere along the route. The figure below shows a possible example of those trips along the cycleway. Now when we tot up all these possible trips, we find that actually 1000 trips a day are being made somewhere along the cycle route…

Now that's starting to look to like a much better case for building this cycleway if 1000 trips a day are going to benefit from this facility. But where to put some cycle counters to help demonstrate this use to everyone? Budgets usually limit how many counters you can install, so maybe we can only select three locations along the route to place a counter…

A few things are apparent in this example:
Clearly none of the counters on their own can capture the entirety of all 1000 trips that use part of the cycleway; at best they show 300-500 of them.
Some cycle trips aren't captured by any of the counters
The locations selected above don't even count the busiest section of the cycleway, which actually has 600 trips a day on it…
Hopefully from this example, you can start to understand why the cycle counters only tell part of the story. They certainly don't capture every person using some part of the cycleway; conversely multiple counters may capture some other person more than once. Practically speaking, the most useful role of our cycle count network is to help us work out relative growth in cycling numbers.
This was a hypothetical example, but you can probably think of real-world parallels in your own trips around Chch. In the same way that most people don't drive from one end of Colombo St (Cashmere) to the other (Edgeware), most people don't actually bike from one end of a cycleway to the other. I often use a bit of the Quarrymans Trail to get from my home to Barrington Mall, but I don't cross over either of the counters along its route. And let's not forget that most cycle trips in Christchurch (e.g. my ride to/from work every day) don't actually cross any of the cycle counters in the city…
How many cycle counters do you cross on your regular rides?