It's hard to picture while Covid currently rages across Australia, but back in 2014 hundreds of people from around the globe descended on Adelaide to take part in the first instance of a global cycling conference happening down under. I was lucky to be one of those present and captured my thoughts in a blog (first published in June 2014)…
Well it's been a while since my last post, but that's mainly because I've been in Australia this past week. Most of my time was spent in Adelaide for the Velo-City Global 2014 cycling conference, the first time this international conference has made it to this part of the world.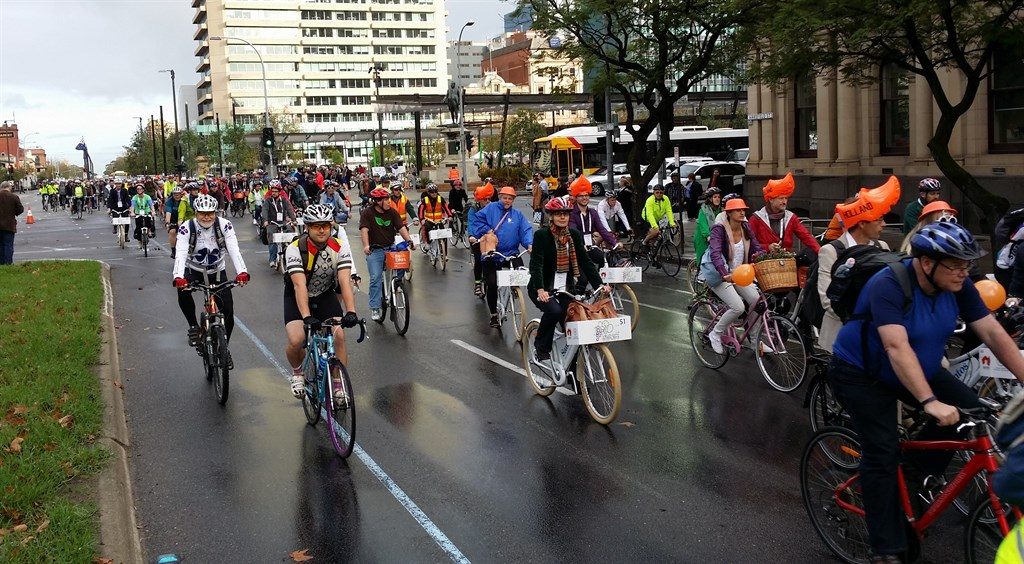 Nearly 600 delegates from over 30 countries attended Velo-City 2014; a decent number, but certainly not the thousand-odd you might see when it's held in Europe. There was a good representation from New Zealand, with about 50 in attendance, including about ten of Christchurch City Council's Major Cycleways team and their consultants. Over four days, attendees were able to sample more than 200 presentations and over 20 tours of bike facilities and other features of the surrounding city. The presentations included some of the "rockstars" of the urban cycling world, such as former New York transport commissioner Janette Sadik-Khan and Copenhagenize's Mikael Colville-Andersen (who no doubt came up with the phrase of the conference), but most presenters were "just" various policymakers, researchers, advocates, planners, etc from around the world demonstrating the interesting work they've been doing to make a better world for cycling.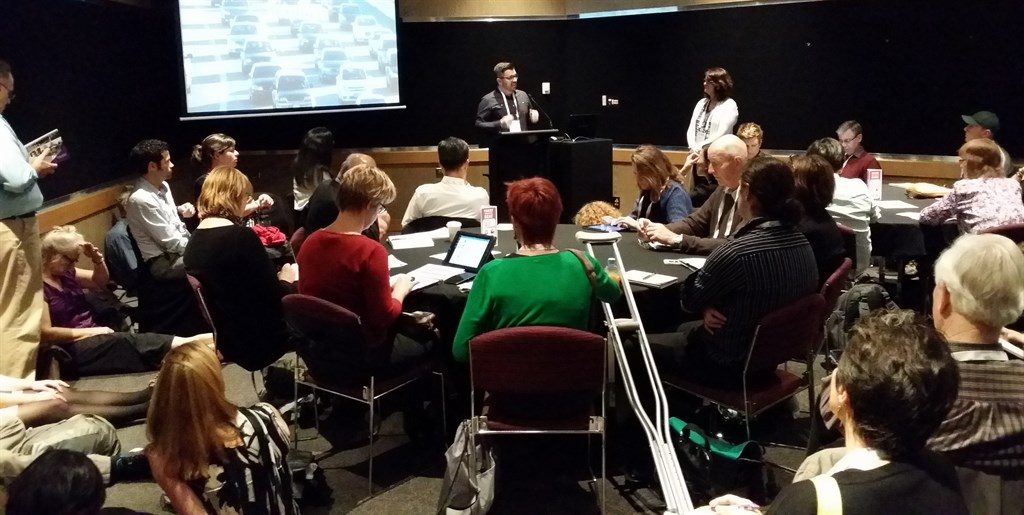 One of the good things about Velo-City is the willingness to try different formats for presentations. So, as well as conventional lectern presentations, we also got rapid-fire "spin-cycle" presentations (considered by many to be a great success), interactive "learnshop" and "roundtable" sessions, and even a speed-dating style session to bounce your embryonic ideas off others.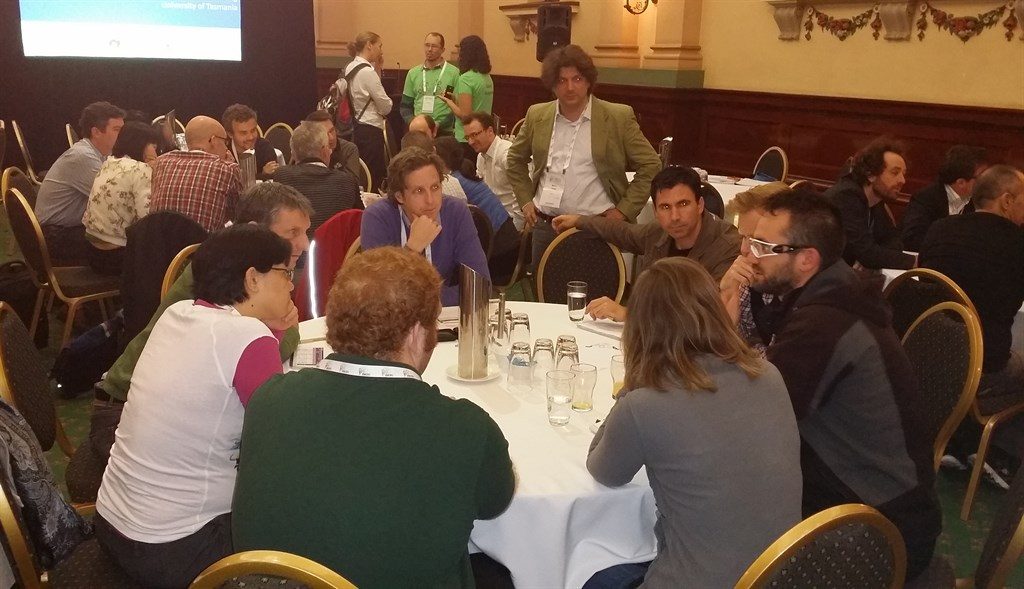 Having this event in Australia presented some interesting issues. Top of mind, certainly for many Europeans, was the mandatory helmet law (NZ and Oz being the only two countries in the world that have this) and it raised some strong, but civilised, debate throughout the week. The over-riding safety focus of many things cycling in this part of the world also prompted discussion (including my presentation on high-vis clothing) – was this just reflecting the realities of cycling in Australasia or did it hinder efforts to promote cycling as a fun, efficient means of travel?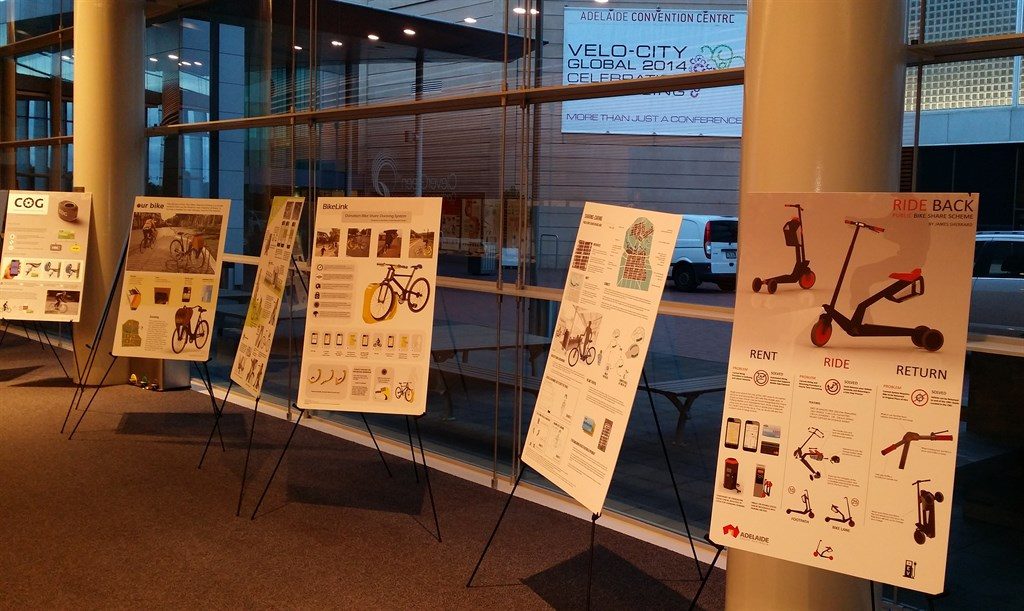 One of the topics I was interested in hearing about was other people's experiences of shared pedestrian/bike facilities. One speaker from Japan, famous for its shared footpaths, noted that this was only meant to be a temporary measure – initiated in 1971! They are now looking at putting riders back on the road, as ped-bike collisions have increased by 50% in the past decade. Meanwhile, Australia has been researching the level of interactions on shared paths, and there are now some useful guidelines on details like appropriate widths. I also particularly liked the "SMILE" protocol on Singapore's Park Connector Network: Slow down; Move to the left; Indicate your intentions; Look out for others; Enjoy!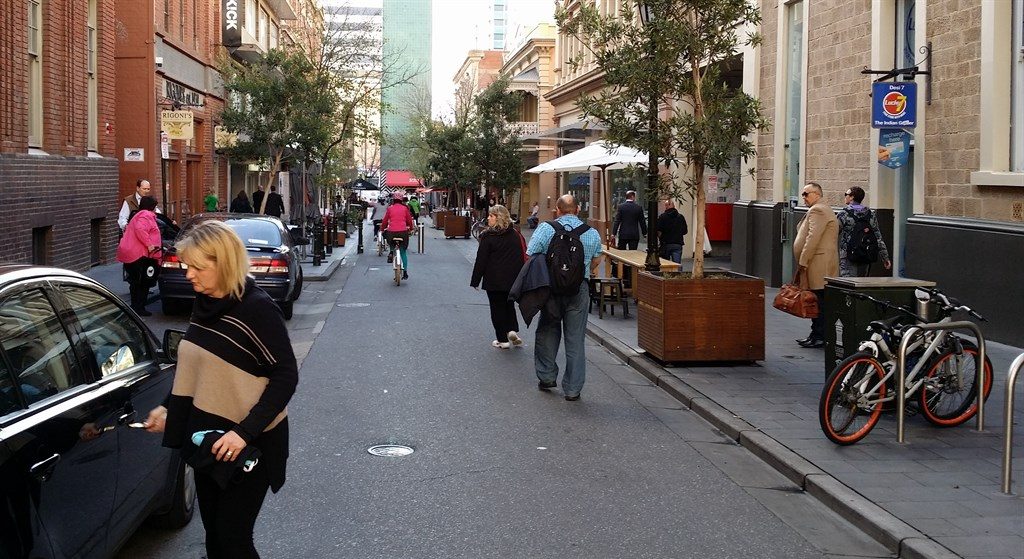 Other interesting things I noted down:
A good sign that you have achieved a very cycle-friendly design: when people are yawning while riding…
The City of Yarra, Melbourne, has had good success narrowing down some of their local street traffic lanes to just a 5m-wide two-way carriageway. As well as making space for bike lanes, it also reduced the typical operating speeds of traffic.
A simple-to-remember approach to successful place-making from Ethan Kent (PPS). A great "place" is a focused location that has ~10 different things to do (e.g. sit on a seat, park a bike, look at a sculpture, purchase something in a stall, etc). A great destination is a district that has ~10 of these places, and a great city/region has ~10 of these districts.
Got a problem providing space for bike parking in mixed-use areas without off-street garaging? Try "flex parking" – bike parking during the day that converts to car parking at night-time when workers come home.
Portuguese doctors prescribe some of their inactive patients a boxed "medicine" called Agitol – essentially just plain wafers but the instructions state that it must be taken "once every day in conjunction with 30 minutes of walking or cycling".
An architect in Tasmania is researching the ability of cycleways to also tick personal needs for pleasure, engagement, and altruism, rather than just the traditional functional aspects of directness, safety, comfort, etc. This attracted quite a lot of discussion – how do you make cycling routes that also appeal to the senses? It could be as simple as giving people the choice between the "boring" direct path and the playful alternative parallel pump-track ride…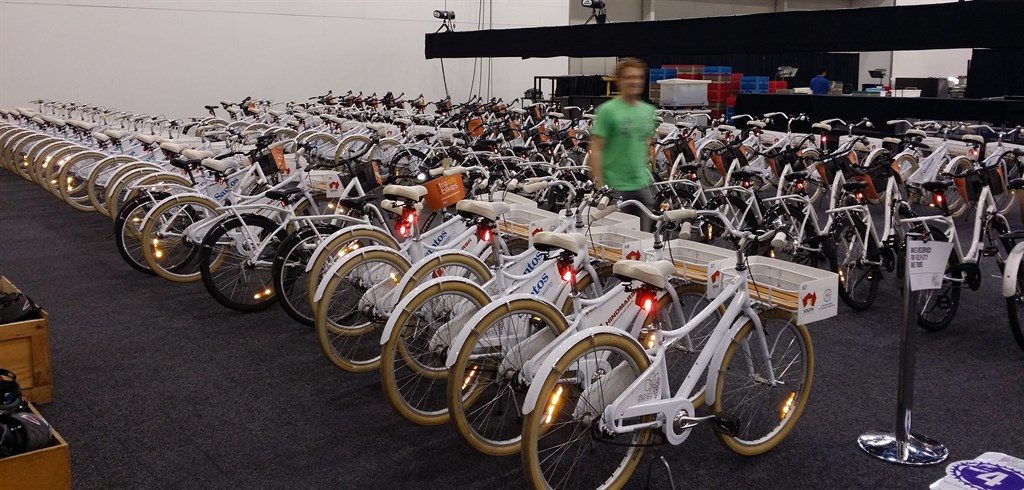 From the Christchurch perspective, it was certainly heartening to see where we are in relation to our colleagues around the world. Our 7% of commuter cycling puts us well ahead of the main Australian and Nth American cities, even before we embark on our Major Cycleways Programme, and it certainly feels like our "cycling culture" is by and large in a good space already. We have a long way to go to get to the Amsterdams of this world, but it's important to appreciate that, on a world scale, I think we're not doing too badly already.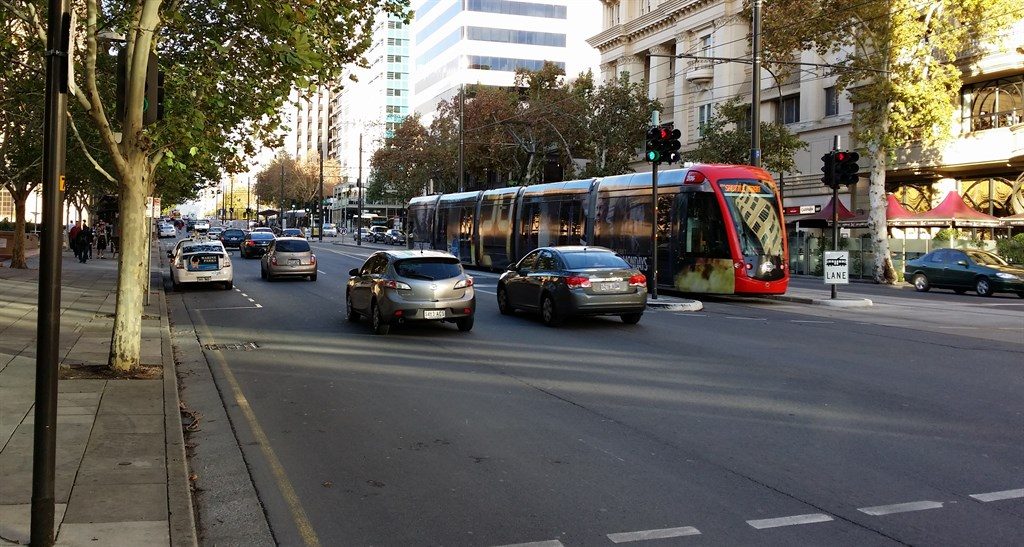 Velo-City also presents many opportunities to get out around the city, with various bike tours throughout the week. It was an "interesting" experience riding around Adelaide; while there were indeed a number of rather nice cycleways and bike-friendly routes (and I'll discuss these in more detail in later posts), at the moment you still feel rather intimidated by the motor traffic that is allowed to seriously dominate most of the routes around town. Adelaide Mayor Stephen Yarwood is a big cycling fan, and there have been some great initiatives to date, but he certainly has his hands full continuing to change the mindset of the average South Australians (witness the fiery feedback when the big bike parade blocked CBD traffic on Wednesday morning…).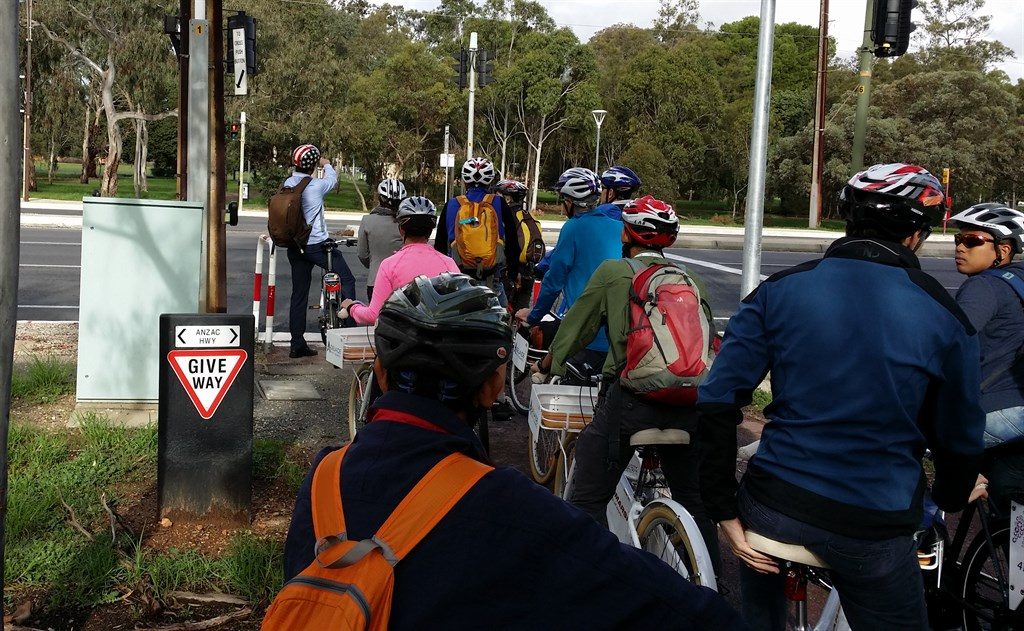 It's an eclectic mix, the Velo-City conference; neither an academic-focused nor advocacy-driven event, but a bit of something for everyone. I've now been lucky to get to three Velo-City events (Copenhagen 2010, Vancouver 2012, and this one) and it's certainly an enjoyable time. Whether the 2014 conference is the catalyst that sparks everyday cycling in Australia to new heights remains to be seen…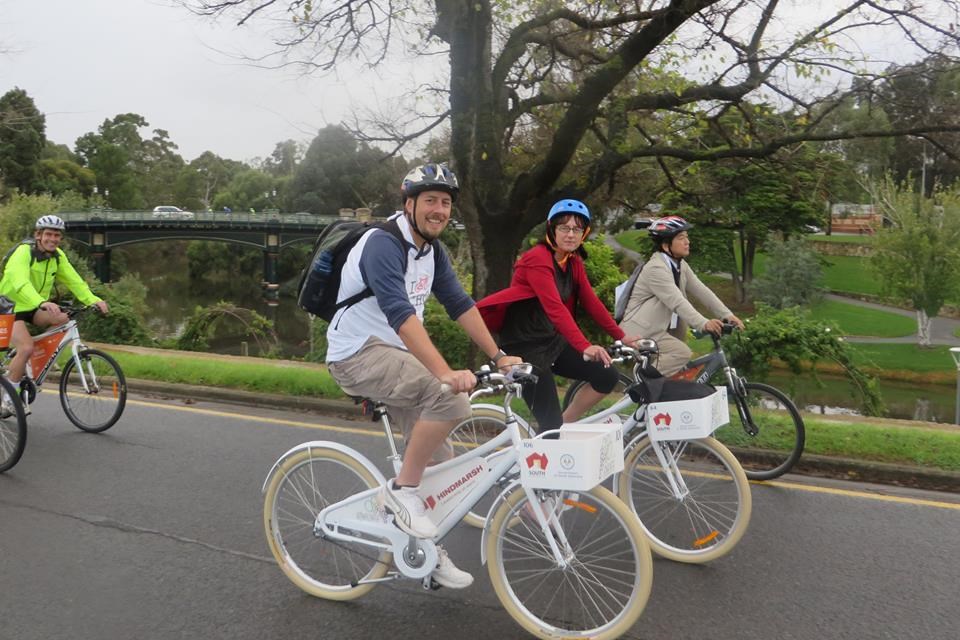 That's just a quick summary of some of the things covered; you might also want to check out the Velo-City 2014 Twitter feed for further highlights and photos. In the next few posts, I'll talk about some of the interesting cycling facilities encountered around Adelaide – stay tuned…
Did you attend Velo-City Global 2014? What were your impressions?