If you've been riding anywhere around the west of Christchurch in the past few months, you've probably noticed a fair bit of road works on various streets. That's due to the construction of the Nor'West Arc and South Express cycleways at the moment, part of the "shovel-ready" projects announced last year.  At the moment, negotiating some streets is an interesting mix of completed cycleways and blocked-off bits – like this section of Elizabeth St in Riccarton: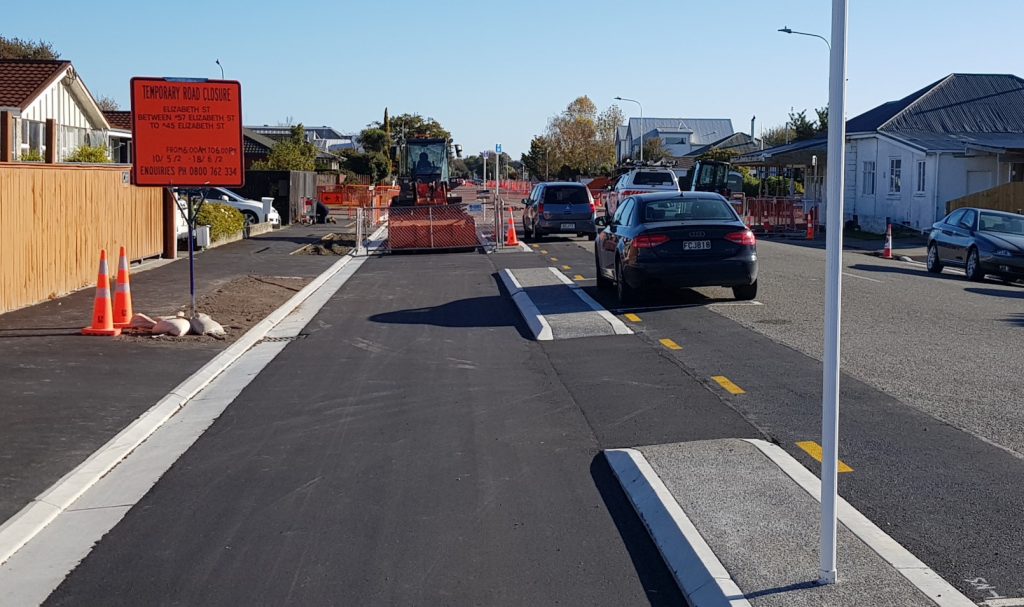 Already some of the new traffic signals are operational too, including across Sparks Rd near Centennial Park, across Lincoln Rd near Hillmorton, and the new ped/cycle "Barnes Dance" at the Suva St / Hansons Ln intersection in Upper Riccarton.
It's been great to see these new cycleways roll out, and you can start to picture what the finished product will look like. If you want to see some more updates, Adam Lines has been posting some great picture progress reports via Twitter. Once some of these routes are complete, we'll try to provide some route overviews here too.
Have you tried out any of the new bits of the Nor'West Arc or South Express?