Its been a very long time since I ran a workshop for people to make their own bike trailers, but the time seems ripe to run another one with a bit of a twist. We are mainly up-cycling old pallets to build a strong and light wooden frame to suit recycle crates, then attaching an aluminium towbar, quick release hitch and wheels. You can make the trailer any size you want, but two standard sizes will be suggested to take old recycle bins, either 45 litre or 65 litre. If you prefer you can get an aluminium kitset frame but they cost a bit more (still cheaper than two tanks of petrol though).
The cost for the wooden kitset is only $50 for the parts, but Ground Effect have given us some money from their slush fund to help if $$$ is a problem.
It is running a week after an A Rocha conference which aims to get faith communities excited about caring for the planet, but the workshop is open to anyone. Saturday 6th October, 12-5pm, Oxford Terrace Baptist Church Lounge, 286 Oxford Terrace (corner Madras & Oxford Terrace).
Please bring any hand saws, drop saws, hammers, crowbars, measuring tapes, builder's pencils, square head screwdrivers, battery drills, 10 and 15mm spanners you can. It's also handy to bring your bike to attach the hitch base onto.
Register for the workshop by emailing your contact details to steve@cycletrailers.co.nz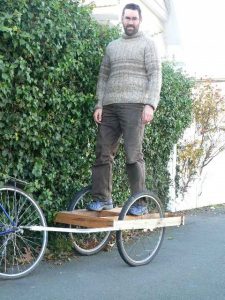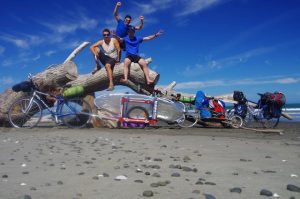 A wooden surfboard trailer that cycle toured around NZ