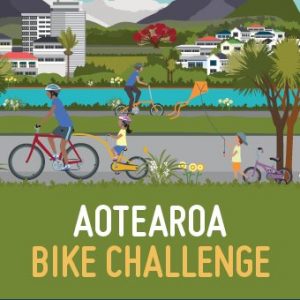 Back to work, back to school, it must be February again! It also makes it Go By Bike month, that time of the year when the country celebrates biking for work and play. This year it's all about the Aotearoa Bike Challenge, where organisations try to encourage as many staff members to hop on their bike during the month – it's not too late to register!
Oddly, for all the hoopla, at the moment there's not a lot of organised cycling activities in Christchurch yet for the coming month. We're hopeful that something official might pop up for national Go By Bike Day (Wed Feb 8th). For now, here are the things that we know about:
If you want to see what bike shops dedicated to everyday cycling are all about, then why not come along to the Grand Opening Party for Action Bicycle Club (Walker St in the city), 5-9pm this Tue 2nd Feb. Join Charlotte and Ken for a few drinks at the official opening of their cool little bike store, and sample their range of everyday bikes, cargo bikes, e-bikes and fashionable bike accessories.

RAD Bikes continue to roll out their twice weekly bike maintenance workshops, every Wednesday 5.30-8.30pm and Sunday 12-4pm. Need some TLC on your own bike, or want to work on rebuilding a new bike? Come along to The Commons (cnr Kilmore/Durham) and the friendly local mechanics will help you out.

Always lots happening at the RAD Bikes shed

NZ Sea Week happens towards the end of the month, celebrating everything about the sea, and amongst the many local activities, happening, Forest & Bird in conjunction with Frocks on Bikes and Lazy Sunday Cycle Chch will be hosting a cycle ride along the Coastal Pathway. Set for Sun 26th Feb 2017, starting from 2pm at Tidal View (Ferrymead), cruise the Coastal Pathway out to Sumner and check out the bird life along our coast, with regular stops along the way to learn about the type of birds you will see. For those who want a shorter traffic-free ride, there will be an option to turn around at Redcliffs and return to Ferrymead.

Although they have no planned rides at the moment, if you need a bit of help getting your confidence up when out riding then contact Connie at Go Cycle Chch to see if one of her helpers can give you some friendly advice over a quiet ride.

Don't forget too to help support the Bikes Welcome initiative to encourage more bike-friendly businesses to provide bike parking. There are some fantastic rewards just for contributing a little bit towards this great national campaign – get those pledges in by Tue 28th Feb!
Meanwhile, there are plenty of fun activities happening around Christchurch where a bike ride there might be a great option (check out the Summer Times website for all that's going on). These include:
Waitangi holiday weekend (Feb 4th-6th) is a chance to get out for some extra biking (and the forecast is looking warm and dry). Why not check out our guide to where you can ride in Chch and explore some new places?

Night Noodle Markets are back in Christchurch next week, from Wed 8th – Sun 12th Feb in North Hagley Park. Come along with your friends and family to sample the wide variety of Asian foods on offer. There'll be lots of handy bike parking on hand to help beat the congestion.

Lots of bikes parked up at last year's Noodle Night Markets

North Hagley Park also hosts the Summer Sparks concert on Sat 11th Feb from 7.30-10pm. Hop on your bike and enjoy a great selection of popular classical and other hits followed by fireworks.

Valentines Day is Tue 14th Feb this year. Perhaps a romantic ride with your loved one to a nice spot for dinner is in order?

As part of Chinese New Year celebrations, the weekend of Feb 18th-19th sees the Christchurch Lantern Festival descend upon North Hagley Park between 5.00-10.30pm each night. Experience Chinese culture through hundreds of vibrantly coloured lanterns in an event featuring music, performance, dance, food and fireworks.

Have you visited the new Christchurch Adventure Park yet? Bring your mountain-bike to try out the trails or just go and ride up the chairlift or nurse a drink at the café below. The Park also hosts a number of biking events, including skills nights and the Prologue to this year's Pioneer mountain-bike endurance race, this Sun 5th Feb.
That's a few ideas to get you started. Keep an eye on the Cycling Christchurch events calendar; if any new biking activities pop up, we'll let you know. Looking ahead to March, you might also want to keep Sat 4th March free for a ride…
Where will you ride your bike this month?