As summer hots up (we hope…), we head towards that time of the year when cycling is celebrated across New Zealand. In the past, it was BikeWise that promoted Go By Bike Day and BikeWise Month during February; this year sees the launch of a new initiative, the Aotearoa Bike Challenge.
So what's it all about? Not unlike the Bikewise workplace challenges of the past, the aim is to encourage as many people as possible to get on their bikes during the month of February. Workplaces sign up and get staff to hop on their bikes as much as possible during the month. Every bike trip of 10 minutes or longer can count; individuals sign up to the Bike Challenge and can then record their rides as the month progresses. You can record rides on the website or even log them via your favourite ride app. Why not add a photo of your ride, or set yourself a goal for biking even more?
What's in it for you? Other than bragging rights against your mates at other organisations, and all the usual benefits that biking brings, there are some great prizes on offer. The workplaces in each size category that get the highest percentage of their staff riding will be rewarded, plus there are plenty of goodies up for grabs for everyone who logs their rides in the Bike Challenge. At the top of the pile is the chance for a trip to either Croatia or British Columbia (one entry for every ride you log) – take your pick! There's also the chance to win an e-bike, a 40″ TV, Cardrona lift passes, a Stewart Island adventure, movie passes, bike baskets, books, t-shirts, and plenty more great stuff! And you don't have to wait until the end of the month, prizes will be awarded every week of the challenge.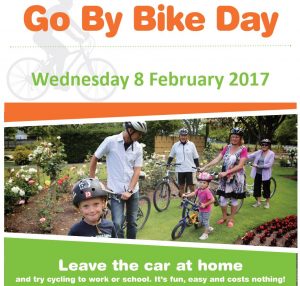 To be in with the best chance of winning, make sure that you register yourself on the website by February 1st and then start recording your rides throughout the month – in fact, you can even start recording them now. Already over 700 organisations and nearly 6000 people have signed up – but we know that there over 10,000 regular bike commuters in Christchurch alone! There will be a range of biking events also happening around the country to encourage people as well, including Go by Bike Day on Feb 8th (we'll let you know what's happening around Christchurch soon). Keep an eye out also on the Bike Challenge website and Facebook page for more tips about biking and happenings around the country.
Have you signed up for the Aotearoa Bike Challenge yet?