Our regular correspondent Robert reports to us from out of town…
At the time that Lennyboy posted his final reflections on Europe, I was in Rotorua mainly to play tourist but also to ride part of the magnificent Te Ara Ahi, Thermal By Bike cycle trail. Re-reading the rather scathing picture about the CBD of Rotorua I had posted in the comments section of his post, I am now thinking it may be useful (after later discovering some separated cycleways) to add some balance. With all of the cycling infrastructure development happening in Christchurch, it is easy to make perhaps unfair comparisons with what is happening in other cities in New Zealand. It is also easy to see the stories and photos from Europe through rose-tinted lenses and wish for immediate change in infrastructure and culture for urban bike riders.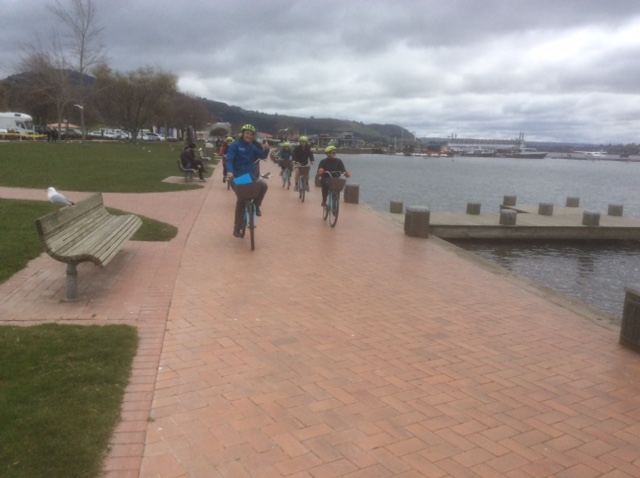 Firstly, for recreational riders and tourists, riding a bike in some areas of Rotorua is pretty awesome. The Te Ara Ahi Cycle Trail  begins near the lake-front of Lake Rotorua. Although not indicated on the map, it is a gentle ride to follow the walking path around the lake to Sulphur Point and onwards through some delightful thermal terrain, a world class experience. A little further along is the mountainbike mecca of Whakarewarewa.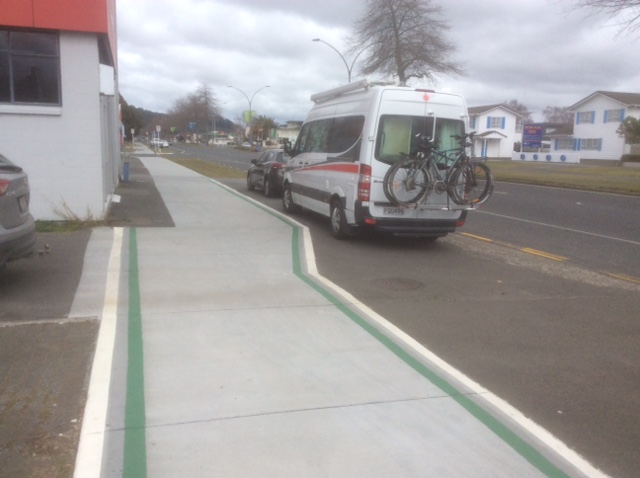 For the everyday cyclist however, the story is much like most of urban New Zealand where transport planning has been for car priority first, and other options either settling for low priority or as an illogical add-on. Travelling by campervan, our plan was to park up and use the bikes for getting around Rotorua city. Like areas of Christchurch, sharing a bike with fast moving traffic along roads lined with parked cars and negotiating narrow routes through roundabouts at commuter time was no holiday, and it was hardly surprising there appeared to be very few "A to B" bike riders around. Some shared paths along pavements helped a little (including the main street, Fenton Street) but some were barely fit for purpose, little more than faded paint and tokenism.
The real shock however came with the CBD itself. Described on the city map as "Boutique Shopping", this area not far from the shore of Lake Rotorua had been wonderfully developed with beautifully wide pavements and landscaping. The buildings were dressed with wide verandas providing shelter, and so it was a joy to be a pedestrian except for one point. The shops were empty of people, and the few pedestrians in the street appeared to be lonely. Yet every metre of available space off the pavement was taken up with parked cars. Where were the drivers? It is clear that the authorities had submitted to the demands of big box retailers, as a few hundred metres away was a large mall surrounded by all the big names of retailing and separated by hectares of car parking space. What was left of CBD Rotorua after being sucked dry of economic activity was cheap eats, "for lease" signs, and some interesting retailing establishments that really appeared to be struggling. Hardly 'boutique'. And thousands of car parks for central city employees I guess. No doubt during the peak tourist season there would be a more vibrant atmosphere in the CBD but, for what is probably the number two tourist town in New Zealand, this was quite disappointing.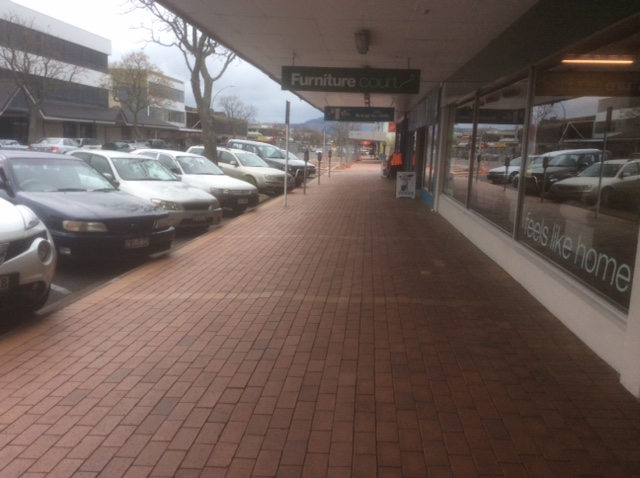 Whilst it is thermal activity and Maori culture that attracts the visitors to Rotorua, the highlight for us was the Rotorua Museum situated in the beautiful Government Gardens, which magically tells the story of Maori and its history and the development of the thermal area as a world renowned tourist attraction long before the era of massed tourism that we know today; focusing on the Pink and White Terraces. Separating the Government Gardens area from the i-Site complex and large set-down area for tourist and regional bus services is the main street, Fenton Street. This street is dual carriageway separated by a grassed median strip. Crossing it took a lot of care and a lot of courage in the absence of crossings or pedestrian phased lights. The street heads north to the lakefront, it is hard to see why it should be such a busy traffic thoroughfare.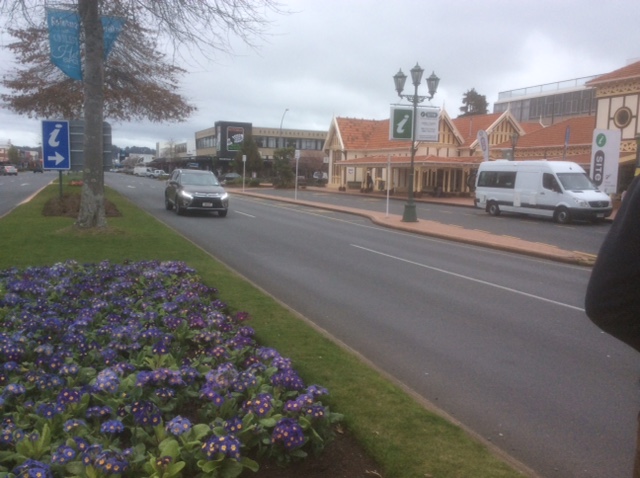 It was encouraging to see the construction of a separated cycle path along Hinemoa Street running in an east/west direction toward the famous Polynesian Spa. The completed sections looked impressive with bright continuous green paint, terracotta coloured separator berms and the use of shared pedestrian/cycle areas to cross intersections. This is the beginning of the Cy-Way project  providing an improved network of safer cycle-ways around the city to be completed in 2018.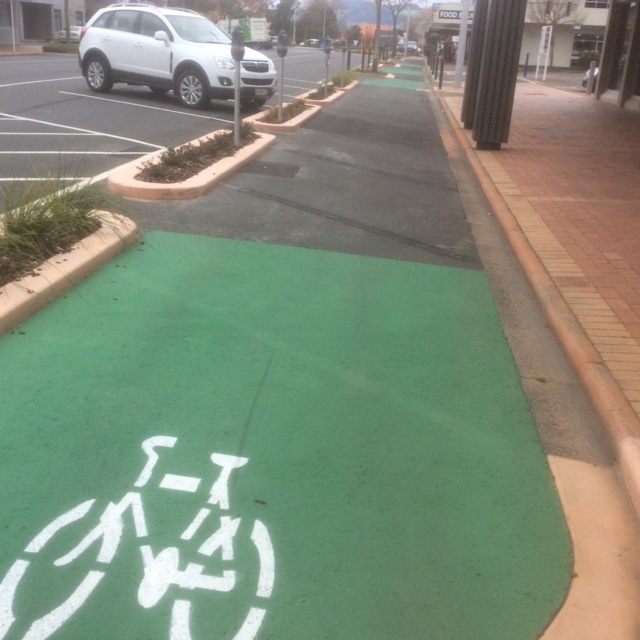 Partially funded by the Urban Cycleways Fund, it will certainly bring great improvements for those wishing to commute to the city centre for work. Perhaps it will bring more vibrancy for the CBD, local retail activity and above all give the impression that Rotorua is serious about offering good transport choices for everyone, not just those choosing to drive.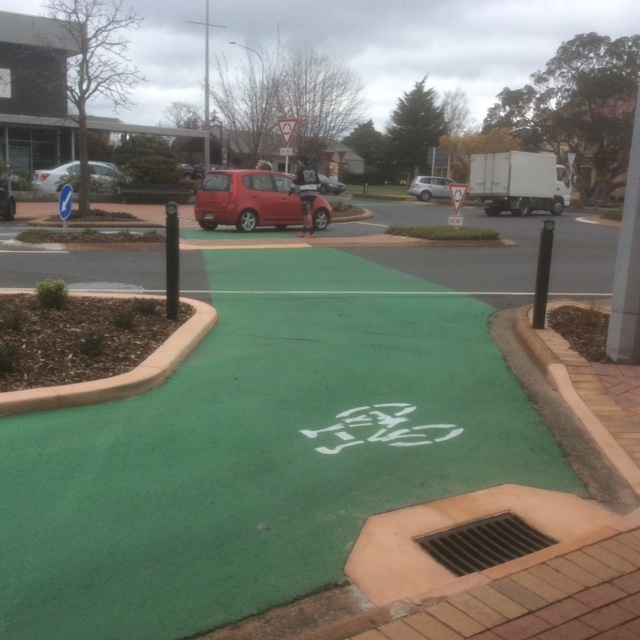 I wish the best for Rotorua, it is indeed a wonderful place to visit; but I can't help but think that if cycling had been considered alongside the wonderful streetscape development at an earlier stage instead of providing car parking as the main priority (i.e. making friends between urban planning and urban cycling), it could have easily been an even better experience.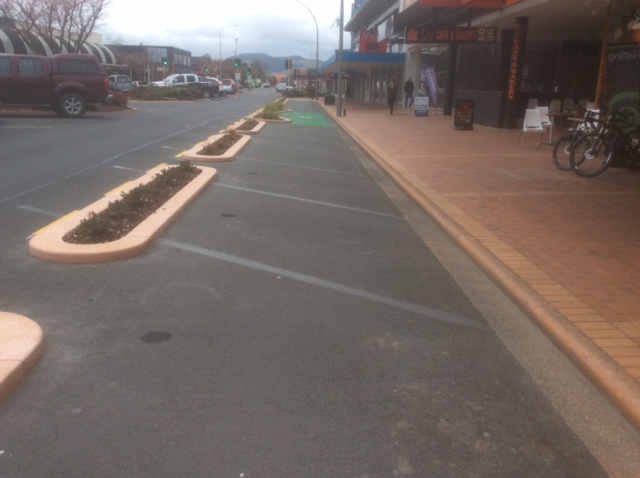 Have you visited Rotorua recently? What do you think of its planning for cycling?