Shock horror, there are now fewer than 25 shopping days until Christmas! Unless you're one of those really annoying organised people who gets all their gift shopping done by August, you might be starting to think about what to get your loved ones this year. So what to get the cycling afficionado who has it all?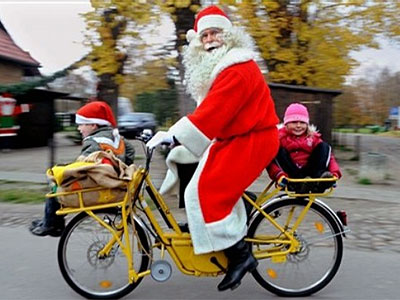 Note: As always, these are all merely suggestions with unfortunately no commission in it for me! I do own one of those fetching 'Cycling in Christchurch' shirts, though…
| | |
| --- | --- |
| | |
For actual bikes and bike-related equipment, there are of course a range of cycle shops around the city and also some useful online purveyors of fine stuff too. Have a look at our Bike Shops page for more information.
| | |
| --- | --- |
| If you want some very cool biking accessories, have a look online at Bells & Whistles. Whether it's a coffee cup holder, coloured handle grips, dazzling wheel lights, styley bells, or whatever, they're worth a look! | |
If it's some cycling-friendly clothes you're after then you might want to have a look at some of the retailers mentioned in our discussions on cycling clothing, including cycling in the wet and cold (many of whom also provide nice clothing for riding in nicer weather as well.
| | |
| --- | --- |
| If you'd like to put your cycling advocacy money where your mouth is, then why not give a membership to the Cycling Advocates Network (CAN)? CAN is the national cycling organisation for everyday cycling (and parent organisation to local group Spokes) and is always looking to increase its membership to strengthen its lobbying power. Joining as a full member is easy and provides regular Chainlinks magazines and access to technical/legal advice. Alternatively, you could also buy a gift or two from their shop, such as vests and backpack covers. | |
| | |
| --- | --- |
| Finally, why not look no further than this website? The Cyclopolitan shop (courtesy of our friends at Zazzle) contains a range of customised clothes and accessories (caps, coffee mugs, mouse pads, etc) that allow you to proudly show off your love of Cycling in Christchurch. | |
 If you have any other great ideas for bike-friendly gifts, let us know.
Merry Xmas!