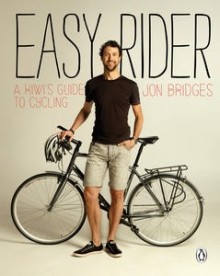 by Jon Bridges (203pp., Penguin Books, Auckland, RRP $40)
If you have Xmas book vouchers burning a hole in your pocket, here is one new book that you might like to get a hold of.
Jon Bridges has been a feature of NZ media and comedy, from his days back on Away Laughing and Ice TV to more recently looking after 7 Days. What many people don't know is that Jon is also a bike nut. Five years ago when I was organising a national cycling conference in Napier, we got Jon to MC the event. Most professional MCs just treat it as a job and go through the motions – Jon absolutely wanted to be there and even cut his fee for the privilege of sitting in on the sessions. And that natural enthusiasm made him a fantastic (and funny) host for the event.
So it's no surprise that he has now produced this book hoping to get more Kiwis off their seats and onto a bike seat. In 200 packed pages, Jon goes through the main topics of why to cycle, choosing your bike, riding in traffic, the different types of cycling, and a bit of basic bike maintenance. Jon covers all the range of cycling activities, whether it is just riding to work, cycle touring, mountain-biking, bunch riding or whatever. All of this is laced with Jon's witty but often subtle humour and clearly a lot of passion for what he is talking about.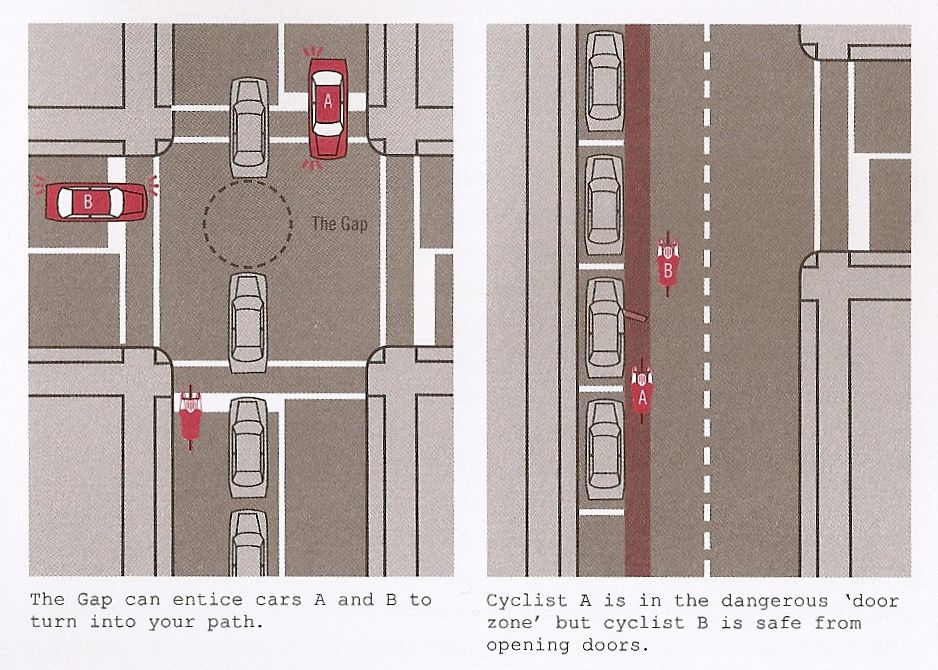 Jon also introduces us to "The Chump"; his mate Clayton, who slowly goes on a journey of rediscovering cycling and trying out getting a new bike, riding to work, and even training for a long cycling event. This was a very useful device for Jo Public to see how they might get back on the bike (especially in Auckland, where Jon and Clayton are based), and it was a pity that we didn't hear more from The Chump as the book went on. There were also other profiles of people new to commuting, mountain-biking, road training, etc, which also helped to personalise the sometimes scary first step of starting out. The foot of each page also feature handy little words of advice and motivation from some of Jon's cycling friends – there are some very useful tidbits in there.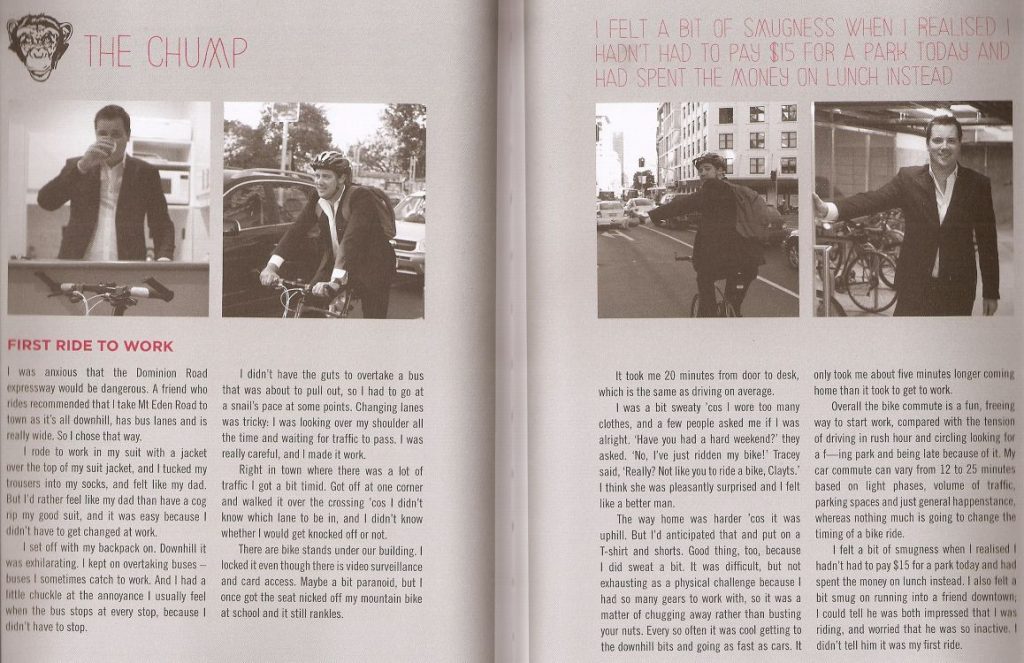 Jon is quite keen on his road racing (he mockingly shows off his 2009 Manuaku-Counties Cycling Club winter series C-Grade road-cycling champion credentials). Unfortunately that penchant for competitive riding does tend to overshadow the other types of riding at times. If you're mostly just interested in riding to work and going out recreationally with the kids, it may be a bit jarring that more pages seem to be devoted to all the equipment for a top-end racing bike, bunch riding, training for events and so on. And it was a surprise to learn that BikeNZ is "NZ's home of cycling advocacy" – CAN might disagree about that…
Still, the chapter on cycling safely on the road is probably alone worth the book price for those who just want to get from A to B. In conclusion, this is a surprisingly rich compendium of all things cycling in New Zealand (certainly I was surprised how long it took me to get through it). If you've been thinking about taking that next step to cycling more in New Zealand, get yourself a copy!
(Disclosure: I provided some feedback on a draft section of the book)