While consultation is happening at one corner of the central city along Victoria St, another proposal is also out now in the opposite corner along High St. Consultation has begun for plans to reconstruct High St between Cashel St/Mall and St Asaph St – and there are a few nice wins for cycling.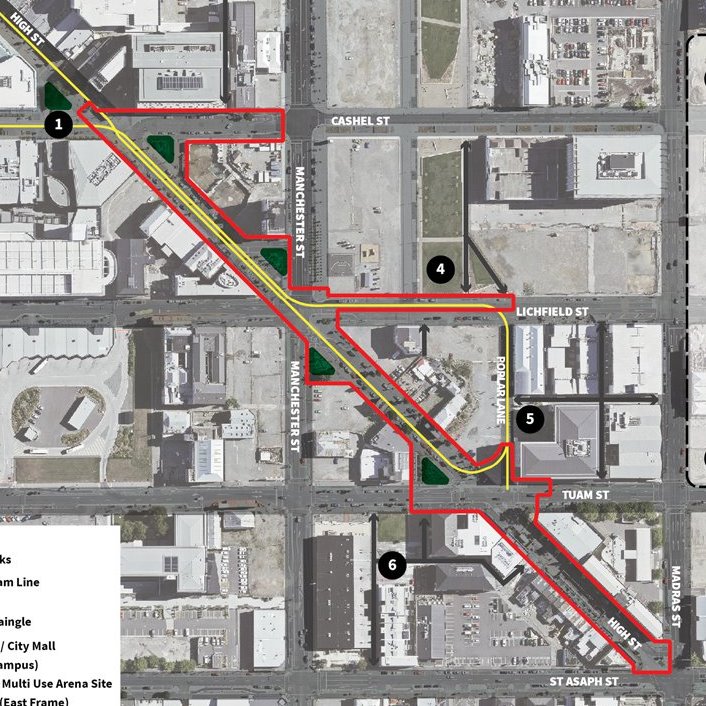 The original plan for High St was to extend the tram route down towards Ara Institute – with the two tram crossings of Tuam St leading to a rather controversial 20 traffic signals at this intersection. That has now been simplified as a result of deciding to terminate the tram route north of Tuam St. Businesses south of here weren't keen on further disruption – personally I'm just waiting for when we can cycle on the street again instead of the footpath…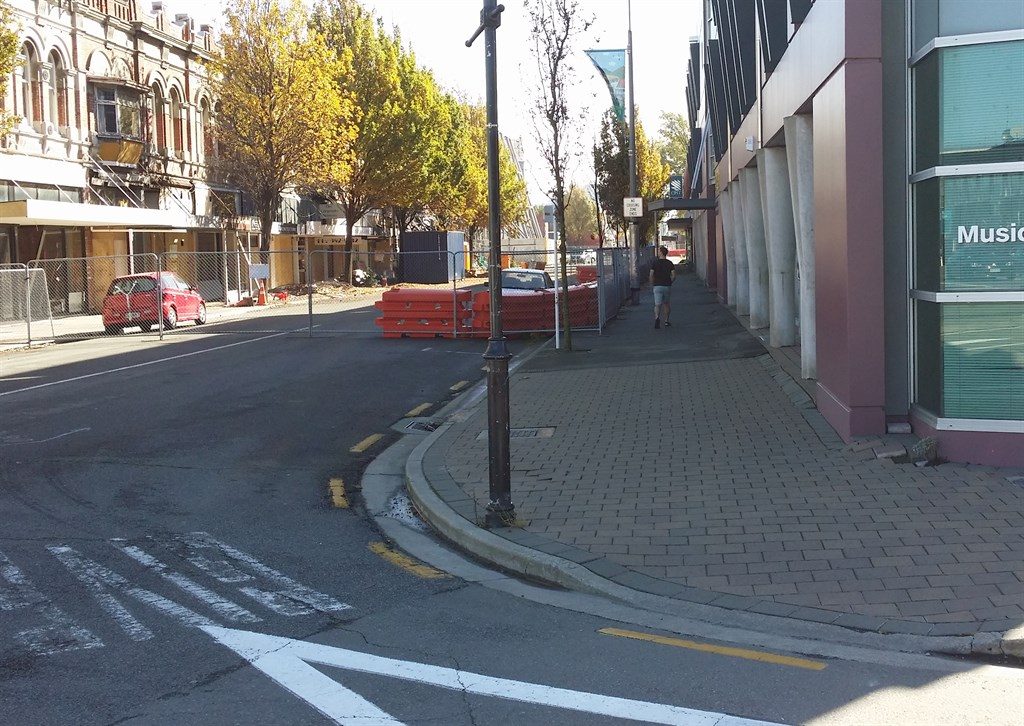 Let's start from the bottom: The diagonal cycle crossing from St Asaph St towards Ferry Rd connects to the cycling route along High St. A one-way street heads south-east, with a 10km/h speed limit, and bikes share this space. In the opposite direction a contra-flow cycle lane allows for two-way cycle connectivity.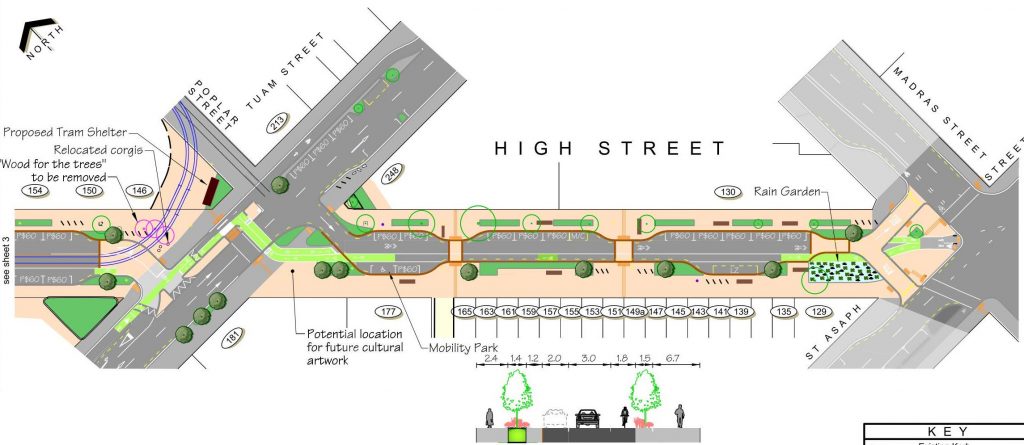 At Tuam St, a new single pedestrian/cycle crossing simplifies the crossing options. This then allows riders from the south to head towards Tuam St east, Poplar St, or High St north. Assuming that land purchase is agreed to, the tram circuit will form a loop between Poplar and High Sts. This block has two-way traffic (still at 10km/h) but a separate northbound cycle lane is provided to avoid the tram tracks. The cross-over point at the north end to get to the signalised crossing up Manchester St is rather sharp though – somehow I can't see a lot of riders electing to use it rather than a more direct line.

At the Lichfield/Manchester intersection, riders can use two signalised ped/cycle crossings to get from section of High St to the other. The route is a bit vague in this vicinity and some weaving through the tram tracks may be required. At the moment some riders use the existing tram "T' signal to cross diagonally instead – of course, though that may be fine while the tram doesn't currently operate south of here, it could be problematic once trams are travelling further south.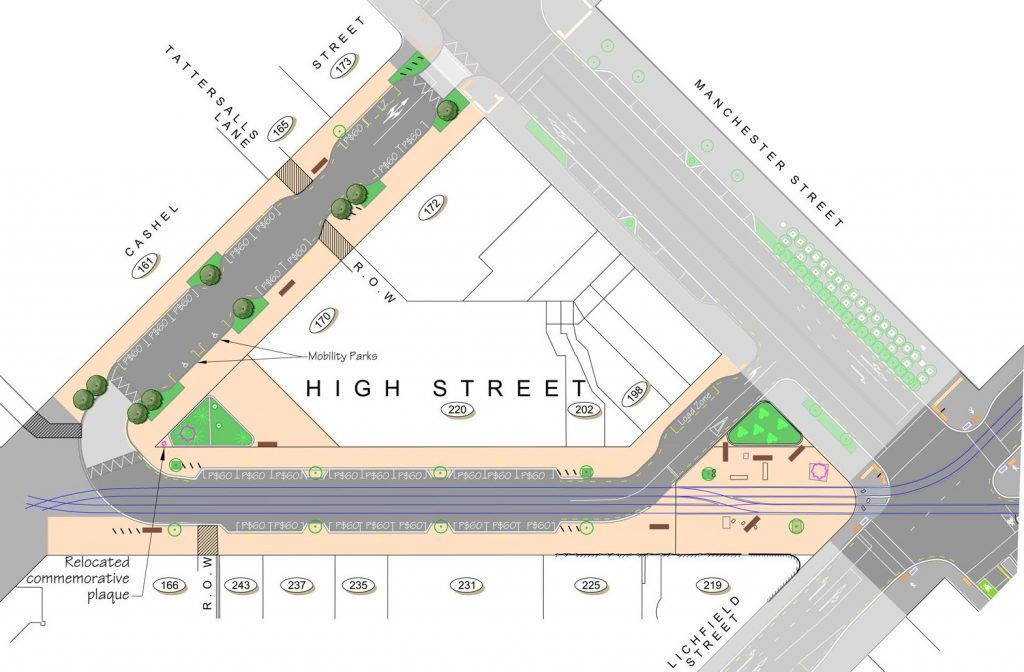 A two-way street section (again at 10km/h) is provided along High St north of Lichfield, but no specific cycling provision is is given. In practice, most riders will probably travel between the tram track pairs, or next to the adjacent car parking – probably just enough room to do the latter safely. A bit more positive acknowledgment of the fact that cyclists will use this section (especially to access Cashel Mall) would be nice.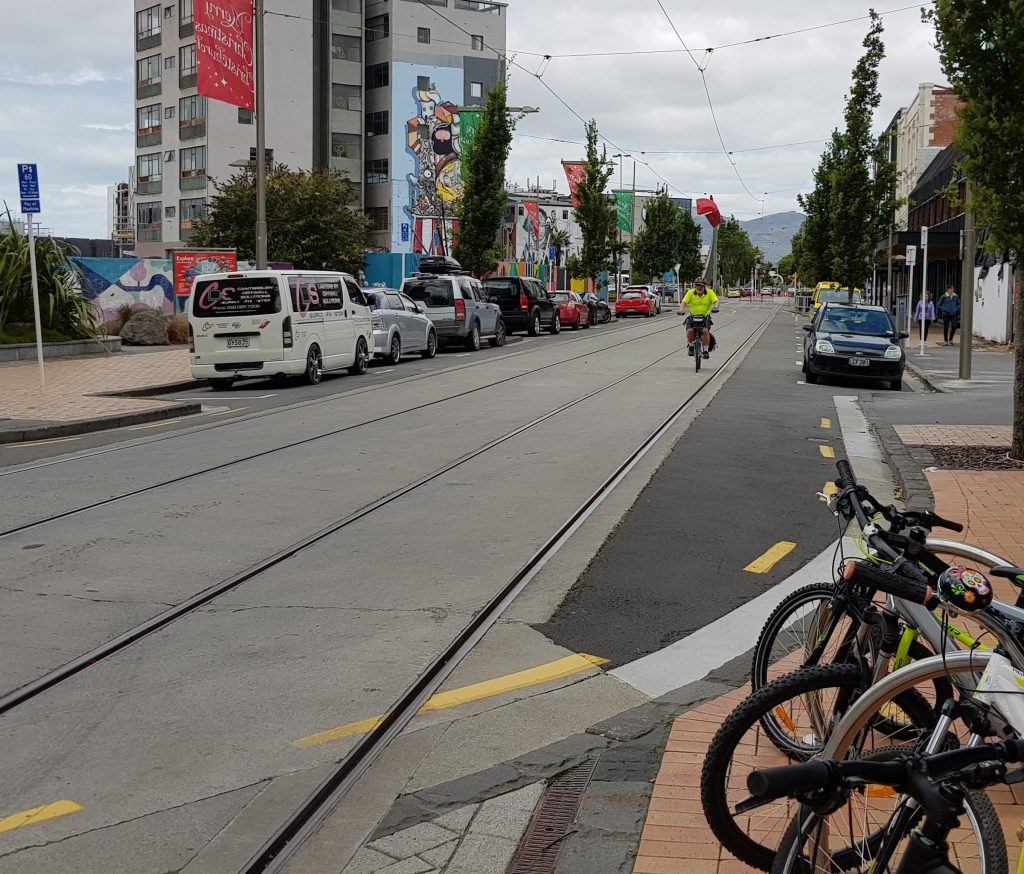 Overall, there's a lot to like about the proposed works, even if a few details could be improved. Maintaining two-way cycling access throughout is important to retain a connectivity advantage in town over driving. The lower speed limit and separate cycle lanes help to manage potential risks from traffic and trams. Looks like there will be a fairly good amount of bike parking along the route too – hopefully they find a way to retain the arty red bike racks and repair stand towards the south end of the street (currently under threat by the revised street layout).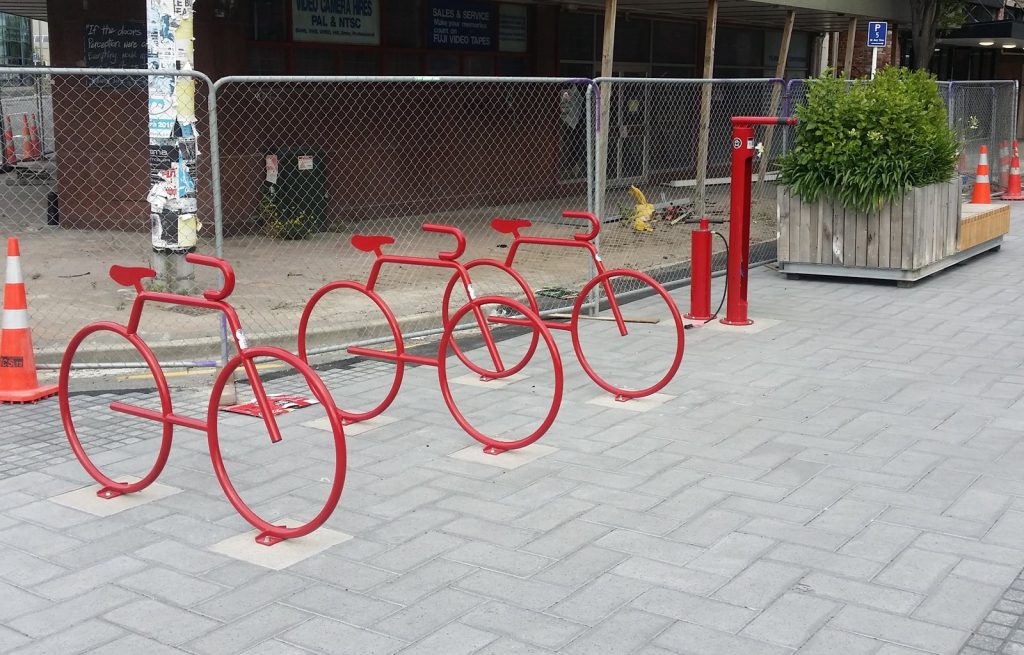 Consultation closes on Mon 10th June, so have your say by then. If you want more information, there is a drop-in session where Council staff can help explain things at Breakfree Hotel (Cashel St, E of Manchester) on Thu 30th May between 12-2pm.
What do you think of the High St proposals?