We regularly feature an interesting photo from around the city, but this time it is a video that captures our attention. As you may recall, the City Council has recently been consulting on its Long Term Plan for the next 10 years. It was rather pessimistic in its plans for extending the cycleways programme out over a longer time period, and many people weren't too happy about that.
As a result, there were quite a number of oral submissions over the past week or so asking the City Councillors to reinstate the original cycleway programme. You can view all the different oral presentations online here, and a number of the City Councillors also provided handy summaries of many submissions on their Facebook pages. There were many great presentations and arguments raised by various speakers. But the one that really blew me away was this one from Angela Brett: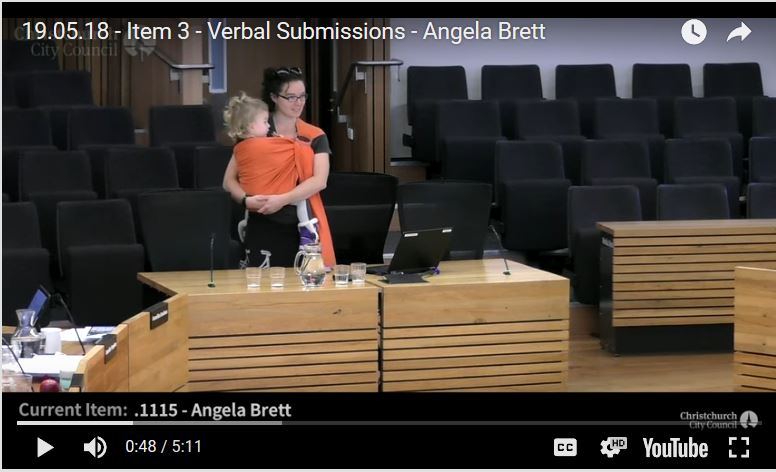 Angela captured perfectly the essence of what these cycleways are about. Contrary to popular belief, it's not about the lycra roadies, or the die-hard cycle advocates. Providing safe cycling opportunities help people like Angela get around town and feel safe taking her daughter Zelda to places as well. And, as she points out, for all the concern about the number of people killed while cycling in NZ (which jumped up dramatically in 2017), it pales in significance to the thousands of lives lost due to obesity-related diseases and problems.
So well done Angela for such a clear cogent argument for accelerating the cycleways programme (and well done to all the other submitters adding their weight to this call as well). Now let's hope that the Councillors take heed of this message…