After the quakes the then National government produced the Accessible City Plan. It pretended to follow the wishes from 'Share an Idea', but clearly only added in cycling where it could after all other modes had been sorted. Most cycle routes are shared with routes prioritized for cars, buses, pedestrians.
Tuam St between Hagley and Antigua is the obvious route for cyclists coming down Riccarton Avenue from the west to get into the CBD. But that block of Tuam is dedicated to bus 'super stops' to serve the hospital and this makes for unsafe cycling. Back in 2011, Spokes Canterbury questioned how would people on bikes get to the east-bound Tuam cycle route and to the north-south cycle route on Antigua? CERA swore it would be sorted with lots of cyclist involvement. Trust us, we will work with you they were told.
Fast forward to now and Otakaro Ltd, successor to CERA, have independently crafted an unworkable plan sure to displease drivers, pedestrians, people on bikes, anyone who needs to access the hospital and new outpatient services building. Spokes insisted on meeting with Otakaro, Council and CDHB to try and sort the mess out. Otakaro was unrepentant, calling for all to just trust them. Further meetings were held with some improvements achieved, but the bottleneck unresolved. More on why trust is in short supply below.
Here is the final plan from Otakaro: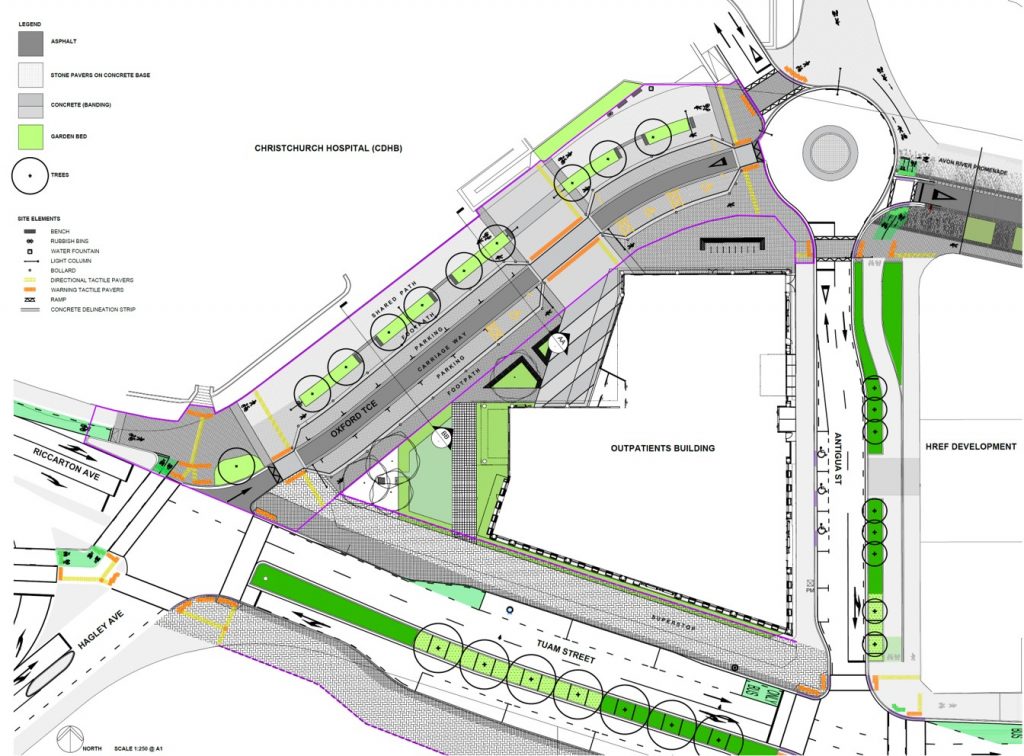 What are the problems?
Oxford Terrace between Hagley and Antigua is the proposed cycle route for east bound traffic on Riccarton Avenue to tie into the major east bound cycle route on Tuam Street and the major north/south bound cycle route on Antigua Street,.
Oxford Terrace between Hagley and Antigua is also to be the main car access and drop off point for the hospital and new outpatients building, with 4,000 daily users and climbing. Pedestrians from the bus super stops on Tuam will also be crossing Oxford Tce to access the hospital.
On offer is a 2.5-metre wide carriage way with 14 short stay on street car parks and a shuttle stop to disgorge passengers. Pedestrians have footpaths on both sides of the carriage way. Cyclists can joust with the cars or negotiate a 4-metre wide shared path on the north side interrupted by four pedestrian crossing points before crossing the main hospital driveway for a 120 metre long gauntlet of congestion. Once past all that cyclists can go north across the bridge or south using a shared path around the outside of the roundabout with another crossing of Oxford Terrace from the east and onto the bidirectional path on the east side of Antigua and down to Tuam.
The hospital driveway is to give way to cycles but makes no provision for people on bikes to access the hospital. Just join the queue with the cars. Cars from the Antigua roundabout will also be entering the hospital here and are unlikely to give way.
Consultation on this project closed 14 August. Spokes and others raised concerns. Otakaro has explained away all concerns claiming they have studies and reports that say it will all work out. Those have been requested but should have been part of the consultation documents.
On Wednesday 8 November, Otakaro will present their plan to Council's Infrastructure, Transport and Environment Cm'tee for approval. Spokes will make a presentation on the project.
A number of other options have been offered to Otakaro's plan. Spokes will be asking Council to put the project on hold and require Otakaro to meet with Council, CDHB, Spokes, disability groups and other stakeholders to consider alternatives and redraft the project to meet the community's needs.
Your help is sought. Please write to Pauline Cotter, Chair of the ITE Cm'tee and share your concerns that Christchurch not be hobbled with cheap unworkable infrastructure. Please, be polite, to the point and ask that the Hospital Corner project be delayed and redrafted with genuine empowered community involvement.
Antigua Street between Tuam and Oxford Tce (a key cycling link through to the Boatshed bridge) will be closed from 27 November to April 2018. Traffic will be directed west on St Asaph to Hagley and on up to Riccarton Avenue/ Oxford Tce. Once Antigua reopens Oxford Tce at the hospital will be closed for road works. Calls to the Council to confirm this information found that Council knows nothing about it. In all the meetings on Oxford Tce and Antigua Street, Otakaro did not volunteer this information. Communication is crucial for building trust. Perhaps it did not occur to Otakaro that cyclists would want to know this, or communication within Otakaro is such that those involved with Hospital Corner just did not know. The need for transparency and empowered public engagement is clear.