We're seeing a lot of great new cycleways popping up around town, but of course they won't be much use if there's nowhere to park your bike at the end of your ride. Fortunately, the City Council has been thinking about that question for some time (including some detailed analysis in their Central City Parking Plan) and lots of new cycle stands are showing up in street rebuilds and in front of new buildings. Most of them are fairly basic metal staples, but occasionally there's something a little quirkier like these one at the south end of High St: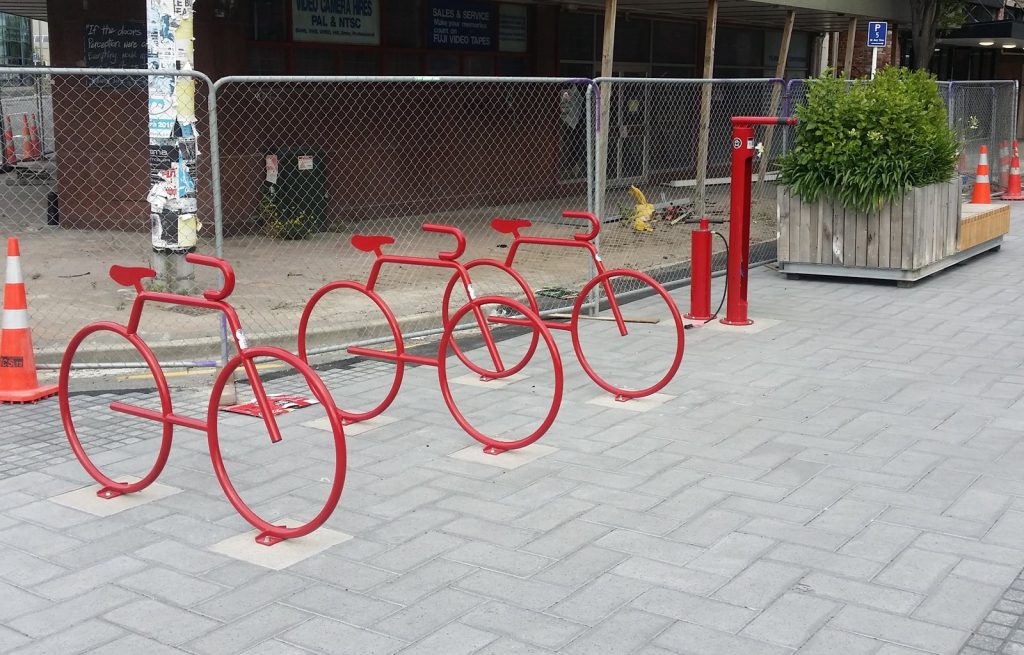 As well as sporting some neat red bicycle shapes to lock your bike to, you'll also note the presence of a bike repair station at the end. It's got a pump, a mount to hang your bike on, and even a selection of tools attached to fix that loose nut or unhook that tyre rim. Now we just need the adjacent construction completed so that patrons of those establishments can start using them…
It's great to see more bike parking appearing around businesses in town, it helps to remind retailers that people on bikes spend money too! With that in mind, you might like to support the national PledgeMe campaign by BikesWelcome that aims to help businesses recognise and value their biking customers and to help bike users get good bike parking where they need it. Pledge a few dollars (or more) and not only will you be helping BikesWelcome to develop promotional material for businesses and bike users but you can also score some pretty neat pledge rewards too!
Do you like these new bike stands?