Earlier we announced the call for nominations for the Cycling Advocates Network (CAN) Cycle-Friendly Awards (sponsored by NZTA), the regular celebration of everyday cycling in New Zealand. Now the finalists have been announced, covering a wide range of people and initiatives.
The winners will be announced as part of the Conference Dinner for this year's 2WALKandCYCLE Conference, being held in Nelson in late October. The awards ceremony will be held in conjunction with Living Streets Aotearoa's Golden Foot Awards for walking projects.
This year it's notable that quite a lot of finalists have been honoured, typically 5-6 in each category. Maybe that's a reflection of how much good work is actually happening around the country? Also, a number of them hail from Christchurch, and we'd like to acknowledge them here:
ViaStrada Cycle Friendly Commitment by a Public Organisation:
Christchurch City Council, Numerous Actions:The Council has now committed $68M for building 13 Major Cycleways in five years, particularly targeting the 'interested but concerned' section of residents. The Council has made a fundamental cycle-friendly shift, from policy right through to capital works. The 'Share an Idea' campaign began a major community discussion to capture the community's priorities and aspirations for rebuilding the city, and cycling was a key theme raised. These ideas informed the draft Central City Plan (2011) and Christchurch Transport Strategic Plan (2012). The Council also worked closely with interested parties on the 'Cycle Design Guidelines' (2013), which include design concepts to show how new cycleways will look and feel. Supporting technical standards have since been developed with assistance from the Netherlands.
(Other Finalists: Wellington City Council, Dunedin City Councillors, NZ Bus)
CAN Cycle Friendly Commitment by a Business:
Jade Bike week: Software giant Jade has a number of offices around NZ, but its main office is still in Christchurch. Jade Bike Week (JBW) supersizes National Go By Bike Day, engaging Jade's NZ-based staff. The week's schedule includes bike related events suitable for all abilities. JBW is designed to familiarise staff with bikes and bike safety and encompasses Jade's values of collaboration, being real, and spontaneous fun. More than 300 staff were exposed to the event, which featured TV coverage, high-profile sponsors, events at Canterbury Technology Park, conversation with the Mayor of Christchurch, and fund-raising that included follow-up charity auctions. JBW is now a regular annual event in the company's social calendar. Jade's commitment to cycling also extends to bike sheds, bike stands and showers. Jade also supplies a bike maintenance kit, which includes a bike stand, pump, spare tubes, tyre levers and all the essentials for staff to ride safely.
Abley Trptn's McLeans Island Cycle Crossing: When a park ranger from Environment Canterbury approached Abley Transportation Consultants for engineering advice to design a safe road crossing for a temporary walking and cycle track following wind damage to McLeans Island Forest Park last year, Abley donated the time needed to help get the park up and running again for summer. This crossing connects the McLeans Island recreation area with the path to the city and temporary parking area. The path and cycle trail are used by families and young children, so a high standard of comfort and safety was a priority. Speed has been controlled to enable drivers to stop safely if they need to, and to encourage eye contact and mutual awareness between road and path users. The path is now busy with people enjoying McLeans Island Forest Park, and the completed crossing has been well received with positive feedback from all involved. Abley's also strongly support cycling amongst their own staff and have been a regular winner of the Bikewise Business Challenge.
Beca Christchurch: Beca is one of the largest engineering consultancy companies in the Asia-Pacific region, with over 1,500 employees across New Zealand. Even with the Christchurch quakes requiring many of their offices to relocate, the need to support staff who cycle remained a priority. Beca has been encouraging staff back onto their bikes post-earthquake, despite the difficulties that came with offices being spread across the city. High-visibility bag covers were distributed to 65 keen cyclists in the Christchurch office alone. The result has seen Beca maintaining and growing the percentage of staff regularly commuting by bike, with an increasing number of bicycles filling the bike cage and various bicycle racks around the offices. Group participation at the McLeans Island Mountain Bike Relay event and 'Get on your Bike' lunchtime rides have been very popular, encouraging people to grow confidence in riding as well as meet new people from around the office. The 'Yammer group' has also become a great forum for sharing information on routes to avoid on bike, as well as other hazards that could be avoided on Christchurch's cone-cluttered streets.
(Other Finalists: ANZ Bank, Shell Todd Oil, NZ Bus)
CAN Cycle Champion:
Darren Fidler (Jacobs SKM): Transport planner Darren Fidler is a year-round cycle commuter in Christchurch, who goes to extraordinary lengths to improve the presence of cyclists by encouraging bright and novel apparel. Wearing a cycle camera, he provides evidence to traffic management contractors, Christchurch City Council, SCIRT, newspapers and Police regarding cycling issues and incidents. He has even taken the brave approach to talk to drivers who have put him or others in danger. This engagement is particularly important in Christchurch, where road works are commonly eliminating cyclists' space, increasing the risk and making cycle commuting unattractive to all but the most confident cyclists. Darren's choice to cycle every day in a giraffe 'onesie' increases drivers' awareness of cyclists on the road, and also serves as a humorous reminder to other road users about the importance of being seen. As a transport planner he understands that encouraging and providing for cycling has greater benefits for not only cyclists, but the economy, health, drivers, pedestrians and the environment. Darren understands the importance of providing facilities that make cycle commuting more attractive, and is currently lobbying for a new covered bike rack at work. He also advocates cycling as a mode choice to his colleagues and has hosted lunch time information sessions on cycling.
(Other Finalists: Robert Thompson, Barb Cuthbert, Hasely Lobb)
NB: There are no Christchurch finalists in the Best Cycling Facility Project and Best Cycling Promotion categories.
Special Auckland Transport Best Joint Walking and Cycling Project Award: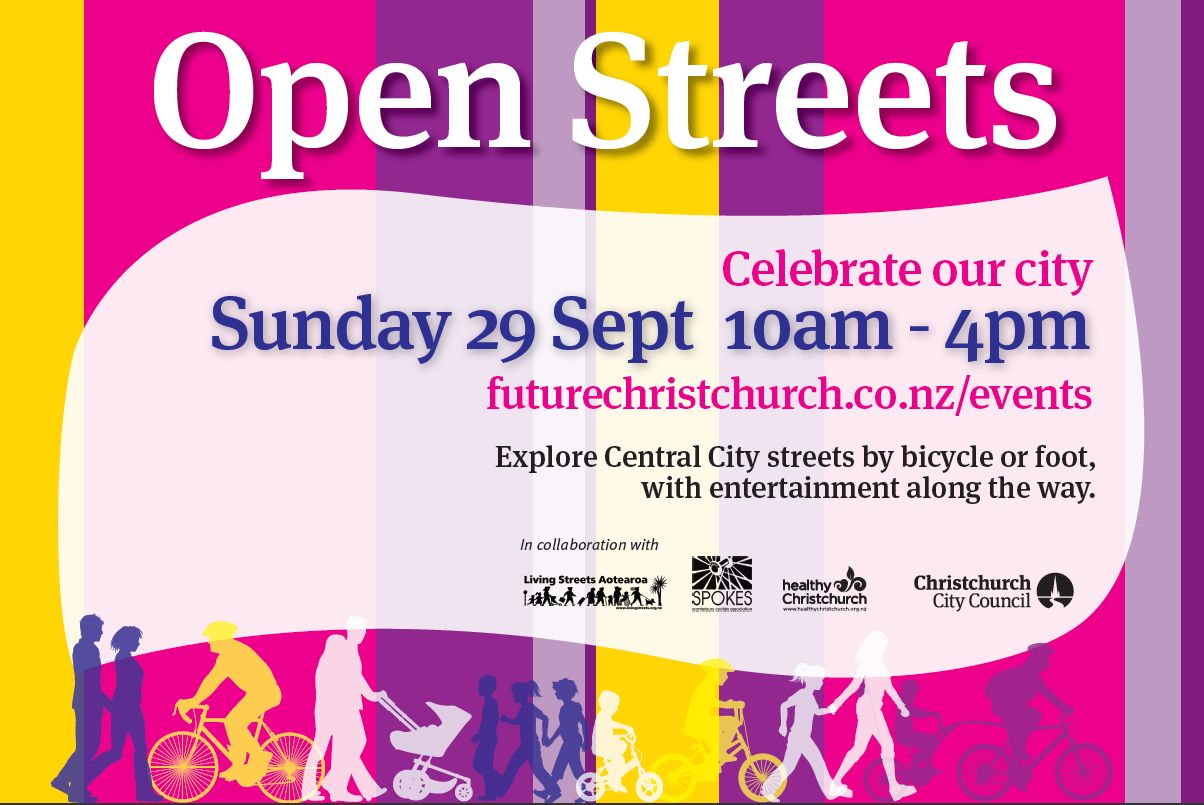 Open Streets Christchurch: Open Streets (29 Sept 2013) opened up 3km of central city streets free of motorised vehicles for 6 hours to walking, wheeling, cycling and playing. Chch CC was supported by three community partners – Spokes Canterbury, Living Streets Aotearoa and Healthy Christchurch – who assisted with planning, promoting and delivering the event. The Open Streets event was hugely popular despite challenging weather conditions. For many, it was the first time back into the central city post-quakes. It inspired many cautious non-cyclists to try cycling in a car-free environment similar to the separated cycle paths that Christchurch has planned for development. Some of the innovative activities at Open Streets included a bike trailer blowing bubbles,a bike blender making free fruit smoothies, a bike band leading the grand parade, a Dutch-style mock intersection, and bike polo. There was much enthusiasm among participants for repeat events and CCC is currently considering how to make Open Streets Christchurch a regular event.
(Other Finalists: Auckland Ciclovia, Adolescent Mobility Health Forum, Te Henui Walkway, Manawatu River Shared Path)
The winners will be announced at the 2WALKandCYCLE Conference Dinner on Oct 29th – good luck to all the finalists!
 Who do you think should win the Cycle-Friendly Awards?