Well, after the miserable weather forced the postponement of the first Christchurch "Open Streets" event in July, spring has arrived for a second take at this wonderful event, thanks to the City Council and a few other keen bods. So make sure that your calendar is free for the inaugural Christchurch "Open Streets" scheduled for Sunday 29th September from 10am to 4pm!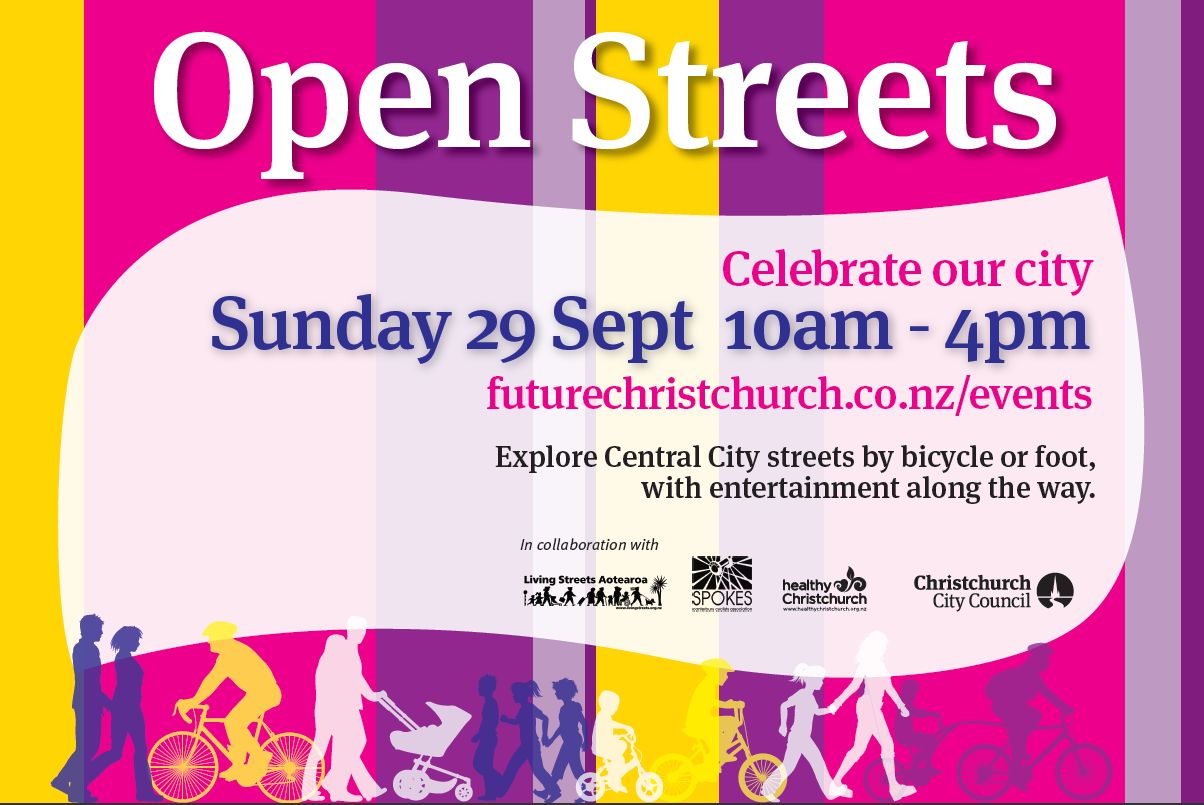 So what is Open Streets? Basically a circuit of town will be shut off from motor traffic for six hours, allowing anyone on a bike, scooter, skateboard, wheelchair, their feet or whatever to enjoy the streets all to themselves. Throughout the day there will be plenty of interesting activities going on to keep everyone entertained. Below are details about some of the planned activities so far below; more info can be found on the Open Streets website, and I'll also update things here as changes come to hand.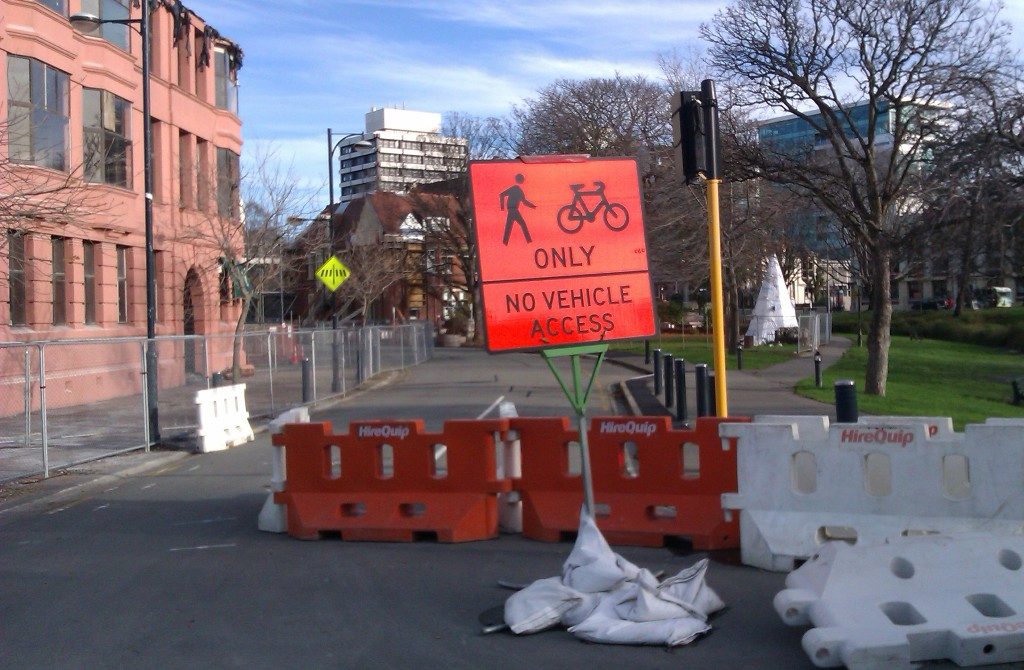 The Open Streets route will basically take in a rough rectangle around Gloucester St, Oxford Tce, Hereford St and Manchester St (and a bit of High/Cashel to avoid some building work) with some spurs out along Colombo St and Worcester St. The streets around Cathedral Square should also be available for activities as well. There are a couple of sections on Gloucester and Hereford where some traffic access still has to be maintained, so only half the road width will be available there. But all up, together with some of the adjacent pedestrian spaces, that makes for over 3km of streets to stretch your legs free of traffic!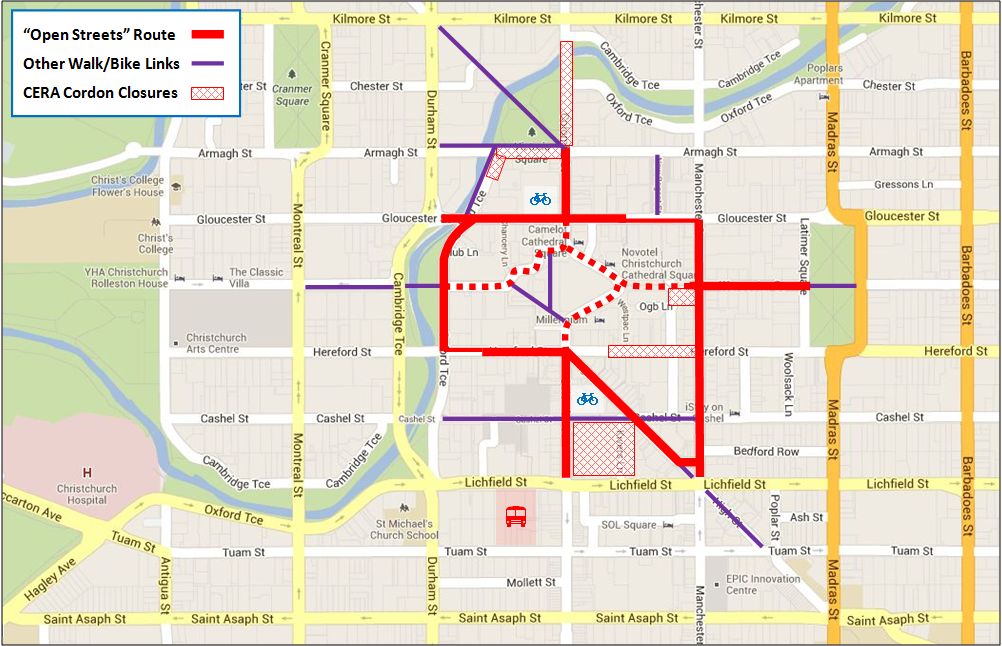 So, other than just wandering around traffic-free, what is proposed for Open Streets?
Exciting demonstrations of bike polo, and roller derby – if you've never seen these; they're well worth a gander!
You've seen the Dutch-style intersections in the new Council design guidelines. Now you can try one for yourself! A mock-up of such an intersection will be constructed (complete with kerb islands and separated green cycleways) so that you can picture how it might work, and give it a go. There will also be a range of different bike lane separators for you to have a look at. Council staff will also be on hand to explain it all and to receive feedback.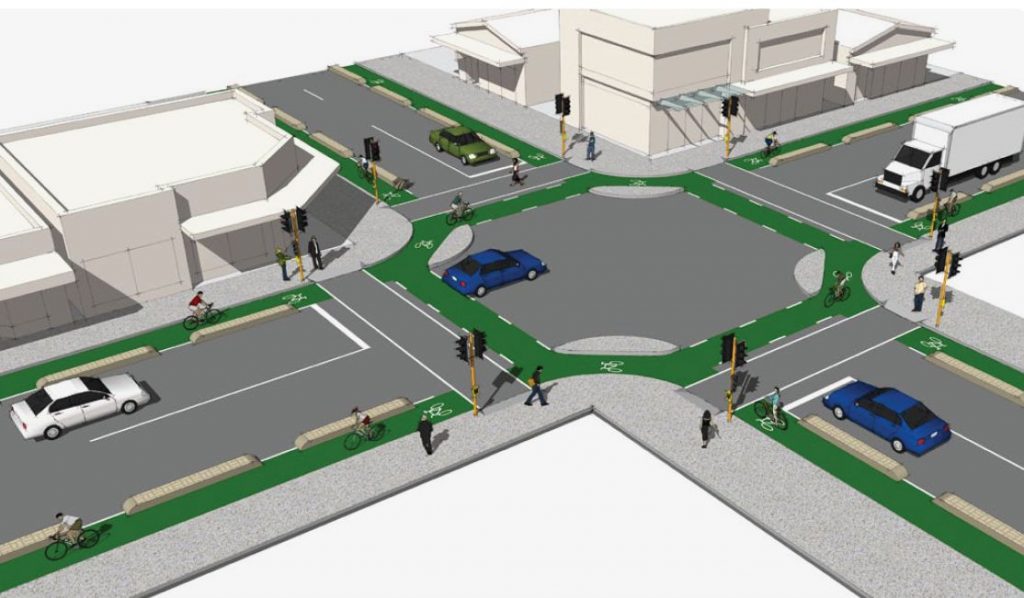 For the kids (or the kids-at-heart) a "pump track" loop will be set up for racing around on your bike.
Does your bike need a bit of minor fixing up but you're not sure how to do it? Bring it along for a free tune up by the team from IceCycles.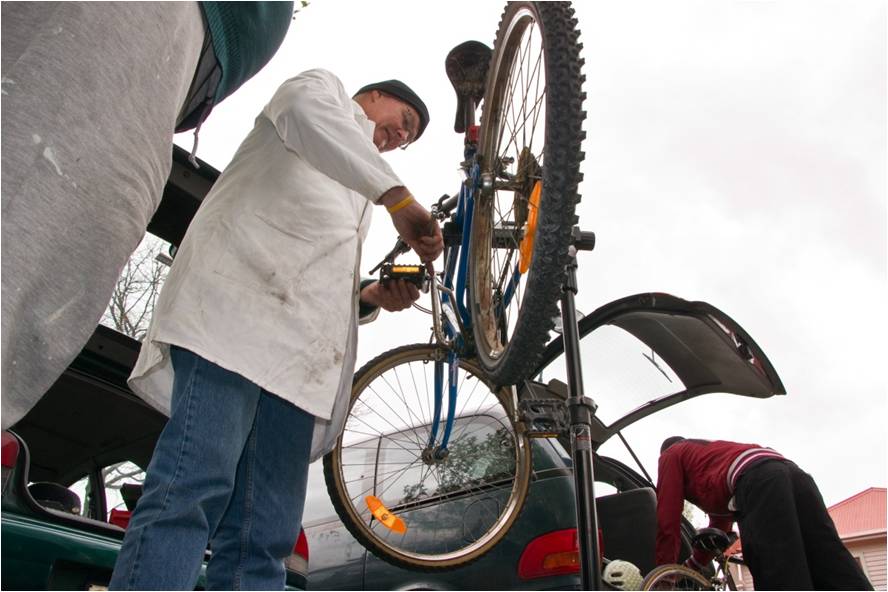 If you want to leave your bike for a while and wander around on foot, valet bike parking immediately to the north and south of the main circuit (see bike symbols on map) will ensure that your trusty steed is safe and secure.
Perhaps you'd like to try out some interesting novelty bikes, cargo bikes, trikes – there'll be various ones on hand to have a play with. There'll also be an antique bike display, with pre-1900 "velocipedes" – come and see how they used to ride!
All of those interesting bikes and riders will be taking part in a Bike Parade around the streets, starting in Victoria Square at 11.30am. It will be led by the amazing Bicycle Band and the stylish Frocks on Bikes riders. To welcome the spring, Frocks on Bikes will be "going floral" to demonstrate how a few flowers can make the difference to a stylish look. You can either take part in the ride itself or watch along the sidelines as the parade goes past – those taking part need to be at Victoria Square by 11.15am.
If you still need to burn off some more energy, perhaps you could watch a movie or have a milkshake – all powered by your own bike energy!
Scooter and skateboard fans can try out the mini skate park ramps that will be set up (I'm sure the ordinary kerbs and quake bumps will provide enough of a challenge too…). There'll also be free skate hire and lessons.

Perhaps you've seen the bike racks on the buses but been a bit hesitant to give them a try. There'll be a bus parked up where you can have a go trying out the bike-racks, without all the pressure of a "live" situation.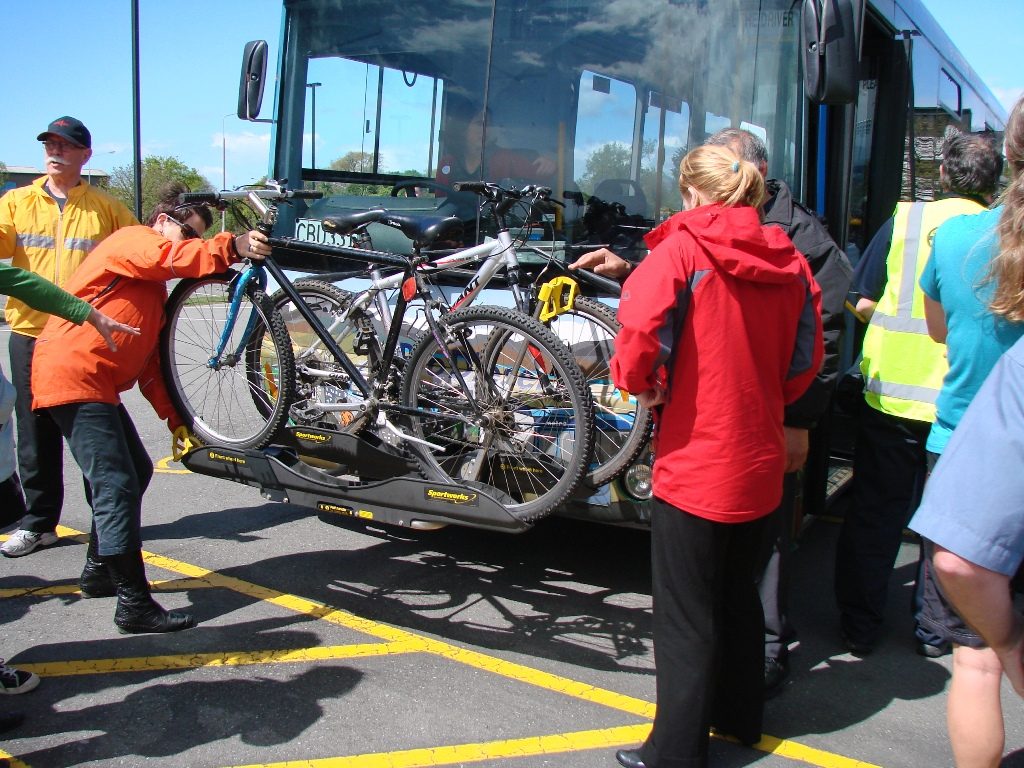 As well as the many biking activities, there'll also be plenty of things to do on foot as well, including mass aerobics and dance classes, "urban orienteering", a Library To Go, and of course just wandering around enjoying the sights.
The SCAPE Public Art biennial will also be underway on the day, featuring a vast array of innovative and thought-provoking art installations throughout the city. How many can you find? For those who prefer their art active rather than passive, you might want to take part or just watch the amazing Powerslide games near Colombo and Gloucester.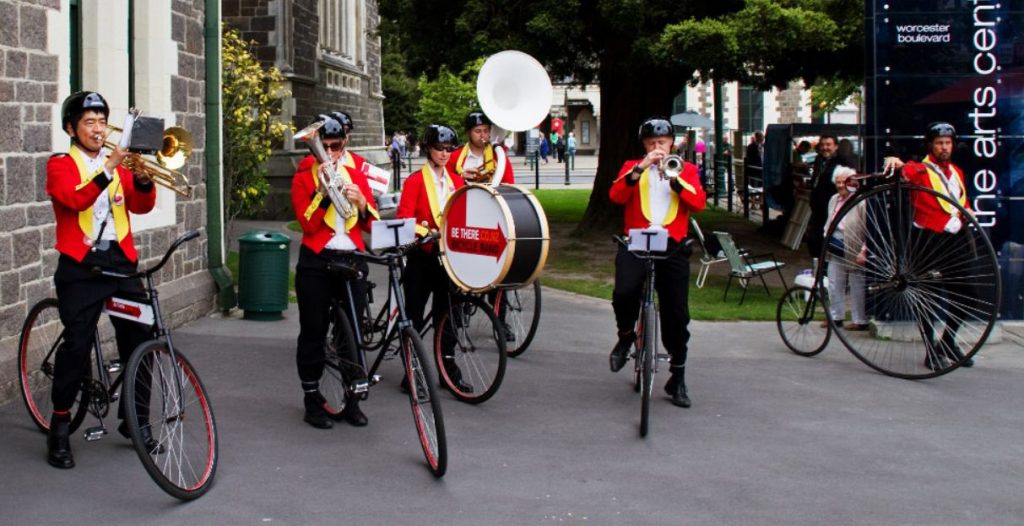 A new "Nature Play Park" has been created in town by the Dept of Conservation next to Latimer Square and it will be open on the day for all-comers. Check out some live lizards and bugs, and also look for native birds and plants. It's a little piece if the wilderness, right in town…
If you need any help on the day, just look out for signboards with maps to help find out where everything is. Or look for the volunteers wearing white t-shirts with the Open Streets logo to help you get around the site.
So mark Sun 29th in your calendar now, bring along the whole family and make a day of it. If all goes well, this might be the start of a regular series of Open Streets events. There's also a separate post with more details about the best ways to get into town, whether that's by bike, foot, bus or driving. Hopefully the weather will also play its part by putting on a gorgeous Canterbury day!
See you at Open Streets!