Note: "Cycling in Christchurch" does NOT provide, receive or service bicycles – we are just an information site. Contact the providers below
Some photos and stories from previous bike workshops can be found in our bike maintenance blogposts.
ICECycles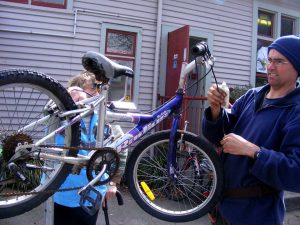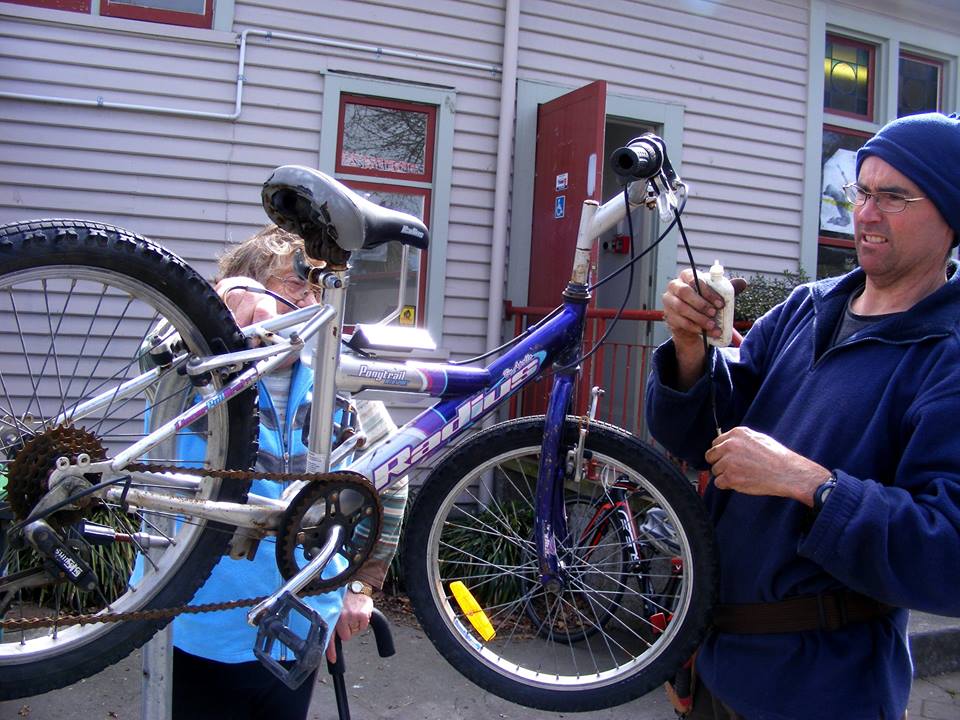 The ICECycles (Inner City East Cycles) are a group of volunteers who run free bike maintenance workshops in the Linwood/Richmond region approximately four times a year. Come along get your tyres pumped, chain oiled, bearings un-seized, gears tweaked, wheels unbent. They will also show you some basic bike maintenance skills as well!
A new workshop based at the Linwood Tiny Shops (Stanmore/Worcester) is open Thursday afternoons and typically does 15-20 fixes in that time. Bikes for donation are restored at the Philipstown Hub (Nursery Rd). Workshops are also run in conjunction with the Anglican City Mission once a month or so.
Got any unwanted bikes, parts or helmets?
ICEcycles will collect and restore them and then pass them on to a good home. Contact details below.
Got bike maintenance skills?
They'd love to have you come and help. Phone Jenny: 379 5134, or Jonathon 389 4227 or Steve 021 0619296; email: steve@cycletrailers.co.nz to get involved.
RAD Bikes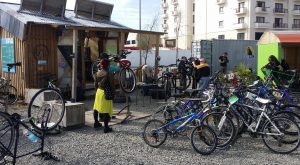 RAD Bikes (Recycle A Dunger) operate a community shed at the corner of Kilmore and Durham Streets where anyone can build or repair bicycles and/or help restore bikes. They work with ICECycles and hold regular sessions on Wednesday evenings and Sunday afternoons. All welcome! For more information, contact Jess Smale (admin@radbikes.co.nz).
RAD Bikes have also recently been offering "pop-up fix-ups" around the city where they partner with local community centres, and several RAD volunteers turn up with tools & parts to repair bikes for people and to teach repair skills where appropriate.
Aranui Bike Fixup
Based at the Breezes Rd Baptist Church, Aranui Bike Fixup operates every Thursday from 3-6pm. Come and use our tools and parts to fix your own bike, learn the skills of how to restore bikes. Contact Steve Muir (steve@cycletrailers.co.nz).
The Sumner Cycle Collective
The  Sumner Bikery is is an initiative in Nayland St, Sumner, that provides access to basic bike tools for DIY repairs, as well as basic bike servicing by a mechanic. Typically open on Saturday and Sunday mornings. Contact Mark Wallace-Bell (mark.wallacebell@gmail.com , Ph. 027 518 4789) for more details.
L.J. & Friends
L.J & Friends is a youth mentoring programme teaching bike fixing skills, with a caravan and container at South West Baptist Church grounds used for storing parts. They mostly operate on a Sunday afternoon with 10-20 young people typically taking part, and work closely with RAD bikes for support. Contact Antoine Houle (nibs.ah@hotmail.com).