Here's a guest post from reader Dan Hanson:
We Share the Road: A road safety campaign from CCC and NZTA
I found myself doing a double take at the Springs Road/Main South Road intersection last week, at this perplexing billboard: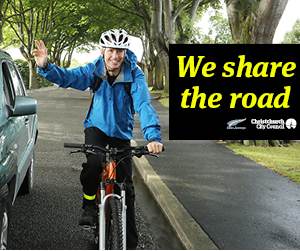 The image caught me off guard, as I couldn't imagine why a cyclist so close to a moving vehicle would be smiling and waving. I found myself trying to judge the actual distance between car and cyclist, and couldn't come up with anything more than 70cm. Then the lights changed and the billboard was gone.
Over the following days the incongruity between image and message kept coming back to me. Was I imagining things? Was the image so distorted or warped as to misrepresent the situation completely? How did 70cm clearance demonstrate "sharing the road", exactly?
I eventually reached the conclusion that, distorted or not, the image did not fit my idea of safe road behaviour. The council's response suggested that the campaign was not intended to reinforce the idea of giving cyclists room when passing (1.5 metres ideally, as suggested by the NZ Road Code), but to promote courteous behaviour by all road users. It was also suggested that 1.5m was often not realistic for Christchurch road conditions.
I agree with promoting courteous behaviour by road users. However, I cannot see how this billboard will achieve that goal. The only road user in the image is the cyclist, who, while he certainly seems to be acting courteously, doesn't have too many options, between the kerb and the car. Are we to take the message that cyclists should be careful and courteous road users? This is an important aspect of road safety, but it is only part of the picture.
There is no driver visible in the car – for all we know, the car is parked there, driverless. Faces are important in advertising to carry emotion and demand empathy from the audience. This advertisement seems at odds with other recent road safety campaigns, such as NZTA's "drive social", or "see the person, share the road", where people and faces are emphasised. It would be hard for drivers to identify with the courteous road use message, given that there is no driver in the image.
Most importantly though: no matter what angle I hold this picture on or which eye I close, there is nowhere near enough clearance between this car and this cyclist. While I understand that this is not the intended focus of the campaign, anything claiming to promote road safety should at least be consistent with the guidelines in the NZ Road Code. Billboards bearing this image are prominently placed and highly visible. What message should a driver take away from this? That <70cm clearance for a cyclist counts as "sharing the road"?
I have put this post together for two reasons: a reality check for myself, and to fulfil an offer I made to CCC to gather some wider views on this campaign. Both rely on your feedback, so please make a comment below!!
What do you think of this campaign?