Lately members of many online communities have co-operated together to develop all sorts of complex and useful programs despite the members being spread far and wide around the world.  Should this online community be looking at co-operating to design our own preferred cycling infrastructure for Christchurch?
As the recent blog on this site discussing CERA's Draft Central City Transport Plan pointed out, the suggested cycle routes in town didn't appear to head out on the right routes to connect with a city wide network.  Any submission that raised that point would have much more strength if it was backed up with a design for a suggested city-wide network along with suggested changes in the city centre to make it all fit together.
The Christchurch Cycling Strategy of 2004 contained a plan of routes devised in 1999 but in 2012 few of them are on the ground.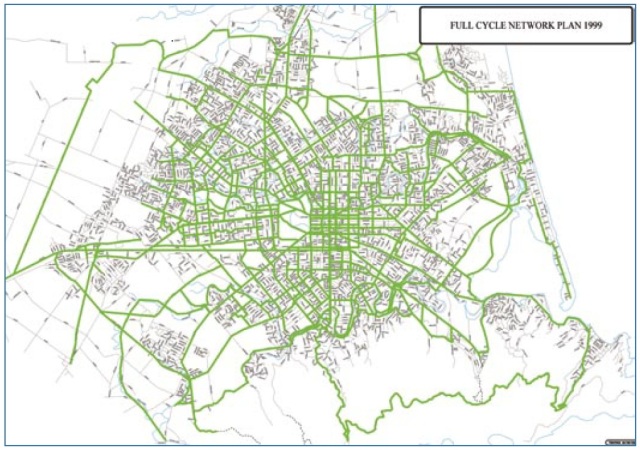 This year's Christchurch Transport Plan contains a similar network plan but it appears to contain even more routes than in 2004.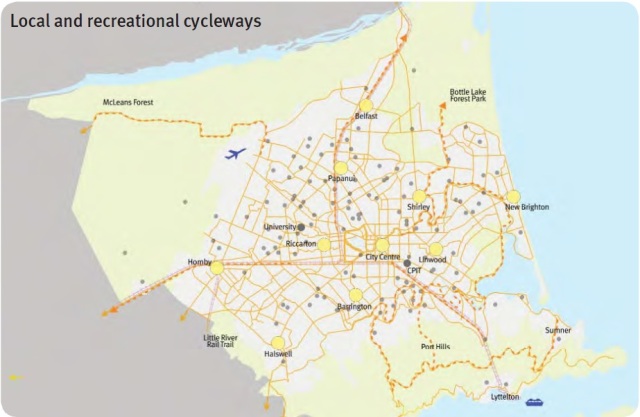 I haven't tried to work out the total length of all cycle routes on the latest plan but it looks far too extensive to fit within likely budgets or a reasonable time frame and runs the risk of going the same way as the 1999 plan.
If we were advocating for light rail rather than cycling we might co-operate to design a network looking something like this: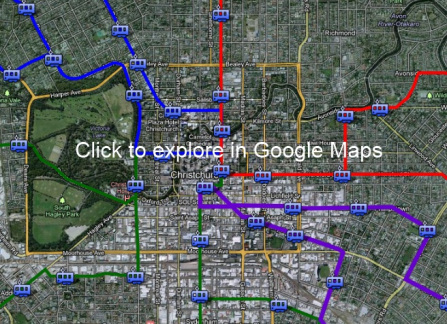 Before ending up with a design there would need to be some objectives such as:
90% of households within 800 metres of a stop
Minimise transfers required for any trip
Maximum travel time for any trip 45 minutes.
Maximise resilience
What would be the objectives of a cycle network design?  These are suggested as a basis for starting a design process and are not intended to rule out anyone else's (probably better) criteria:
Network to be mostly along arterial roads
Separation to be provided by parked vehicles and/or physical barrier
All controlled intersections to be up to the latest Dutch CROW standards
Access to the network to be available from all households without crossing an arterial road which is not part of the network
With these criteria in mind we might get a network looking something like this: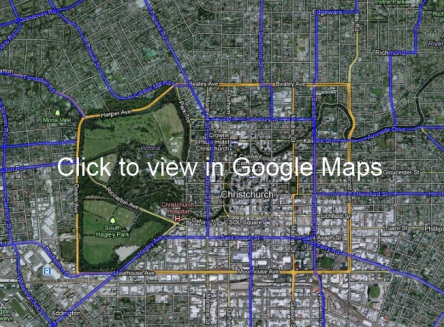 Using these criteria we come out with a total network of around 240km.  That doesn't include existing off-road routes like Hagley Park and the Northern rail track which would link into the new network, nor does it allow for the latest central city proposals but it's on a reasonable scale and could be completed in five to ten years.
Share An Idea brought out the enthusiasm and backing for better cycling facilities in Christchurch.  How could we use modern Internet based technology to share ideas at a more detailed level and identify the kind of cycling network that would work for most people?