An interesting news item in The Press on Thursday about a young entrepreneur looking to introduce public bikes to Christchurch. Bicycle Ventures director Robert Henderson has partnered with fellow public bike scheme Nextbike in Auckland, and already has trials with the Canterbury Health Board and University of Canterbury.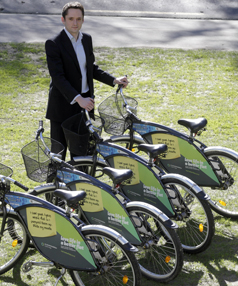 Public bike or bike sharing schemes have been popping up all over the world in various forms, especially in Europe. They range from free services (or free for a certain amount of time) to ones that have a charging regime (usually per hour) and may even require some kind of registration; others are subsidised by advertising on the bikes or parking stands. The pioneer in New Zealand was the free Green Bike scheme in Palmerston North, which enabled anyone to hop on a distinctive green bike placed around the city.
Public bike schemes help complement other cycling initiatives in a number of ways:
They enable cycling access to someone who doesn't have a bike handy, e.g. a visitor from out of town. I know that when I'm in a new city I like to grab a bike to efficiently have a look around.
They provide a more efficient way to get around central cities. Compared with walking, waiting for public transport to show up, or being stuck in traffic, it is usually much quicker to cover distances in town by bike.
They allow people who don't currently own a bike to "try before they buy". This is important if a hurdle to more people cycling is whether the initial upfront investment is worth it.
They add to the "culture" of cycling in a city. People see more bikes around (even if just parked) and more people cycling.
One of the potential problems with public bike schemes is where local jurisdictions (usually in Australasia and North America) require people cycling to wear a helmet. By their nature, public bike schemes help encourage incidental or unplanned cycling trips (e.g. people needing to get across town quickly, tourists wishing to check out the sights); usually people don't just happen to have a spare helmet on them. So that either means sharing helmets left with the bikes (with all the problems of size or hygiene), or having some kind of "helmet dispensing" machine as well. I've experienced public bikes in Brisbane and Vancouver where helmet laws apply; fortunately I was at cycling conferences where they actually gave you a helmet as part of your registration. But you can see how it might add another layer of complexity to grabbing a bike. A not impossible problem, as Auckland's Nextbike scheme demonstrated. Still, in Vancouver, the introduction of their new service has raised the question of whether the helmet legislation should be revoked or have a special dispensation for public bikes.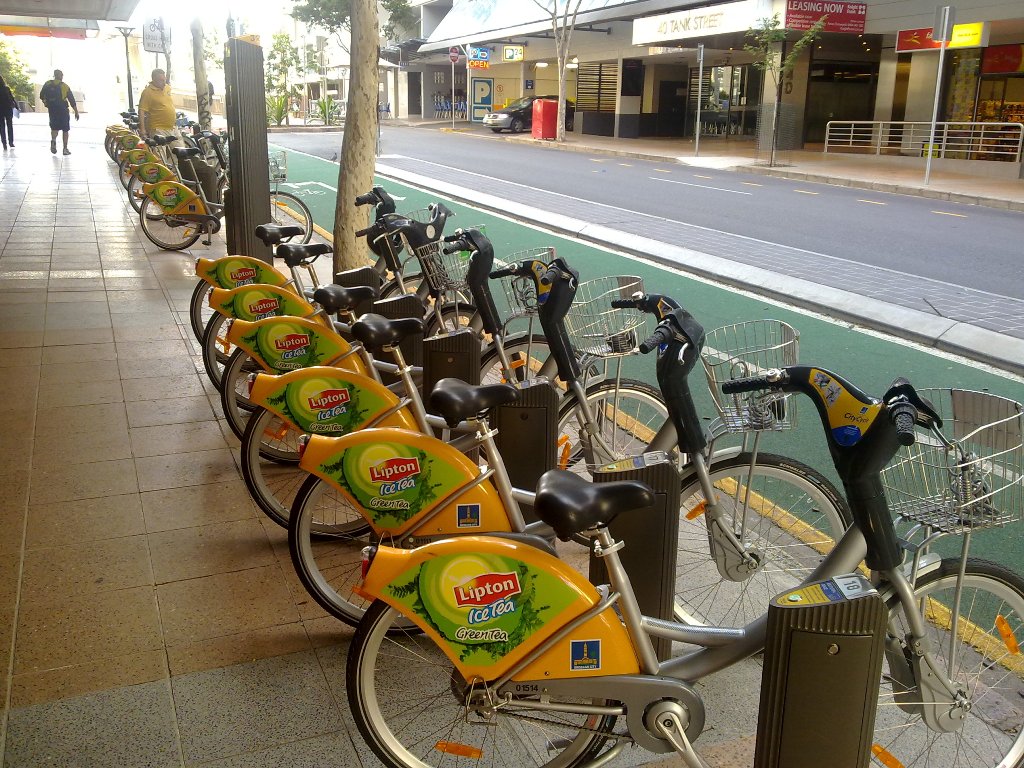 While the grand plan for Christchurch might be a city-wide fleet of bikes for use, Bicycle Ventures are keen to start in Christchurch by developing smaller bike schemes, e.g. for large organisations to allow staff to get around. That's where the current initiatives with the university and the hospital make a lot of sense. Perhaps some of the planned worker accommodations for the rebuild could also incorporate public bikes for getting around?
What do you think – Do public bikes have a place in the new Christchurch?