It's a measure of just how crazy-busy I was last week that I didn't even realise that I'd forgotten to do a Flashback Friday – oh well, onto another one this week… So, what was occupying my time? Well, I was up in Auckland doing a bit of university teaching and industry training, all of which necessitated a bit of frantic last-minute preparing of material, on top of the usual day-job tasks (one day I'll learn to time-manage better…). Thursday and Friday were spent teaching highway safety topics at Auckland University (including some guidance on rural cycling provision), but on Wednesday I was entertaining a different crowd…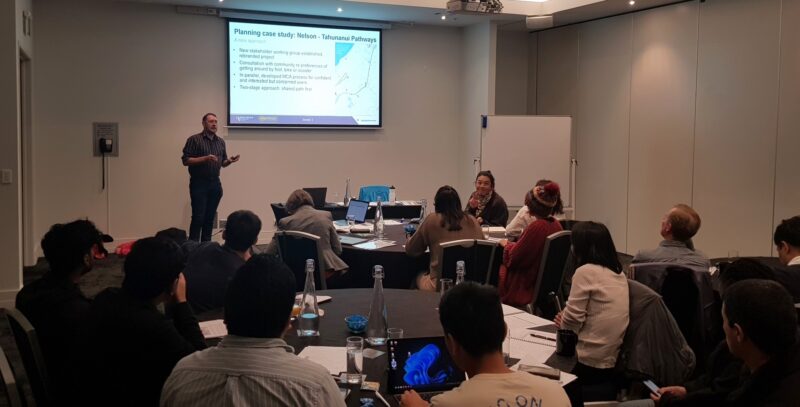 This was the first in-person industry training course on Planning & Design for Cycling since 2019; about 20 participants from consultancy, advocates and local government were there to get the latest goss about best-practice for cycling from myself and a colleague from Waka Kotahi.  While some principles haven't fundamentally changed over the years, other bits of new research, policy and practice have continued to evolve (e.g. the rise of e-bikes and other micro-mobility), so it was useful to provide the latest thinking in these areas. Lots of great discussion during the day too!
Which leads me to a little plug: we have another course coming soon to Christchurch! Yep, on Tue 23rd May, we'll be running the next edition of this series at Tūranga (Spark Place room) – and there's still room for more attendees… Anyone interested from central/local government organisations or consulting firms are welcome to register ($600+GST), and we might even have a couple of spare slots for some voluntary/advocate people at a reduced rate ($200+GST). For more information, have a look at the training course page and send in your registration details ASAP…
Do you want to learn more about best-practice cycle planning/design?