It's been a fun last few weeks around Ōtautahi Christchurch, with plenty of great events to attend and enjoy. As much as possible, I like to bike to things if I can – usually the whole drama of travelling to/from the event and finding a place to park is so much less hassle by bike than driving, while also usually more efficient than  walking or bussing. I previously mentioned the less-than-stellar attempt to park my bike at the cricket last November. So what has been my experience this summer of biking to other activities?
We'll start with the Classical Sparks concert in North Hagley Park in mid-January. The City Council were very proactive in their transport information, stating that there would be bike parking on site by the Armagh St gates…
…and sure enough, there was a reasonable array of temporary hoop stands on hand when we arrived…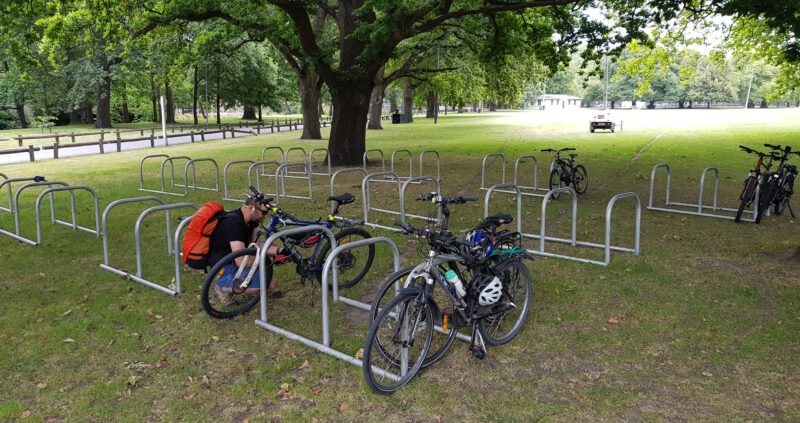 In case you're thinking that this looks like more than they really needed to provide, let me show what it looked like when we went to head home later that evening…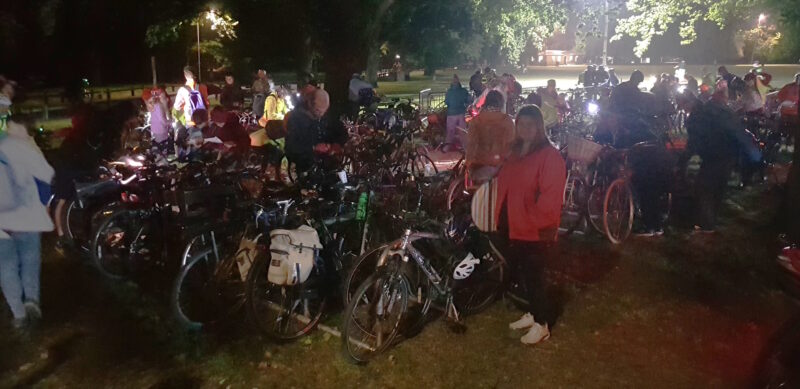 So kudos to the City Council for delivering some good parking options and informing people about it!
Next up later that week was a trip to Orangetheory Stadium in Addington to see Elton John perform. Again, a trip by bike seemed like the best way to avoid the inevitable congestion chaos (having the Little River Link cycleway adjacent certainly helped). The concert event page itself is pretty absent of any useful information about biking, but digging around the webpages about Orangetheory Stadium in general produces some evidence that bikes can be catered for…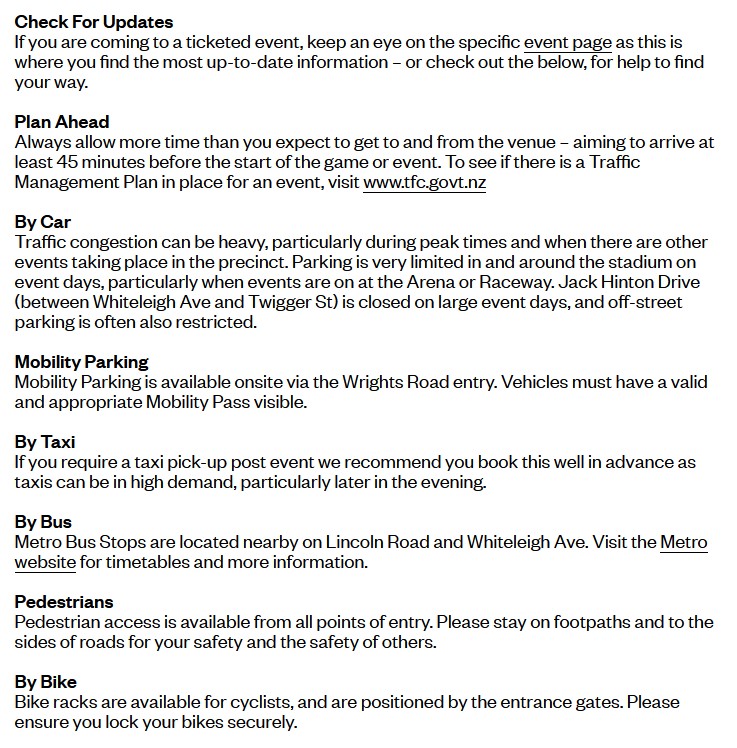 On arrival, it wasn't immediately obvious where the bike parking might be (in fact, some racks looked like they were tucked in past the entrance gates – not going to get to those…), but eventually we found a line of old-school racks, already pretty full by the time we showed up…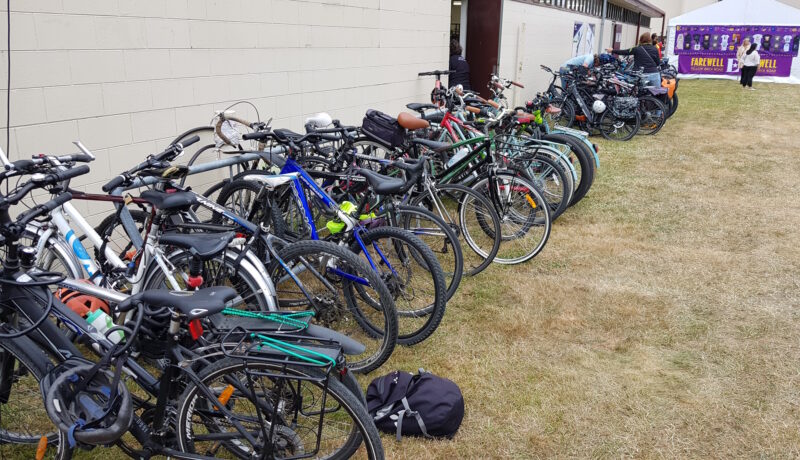 So, a pass mark for effort, but implementation needs a bit more work…
Onto the following week and time to attend the Great Kiwi Beer Festival back in Hagley Park. My expectations weren't high, based on the last time I visited and had to chain my bike to a railing. And their website wasn't terribly promising either…

Therefore I was pleasantly surprised when I found that actually they had provided a good supply of bike racks for use in the same location as the previous week's event (in fact, I wondered whether they had just left them there)…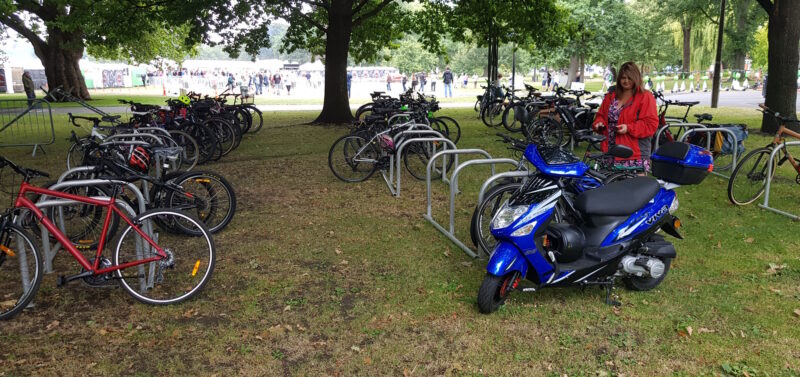 So, well done for providing good bike parking, but the publicity side of the equation definitely needs to up its game…
Coming up this weekend out at Ferrymead is the Nostalgia Festival. Here at least is a group that embraces biking to the event in their information…
Not only do they actively promote biking to the event but they even have a special Bike Gang Ride to the venue (departing Action Bicycle Club, 12pm sharp on Saturday!) with priority bike parking on arrival…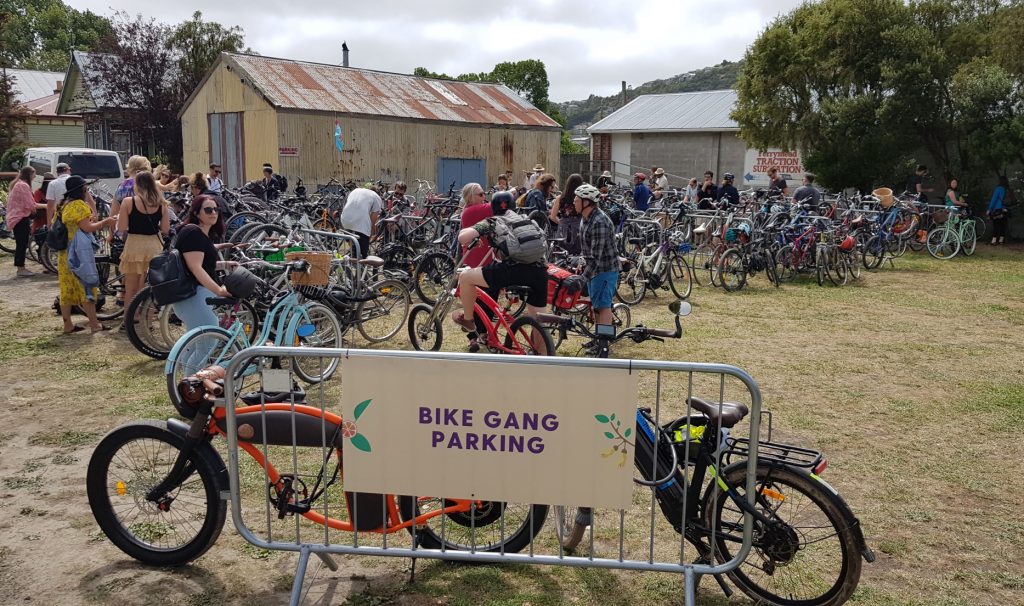 A big thumbs up to the organisers of Nostalgia Festival; I'm looking forward to my ride out there!
That's the report card so far, and it's a mixed bag. Other recent previous events like the South Island Wine & Food Festival and Christmas in the Park weren't much better in providing biking options it seems. And when I look at other events coming up like Electric Avenue, Selwyn Sounds and Cricket vs Sri Lanka, I'm certainly not very enamoured by what I see about travel by bike. It's one thing to build a lovely network of cycleways around Greater Christchurch, but that's not much use if you're not going to actively encourage people to use it for busy events…
What do you think of bike parking provision at events you go to?