While we're on a bit of a theme about bike parking, I'll regale you with my experience last Wednesday at Hagley Oval. As many of you may know, NZ was playing India in a one-day cricket game that afternoon/evening, so I wandered along after lunch to check it out.
As is my usual habit, I biked over to the venue, coming along the path from Hospital Corner. As is the usual habit for Hagley Oval it seems, this was my option for parking my bike: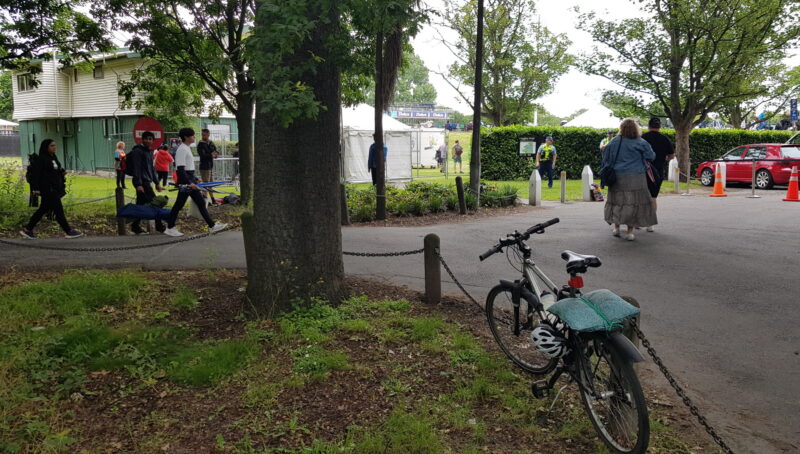 I was told later there may have been some rusty old racks around the opposite side of the oval, although that was hardly going to be evident to someone coming along the main pathway to the cricket. Apparently over 7000 people showed up for the game, so you would not be surprised to expect some to come by bike, as was demonstrated by the numerous other people also locked to the same chain railing…
As I've mentioned before, cycling to events seems to be a real blind spot for Christchurch, especially for activities around Hagley Park. The website for Hagley Oval is typical of this approach, by assuming that people are only coming by car. Whether it's some permanent bike parking or just some temporary racks brought in on game day (heck, we have some of those in the city…), something needs to be done to improve how cycle-friendly we are for activities like these.
Did you try to bike to the cricket the other day?