It's hard to believe that we're already almost halfway through Biketober for 2019. Already there have been about 25 events so far this month, with about as many again still to go. The weather this year has been a bit cooler and wetter, but generally not enough to put everyone off. Yesterday for example, I biked over to Kerrs Reach and enjoyed the music and other entertainment at Meet in the Middle with hundreds of others, while taking advantage of the chaperoned bike parking on hand as well.
Let me take you back a week however to a little event that we borrowed from Wellington (who may have borrowed it from Auckland?) – Christchurch's first ever Bike Rainbow Rave. Essentially this was an evening party on wheels around the central city, making good use of many of the cycle-friendly corridors now on offer like the East Frame and Oxford Promenade. Like our annual Winter Solstice Ride, it was also a chance to dress up yourself and your bike with as much colour and lights and sound as you wanted – and people didn't hold back!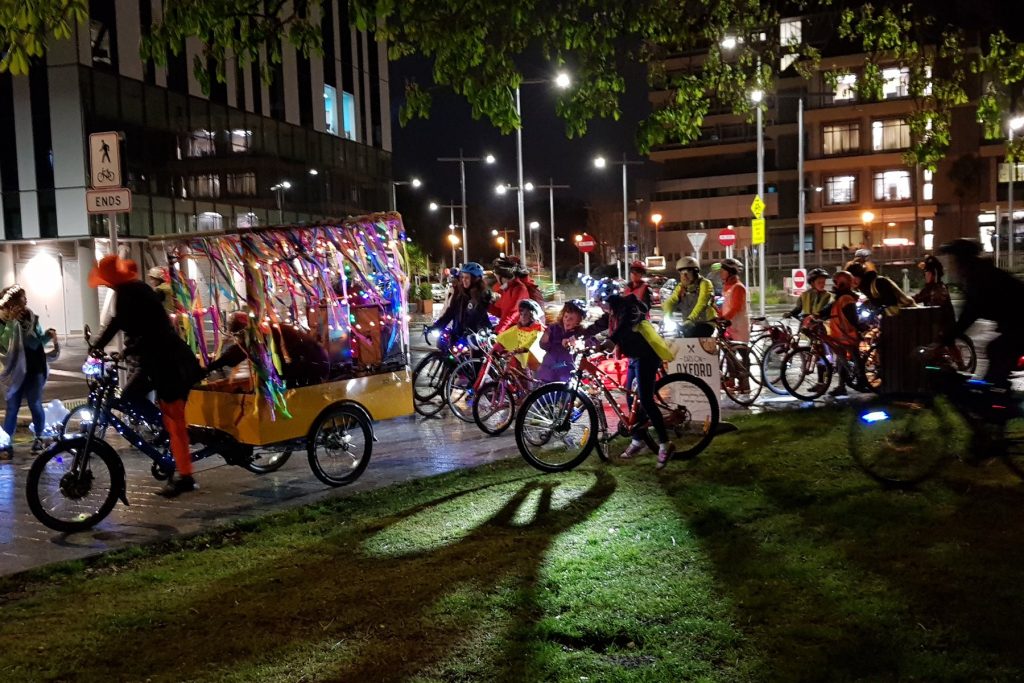 Unfortunately the cool drizzly forecast probably kept a few people at bay, but nevertheless about 50 people took part in the evening's fun. Great to see quite a few youngsters along for the ride too, and with some fantastic adornments on both bike and person! We were lucky to have up to three sound systems to boogie to as well (even if the drizzle did its best to play with the electrics…), followed at the end with more dancing courtesy of the Dance-o-Mat. You can see more pictures and videos of the night at the event's Facebook page.
This week for Biketober sees a mass count of central city bike parking (Tue 15th), a Climate Crisis progress ride on Thu 17th followed by some social fun at Bikes Beer & Banter, and some cycle skills for adults in Redwood on Fri 18th. Next weekend also sees more rides to Lyttelton Market, Rapaki Track, and exploring our edible city, as well as a cargo bike maintenance workshop and more cycle skills sessions. Don't forget to collect your Biketober Passport codes around the city too! Keep up to date with all the activities on the Biketober Calendar.
What will you be doing this week for Biketober?