The rebuild continues apace in the central city, and that includes the Accessible City transport plans. While some of that includes separated cycle facilities like those seen on Tuam St and south Colombo St, other parts rely on traffic-calmed (30 km/h) shared streets to get around by bike. So it was interesting to see these markings appear recently on Colombo St near Ballantynes: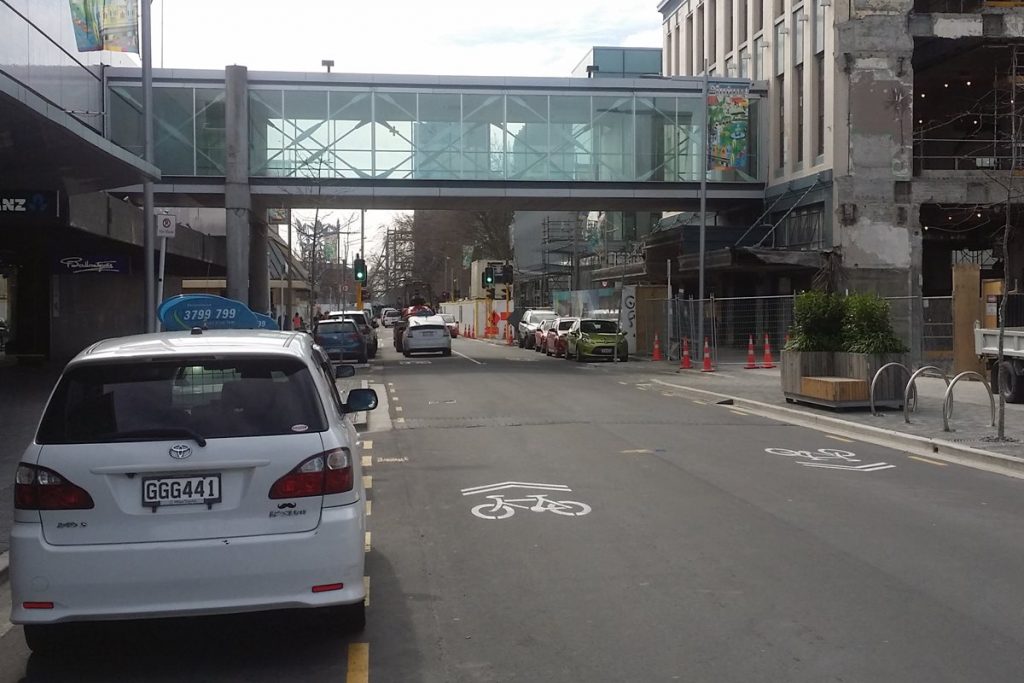 As discussed before, sharrow (= "share arrow") markings indicate places where motorists and cyclists share the same road space. Clearly the carriageway width shown isn't wide enough for a bike to be alongside two lanes of traffic, so the trick is to just become part of the traffic and take the lane. That might seem a bit daunting for some riders, but in this location it's actually pretty easy to do because no-one is travelling very fast (in fact, the only drawback might be you will get a bit frustrated having to crawl along with the cars…). The previous sharrow trials around NZ actually found that they reduced mean traffic speeds by 1-2km/h as well (which might not sound like much, but translates into a 3-5% reduction in serious crashes; it all adds up…).
Expect to see a lot more sharrow markings on neighbourhood greenway routes coming soon along the Papanui Parallel, Rapanui-Shag Rock, and Uni-Cycle Major Cycleways. And also around the other shared streets in the central city. In fact, the only intriguing thing about these new markings is the fact that, technically, sharrows haven't been ratified for general use in NZ yet…
What do you think of these sharrow markings?