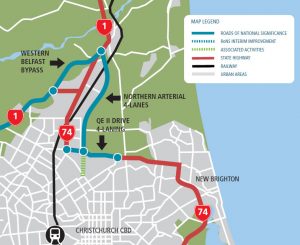 Another big project is currently out for consultation (closes this Friday) and has some interesting aspects for cycling. While there are a number of potential improvements for cycling, there also appear to be a number of poor design decisions proposed and missed opportunities.
You may be aware of NZ Transport Agency's Northern Arterial plans to provide an alternative link into town from the Waimak Bridge. The bit to QEII Drive will be State Highway, while the links from there onto Cranford St are the City Council's problem. As a result, there are two separate consultations currently out for this, one for the NZTA section and one for the CCC section, both due at the same time. Some of the locals are evidently quite shocked about the proposals (although I would hardly think that this project is new news – it's been planned for decades).
There are a lot of different documents to potentially go through, and only some of them have direct relevance to cycling (notwithstanding the more general questions about the continuing need for more/wider roads…). So I'll try to highlight some of the key implications here (sorry for the lateness, but this wasn't easy!).
(Note: hint to NZTA/CCC – it is really annoying having to wade through a huge number of separate consultation documents that are poorly named and difficult to understand how they fit together. I'm pretty sure there is no RMA requirement to present it like this. One would almost think that you are deliberately trying to make it hard to elicit public submissions…)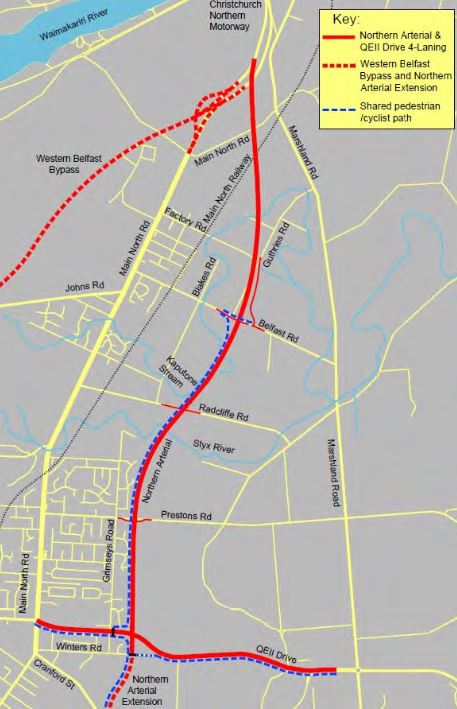 The consultation is basically about seeking a designation for:
the construction of a new section of four-lane motorway ("the Northern Arterial") linking the existing Northern Motorway with QEII Drive
the widening of QEII Drive to four lanes between Main North Rd and Innes Rd
a new section of four-lane road to connect the Northern Arterial to Cranford Street ("the Northern Arterial Extension")
the widening of Cranford Street between the Northern Arterial Extension and Innes Road to four lanes, including widening at the Cranford Road/Innes Street intersection
As you can see from the adjacent figure, the proposals also include a shared pathway from Belfast Rd down to Cranford St with various crossings and connections. In theory this could provide a key link in and out of the city to the north – except that it stops at Belfast Rd. NZTA has evidently then deemed it CCC's problem to either take riders along Guthries Rd and Marshlands Rd or along the railway corridor. No plans on when that might be…
Ah, but surely it's more about people in the surrounding neighbourhood using the pathway? However, it's not entirely clear how people will connect easily to this from the various northern suburbs immediately adjacent either, except at the main roads. And there's no clear indication of how the route might link into the proposed Highfield development east of the arterial. We've already seen this problem with the Southern Motorway pathway that runs right past the Broken Run subdivision without connecting in.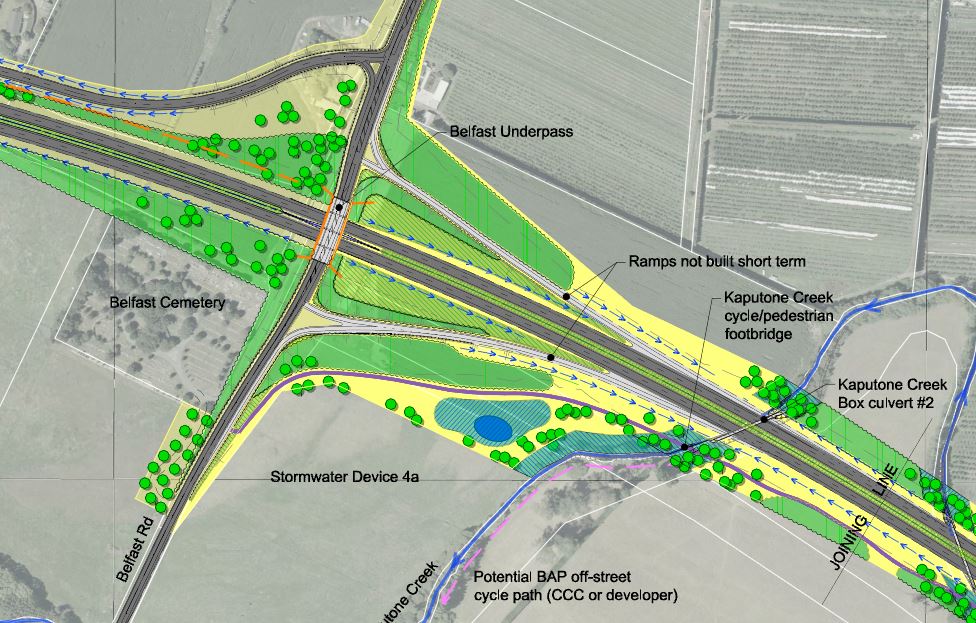 As we wander down the (3.0m wide) pathway from north to south, we see that there are accesses at each of the overbridges crossing the arterial. An annoying issue is how far out of the way it takes to get over each bridge by bike – why can't the pathway rise up to meet it?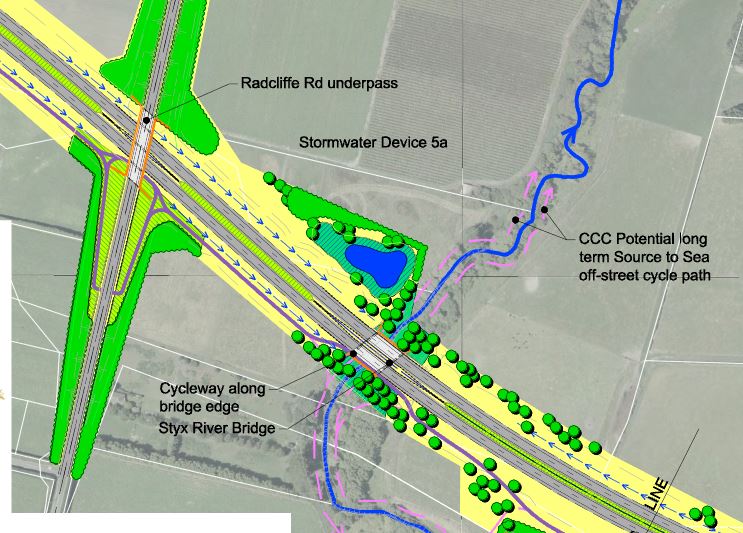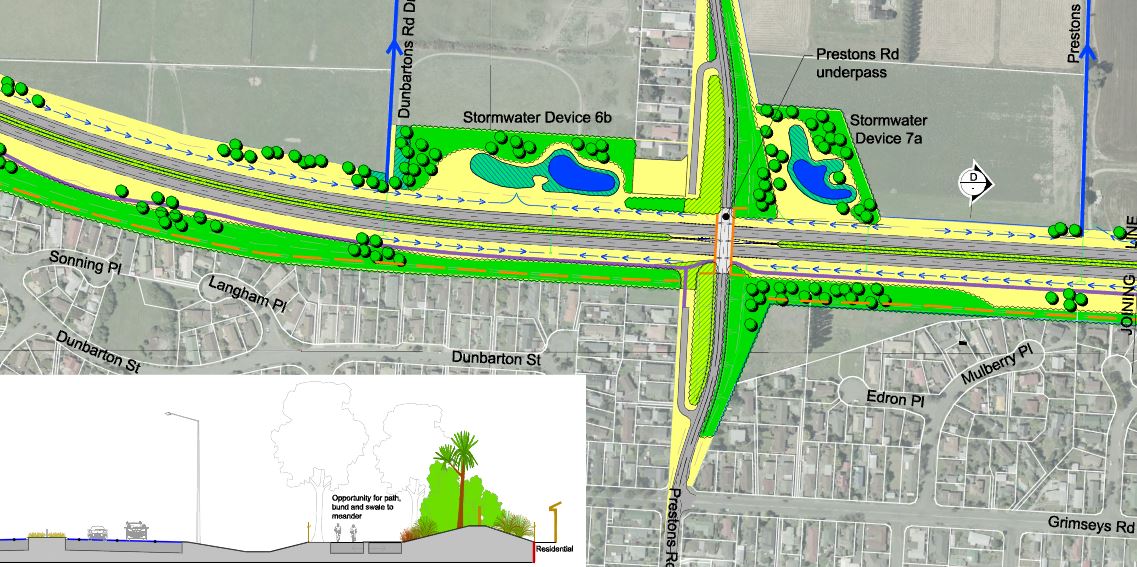 At the QEII Drive interchange, things get a bit complicated by the existing pathway east-west and underpass at Grimseys Rd. A rather convoluted detour takes the pathway all the way to Grimseys Rd and back, then crosses a couple more roads to get to the Northern Arterial Extension. No thought of a more direct underpass here? Meanwhile the east-west route is realigned down to Winters Rd and includes a new 5m-wide underpass ~60m long.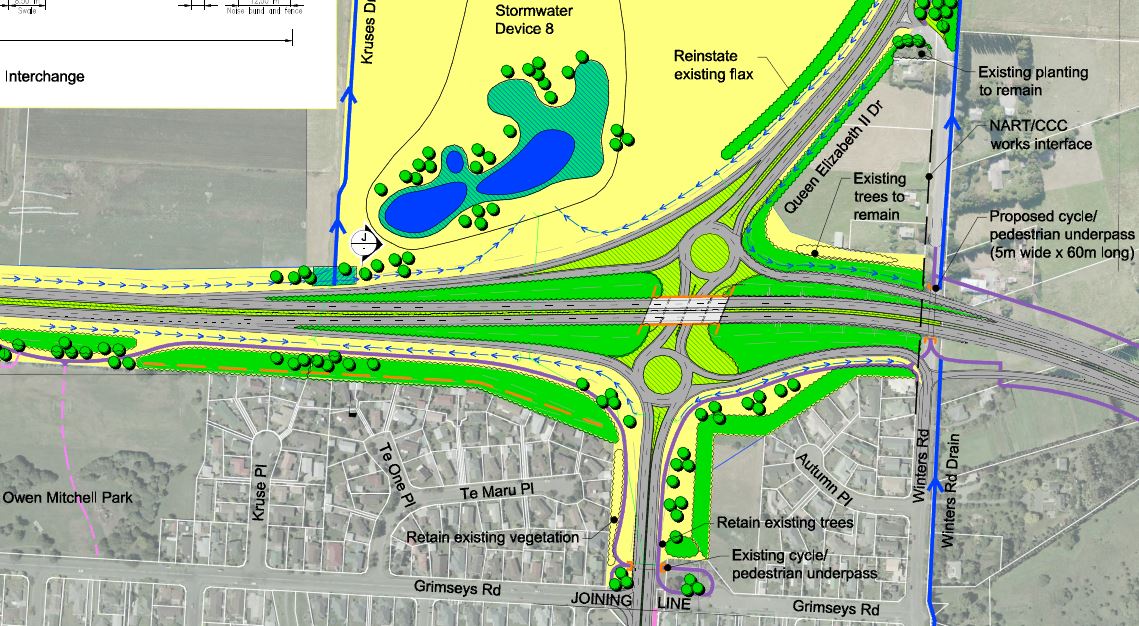 QEII Drive on both sides of the arterial will be widened to a four-lane road (see typical cross-section below). However nothing is being done to improve the existing shared pathway alongside here (generously described as 2.5m wide, but often much less than that). If not improved while the diggers are around, when is it ever likely to get improvement?

The existing underpasses at Hills Rd and Grimseys Rd are only 3m and 4m wide respectively, and no improvement work is suggested as part of this project. It's notable that a separate review of the existing/proposed underpasses using Crime Prevention Through Environmental Design (CPTED) principles was rather scathing of the draft designs in these respects. Simple ideas like tapering out the width/height and day-lighting between the carriageways would go a long way to making these far friendlier options.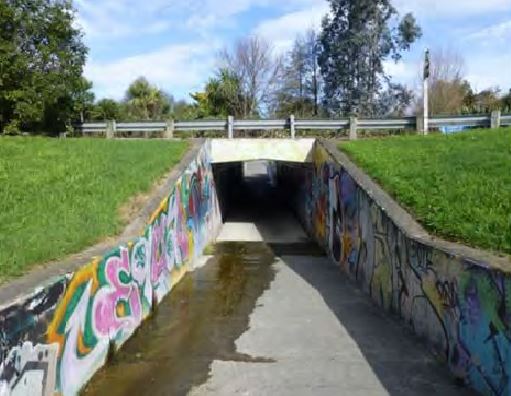 Heading down towards Cranford St, a new roundabout is proposed to link the Northern Arterial extension. Various pathways (see below, in purple) are proposed and even a 3m-wide overbridge to cross the many lanes on the northern side. It does seem a lot of effort though for what is essentially a one-way pathway here, and the proposed route seems to go a long way out of the direct alignment. This seems to be a common theme: the roadways get nice direct routes but the pathways have to undergo various convoluted alignments so as to make them quite impractical. There appears to be a "landscape designer's disease" I've seen elsewhere – someone seems to think all people biking would rather have a winding meandering route rather than a straight connection from A to B.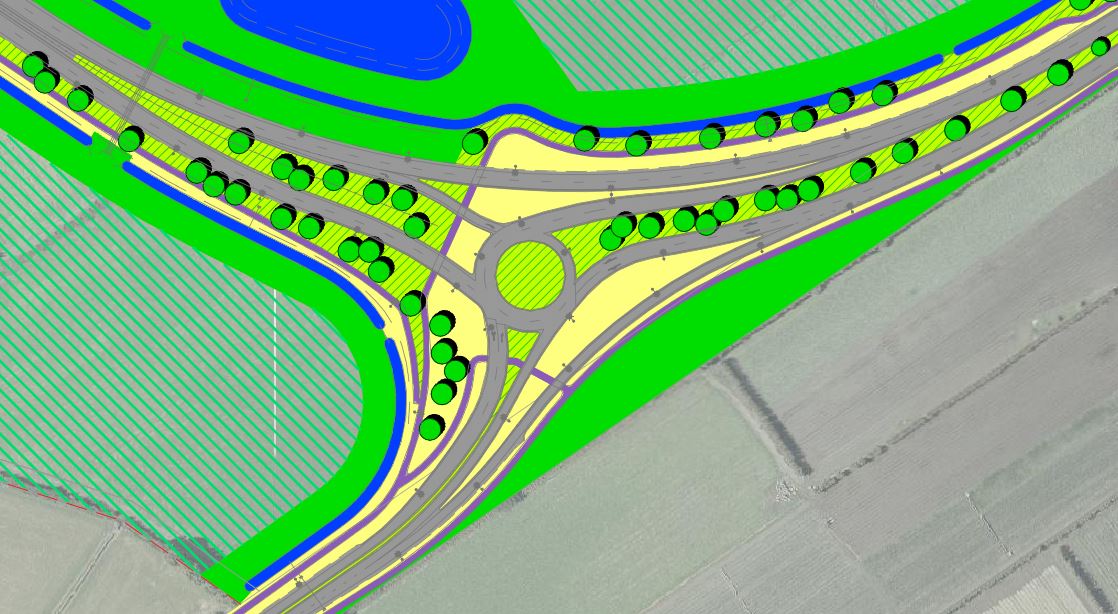 Further down the road into town, Cranford St gets widened to four lanes and the parallel pathways turn back into conventional on-road painted cycle lanes. For the last section where the road corridor is apparently only 20m wide (really? no extra designation?) that makes for some very tight footpaths and cycle lanes. Not exactly an encouraging road environment for cycling, especially on what will be a high-volume (>30,000 veh/day) and one suspects reasonably high speed route.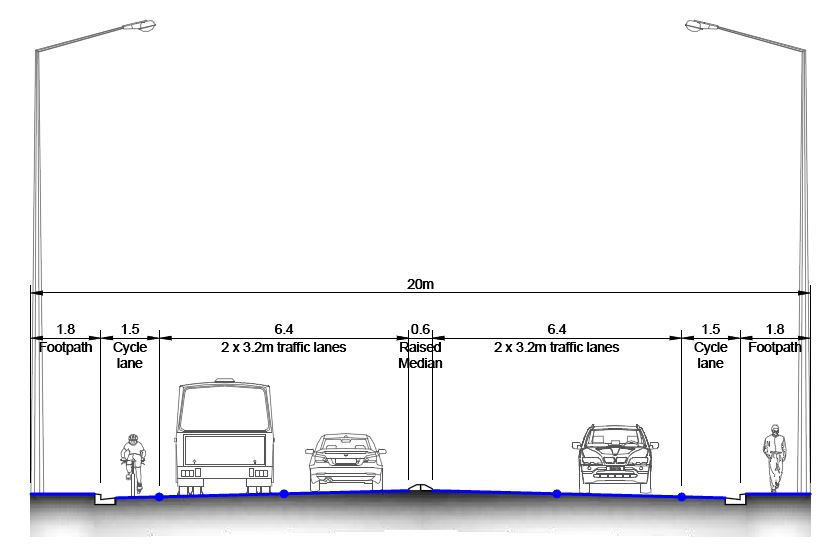 Finally the project finishes at Innes Rd, where a widened intersection is provided. Cycle lanes are provided on all approaches, but a few hook turn boxes would be rather handy in the final design to make right turns easier.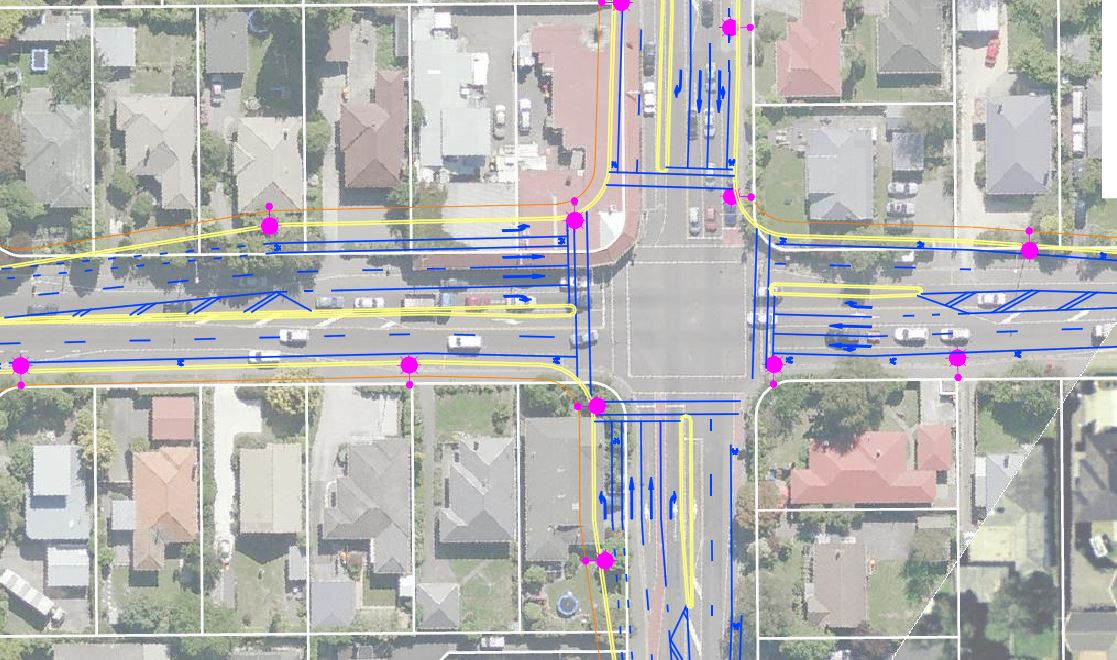 Another thing to bear in mind is that, with the shift in traffic from Main North Rd to the Northern Arterial, in theory the former will become a much quieter route through Redwood, Belfast, etc. This could open up the possibility to provide much better provision along this corridor for cycling and other sustainable travel modes.
All up, quite a complex project being proposed; unfortunately some of the cycling provisions seem rather token and not well thought out. Submissions are due by 5pm Fri 19th Dec – remember that there are actually TWO separate consultations, for the State Highway and local road sections respectively.
What do you think of this proposal?