A few weeks ago we talked about the City Council's "Targeted Improvements" (or "Quick Wins") programme that is being rolled out. One of the tools that fits in very well with this programme is cycle lane separators, as previously trialled in a couple of places in Christchurch. Now the Council would like some feedback on where some more could go in.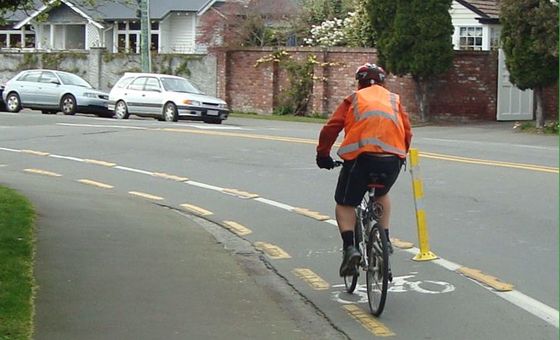 If you recall, the intention with these separators is to make existing cycle lanes friendlier to use by actively discouraging/preventing motorists from encroaching on them. Typical locations are:
On the inside of a curve, where traffic cuts the corner
On the approach to an intersection, where left-turning traffic blocks the cycle lane
Following on from the successful trials at two locations, the City Council are keen to identify further locations where problems exist that the separators could improve. From this they want to create a list of candidate sites that will then be assessed for prioritising and implementation.
A combination of low "Riley kerb" and high "flexi-post" delineators was previously trialled but, for now, the intention is to just use the flexi-posts. At some locations, sandblasting and re-marking of cycle lanes will also be needed to achieve desirable widths (the posts do have the effect of narrowing the perceived available cycling width). Current funding this financial year might only achieve about 10 intersections (say, two approaches to each) and maybe another 12 curved cycle lane sites. The amount of funding for these in the 2014/15 year will be reviewed later.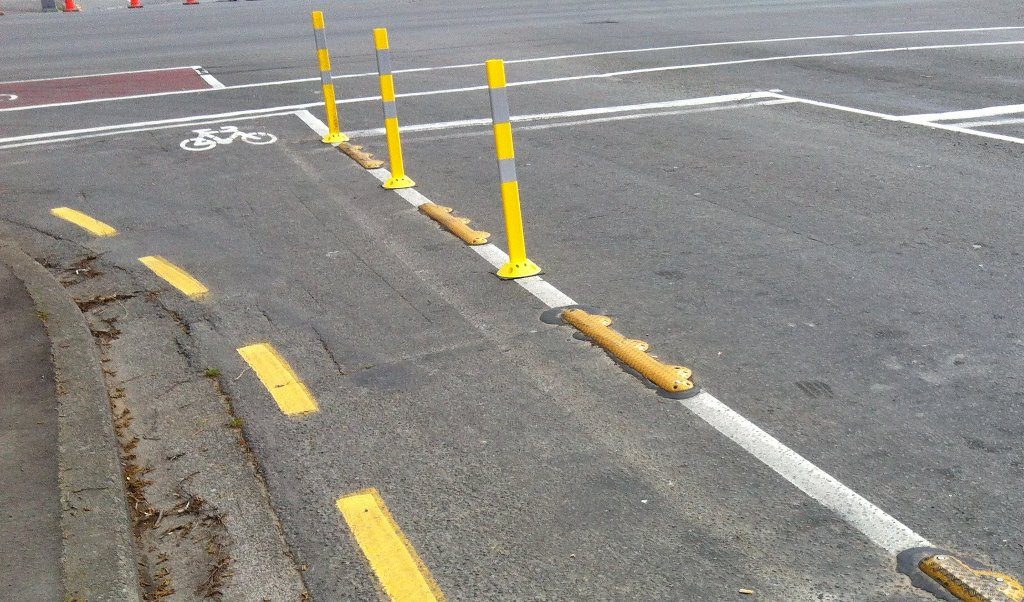 It's important to appreciate that these separators won't necessarily be the best option for every location. Complications like parking and driveways for example may make some locations tricky. Ultimately on the Major Cycleway Routes we may be looking for a higher standard of cycleway to attract new riders, e.g. using more physical separation. Flexi-posts are a very cost-effective option to improve the cycling environment, but they may not be a sufficient level of cycleway separation in every case.
Some of the more notable factors that should be considered for suitable sites include:
Routes that form part of the planned cycling network in the Chch Transport Strategic Plan.
High rates of cycle lane encroachment by motor vehicles
No adjacent on-street parking or major accessways
Locations predominantly for "everyday" cycling, with good cycle count numbers
Sufficient advanced visibility of the separators (so they don't become a hazard in their own right)
An adequate width cycle lane (or available space to make it suficiently wide)
Probably not preferred in higher speed environments (say, >60km/h)
Ideally not sites that will be reconstructed again soon (e.g. SCIRT works), although they could be an interim pre-cursor to a later Major Cycleway Route.
It couldn't hurt either if the sites were in locations where they can be very conspicuous to the general public as well (e.g. on busier roads or near major activity centres) – a high profile for cycleway projects is all good PR…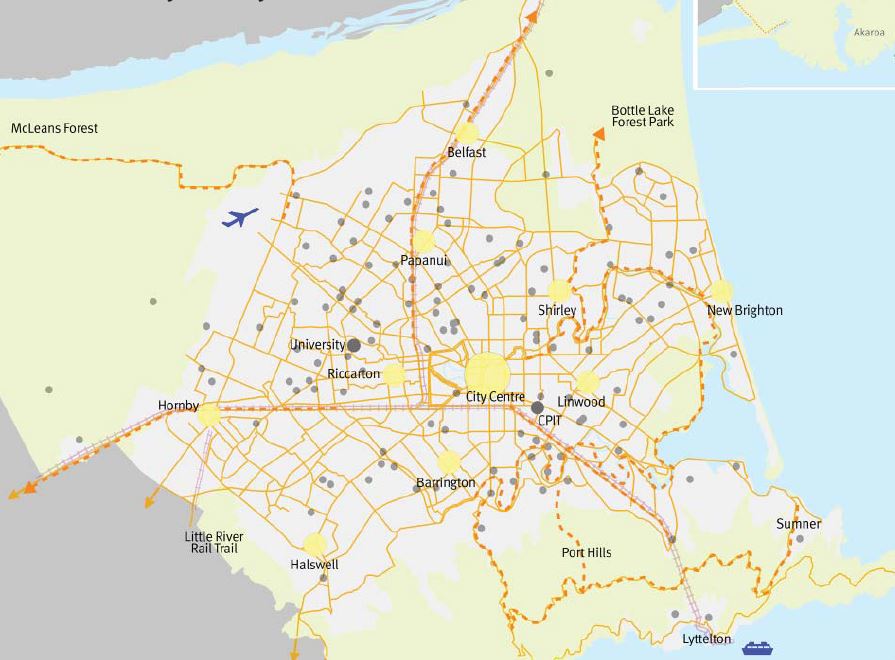 Based on previous Council investigations and your fantastic feedback to our earlier posts, the City Council already has a fairly good list of potential sites for separators. For example:
Various inside curves along Centaurus Rd, e.g. #141, #206
New Brighton Rd / Marshlands Rd intersection eastern approach
Antigua St / Moorhouse Ave intersection north/south approaches
Memorial Ave cycle lane near exit from Fendalton Mall
Various inside curves along Wairakei Road, e.g. #40, #96
Annex Road lefthand into Birmingham Drive
Clyde Rd / Creyke Rd intersection – north/south approaches
Bealey/Fitzgerald/London/Whitmore intersection approaches
Kahu Road bridge @ Deans Bush
Greers/Northcote/Saywers Arms intersection east approach
Ilam/Middleton/Riccarton intersection north/south departures
Lincoln/Lyttelton/Wrights intersection NW/SE departures
If you have some ideas for where these separators could go, post a comment on this page ("me too" comments supporting previous suggestions would also be helpful). We'll make sure that the City Council has a look at the collated suggestions.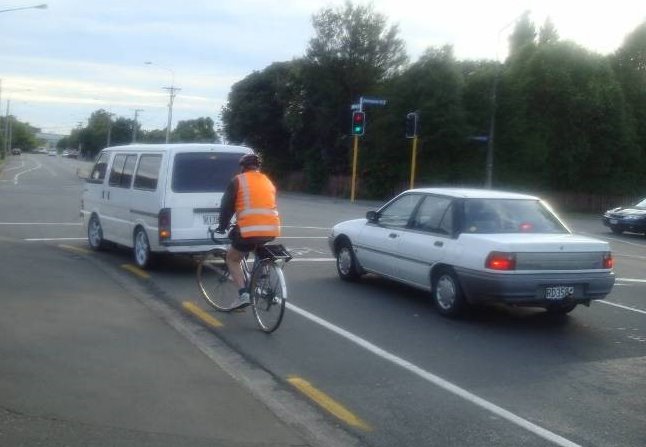 Note that the sites have to be on local (Council-controlled) roads, not (NZTA controlled) State Highways. So that rules out the likes of Brougham St, Halswell Rd, Dyers Rd, Curletts Rd, Yaldhurst Rd, etc. You can still always contact NZTA to raise any concerns about cycling issues on the State Highways – see our separate post about reporting issues to other roading agencies. Maybe they'll take the hint and incorporate some separators along the State Hwy cycle lanes…
Where else would you like to see some cycle lane separators?