1) About a Vibrant, Accessible City:
Listen to a discussion about replacing one way with two way streets in Perth, Western Australia and the rationale behind it.
Plains FM Community Radio Station host Bill Demeter talks to Graham Newsome, Principal Traffic and Transport Officer, City of Perth, West Australia.
http://plainsfm.org.nz/on-demand/bill-demeter-interviews-graham-newsome-city-perth-/
2) And read Perth's CBD Transport Plan to 2016.
Perth is spending up large on active and public transport all over the city – and not as an extra financial burden on ratepayers.
http://www.transport.wa.gov.au/mediaFiles/ABOUT_P_PT_Report__perth_cbd_transport_plan_online.pdf
3) Perth shows best of cycle trails:
(Actually this was published last year)….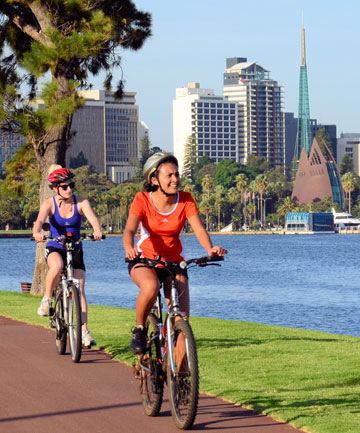 By ROY SINCLAIR
in The Press
23rd July 2012
A break from Christchurch to visit family in Perth provided Roy Sinclair with eye-boggling evidence of a city with cycling in a deep embrace.
Perth is on the way to becoming the Australasian cycling capital. The city and environs, similar in size and population to Auckland, boasts 700km of cycleways, many of them paved and off-road. The Western Australian State Government spends $4 million annually on cycling infrastructure, supplemented by similar amounts from local authorities.
And, according to the deputy director of general transport, Sue McCarrey, it's a good investment with cycling increasing five-fold in recent years – proving that if the infrastructure is there, people will use it.
Read entire story here….
http://www.stuff.co.nz/travel/australia/7326680/Perth-shows-best-of-cycle-trails