The cycleway network is starting to get quite comprehensive around Christchurch now, with more being built as we speak. So it is interesting to look back to the first tentative steps over seven years ago, as this post (originally from April 2014) discusses. What's interesting is that this "missing link" had actually been identified in cycle network plans for decades before…
With some of the recent discussion around Major Cycleway delays (and in light of today's tragic events), you might have got the impression that the City Council is sitting on their hands doing nothing for a few more years. But, as was mentioned the other day, actually a lot is continuing to happen behind the scenes. And right now one of the first parts of one of the new Major Cycleways is out for consultation.
The "Papanui Parallel" is the newly agreed name for the Major Cycleway linking Papanui to the central city via Grassmere, Rutland, Trafalgar, and Colombo. While the whole route will be subject to significant improvements to the corridor, a current missing link is between Grassmere St and Rutland St straddling Dudley Creek. As far back as Christchurch's first Cycle Plan in 1980, there were plans to join this line up on the ground. Evidently this desire line has been popular with the locals as well, because a makeshift bridge over the creek had even been constructed by some keen person.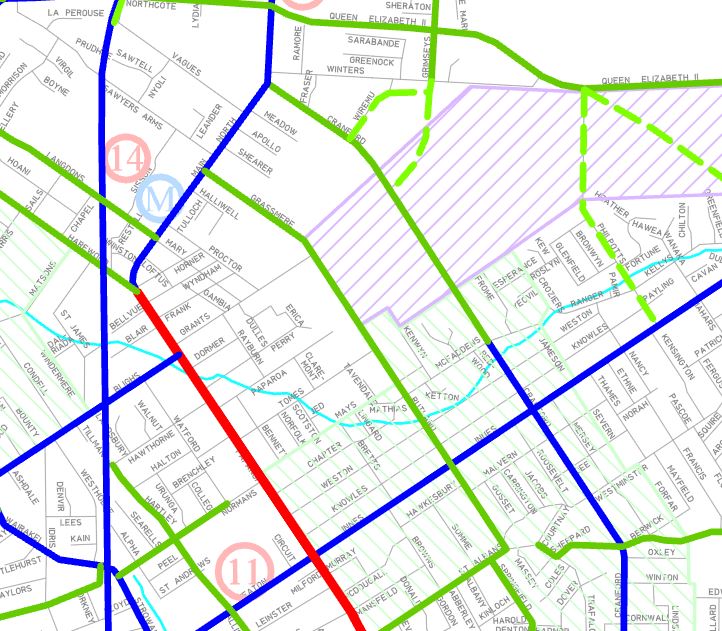 The current facility out for consultation is a 3.0m wide shared path 550m long connecting Grassmere St and Rutland St. Part of this will be widening the existing connection to Paparoa Street School, as well as constructing a new 3.5m-wide bridge across Dudley Creek.
Although just a small part of the eventual Major Cycleway Route, construction of this section will enable confident riders to immediately start using more of the surrounding longer route from Papanui through Edgeware and St Albans.

As well as the physical facilities, it's interesting to see the markings proposed for the shared path. As we've noted before, sharing paths between pedestrians, bikes and other users can be tricky. The wide path width will help to reduce conflicts, and hopefully the markings will also help to encourage a "keep left" discipline that will minimise confusion.

Submissions on this proposal are due by Friday 11th April. There's also a Project Information Session at Paparoa Street School from 3.30-6.30pm on Monday 7 April 2014, where you can get some more details from the project team.
It's great to start seeing some tangible evidence of the Major Cycleways starting to appear. After hosting our Dutch cycling experts late last year, one of them has also just recently been back, helping Council designers to further refine their plans and talking to Council's Environment Committee. Look out soon too for details about the "Uni-Cycle" route from town out to Ilam, as well as some new signalised crossings on Deans Ave…
Have you used the Grassmere-Rutland cycle link?